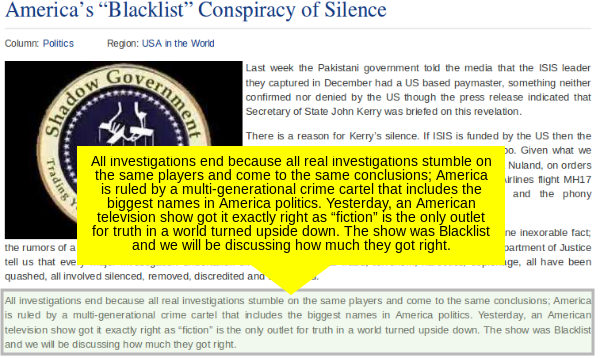 [Edit: This story is posted verbatim without further comment. -- Dietrich ]
STORY BEGINS HERE
America's "Blacklist" Conspiracy of Silence
Last week the Pakistani government told the media that the ISIS leader they captured in December had a US based paymaster, something neither confirmed nor denied by the US though the press release indicated that Secretary of State John Kerry was briefed on this revelation.
There is a reason for Kerry's silence. If ISIS is funded by the US then the black C130 aircraft that resupply them are American too. Given what we now know, it is not unreasonable to assume that Victoria Nuland, on orders from "somewhere "ordered the downing of Malaysian Airlines flight MH17 while her "betters" managed the press response and the phony half-hearted Dutch "investigation."
This hypothesis, hardly a conspiracy theory, supports one inexorable fact; the rumors of a "Secret Shadow Government" are more fact than rumor. High level sources within the US Department of Justice tell us that every major investigation undertaken since 1990, financial fraud, terrorism, narcotics, espionage, all have been quashed, all involved silenced, removed, discredited and even killed.
All investigations end because all real investigations stumble on the same players and come to the same conclusions; America is ruled by a multi-generational crime cartel that includes the biggest names in America politics. Yesterday, an American television show got it exactly right as "fiction" is the only outlet for truth in a world turned upside down. The show was Blacklist and we will be discussing how much they got right.
MORE
STORY ENDS HERE