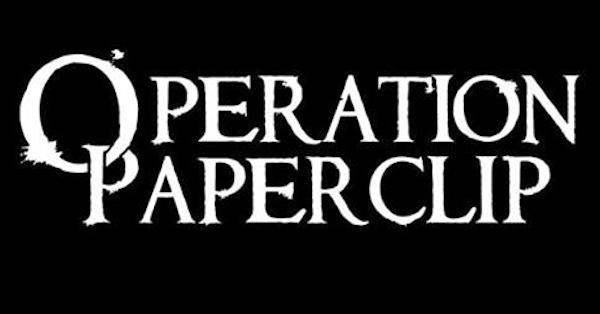 By: Voice of Reason
FOR MORE NEWS BY VOICE OF REASON CLICK HERE!
[Audio/Video below cannot be seen in Newsletter - have to go to Blog]
Ok, so I saw this article and it gave me an idea. At first, I just passed right over it because it is TOTALLY random for Freedom Outpost to have a post on a 70 year-old operation that has LONG been declassified, and that just about ANYONE who has EVER looked into the mischief our government is capable of will tell you Operation Paperclip is the 101 COURSE. THEN, it hit me, the overwhelming VAST majority of people who read my posts don't fit that category and probably have no idea what this is…
I never cease to be astonished when I post things like: BE AFRAID: SUPREME COURT GIVES GREEN LIGHT TO INDEFINITE DETENTIONS, and then the emails start pouring in asking me if I am serious. Uh, no. That isn't really Barack Obama telling you all about FEMA Camps, and there isn't a link to Supreme Court Justice Scalia's comments in there, and there aren't about 20 other links just on FEMA Camp articles alone, not to mention all the other links. That information may be all nicely compiled in one place for YOU, but I've been digging around to find those articles for years. You just happen to get all the work on one page with convenient links. It's sad more people don't take advantage of it and READ them. By showing 10-15 links on a topic, a person can actually see the evolution of a story, and watch as the bigger picture unfolds, rather than read an article in a vacuum.
Anyway, I don't put HALF of what I know in my posts sometimes because 1) I see the reports of how many people actually CLICK ON (I will never know if they read it) the most IMPORTANT of all the stories I post, and the numbers are always absurdly lower than the other more flashy stories; and 2) people would probably tune me out as a loon. Google some of the following:
HAARP
DARPA
BOHEMIAN GROVE
FEMA CAMPS
BILDERBERG
SECRET SPACE PROGRAM
FUSION CENTERS
MK ULTRA AND IT'S SUCCESSORS TO DATE
OPERATION NORTH WOODS (ORIGINAL FALSE FLAG)
Most folks, unless you've been following things like that for years, almost anything I say will sound like I belong in a straight jacket. The reality, is our country is BEYOND twisted at the highest levels, so it's not ME who needs the white padded room. It's those DOING the deeds, but I've been down in the rabbit hole for so many years digging, much of it doesn't even phase me anymore… BUT… I suspect with some of my readers it will. I'm willing to bet with some of my stories I lose credibility sometimes… for the exact reason that some of my material is a bit "out there" for the average Joe.
Suppose I told you back in the 40's the Russian's were spanking us in the field of technology? Back during the days of Sputnik? I don't mean a little spanking, but a good old fashioned over the knee butt hurts for a week SPANKING we were taking. Assuming you believe me, since it's easily verifiable, where did our technology EXPLOSION come from? Very few average Joe's know about Operation Paperclip, or MK Ultra. Why? Because the Department of Indoctrination… sorry… I mean Education… likes to re-write history to be more politically correct. NEWSFLASH: History was not politically correct.
If you don't already know, allow me to tell you that the Germans, aka the Nazi's, were light years ahead of the U.S. and Russia with their technology. It has long been rumored that perhaps their advances came from their willingness to submerge themselves in the occult, and that many of the ideas for thier inventions came from "beyond."
So, what did we do? Rather than try 20,000 Nazi scientists for war crimes after World War II, we gave them aliases and put them to work here in the U.S. NASA? Built from the ground up by Nazi's. The Apollo Rocket? Thank the Nazi's. Mind control, and experiments on our own citizens? Thank the Nazi's AND the U.S. government that sanctioned the experiments.
If you read your history, it is no Secret that Hitler and his crew were obsessed with the occult. All the way back to the first rocket launches at what is now Cape Canaveral, Wernher von Braun, a former major in Hitler's S.S. was conducting Satanic rituals right on the tarmac prior to launch… but… the guy's rocket's put us on the moon, so the U.S. government let him have carte blanche. I could go on for days about the 20,000 scientists, and projects they worked on, but I'll leave that for you to look into. Our leaders hid these evil men in plain sight right among us, rather than prosecute them. Many of them went on to rise to the highest levels of power within our own government.
Is it any wonder 70 years later our government is as sick and twisted as they are? And… I assure you… you don't know the half of it. So, since the article was there, I thought this might be a great way to baptize some of you by fire into "REALITY," and perhaps in the process, you'll take some of my posts more seriously. Who knows?
I get nothing for this site. I spend an ungodly number of hours doing research mainly to prove to other people the stuff I already know… so you can be ready to do whatever you have to do, whenever the time comes to do it… because the fairy tale that has been the United States is going to turn into a horror flick in the not too distant future. I do what I do solely to help bring awareness to people.
Again, if you're not familiar with Operation Paperclip, the following is going to knock your socks off. Get out your popcorn. It reads right off a movie script, or good book. Here I've taken all this for granted for years, but maybe it will help YOU to open YOUR skeptical eyes a bit wider now moving forward.
Few Americans have heard of Operation Paperclip. Among those who have, the majority do not know its true extent because the U.S. government has successfully concealed most of the facts surrounding the project. Instead, the government has passed it off as a short-term operation limited to an innocent investigation of Germany's scientists after World War II. In reality, Operation Paperclip, as documented by authors such as John Loftus in his book The Belarus Secret, was the largest and longest-running operation involving Nazis in the history of the United States, and its effects are still being felt today.
At the close of World War II, U.S. officials and the Allied countries discovered that Germany had developed a technical superiority far beyond what they had imagined. In Nazi Germany, 20,000 scientists had revolutionized the weapons of war, and reports written by Allied investigators described the Germans' "astonishing achievement" and "superb inventions." In order to learn about the new German technology and weaponry, Russia, France, Britain and the United States began transporting German experts to their respective countries for interrogation. The Cold War was now beginning, and U.S. officials were determined to use any means necessary to keep the scientists responsible for Germany's scientific supremacy out of Russian hands. At the same time, they aimed to acquire a technological lead against Russia. Thus, in the name of national interest, the United States began recruiting the Nazi scientists.
In 1946, President Harry S. Truman authorized Operation Paperclip, a program designed to bring selected German scientists to work for the United States during the Cold War. However, Truman expressly forbade anyone found to have been "a member of the Nazi party and more than a nominal participant in its activities, or an active supporter of Nazism." The War Department's Joint Intelligence Objectives Agency (JIOA) was to conduct background investigations of the scientists, to be approved by the State Department.
Against Truman's orders, however, the JIOA, Army intelligence and the CIA actively concealed incriminating information about the Germans they were hiring. Many of the 1,600 scientific and research specialists and their dependents brought to the U.S. under Operation Paperclip had been deeply involved in Nazi society during the war. However, U.S. officials were determined to recruit these men and chose to ignore their appalling pasts. They sidestepped the problem of their Nazi backgrounds by "cleansing" and re-writing their information files to eliminate incriminating evidence. As a way of identifying the German scientists, American officials put an ordinary paperclip on their personnel files–thus the origin of the operation's name.
While official American policy after the war was to prosecute war criminals for the atrocities committed under Adolf Hitler, many sectors of the U.S. government were actively concealing incriminating evidence in order to bring these very men into the U.S. Here are a few examples.
Early security evaluations of Wernher von Braun described him as "a serious potential security threat." He had been a member of the SS and risen to the rank of major under Hitler. From 1937 to 1945, he was the technical director of the Peenemunde rocket research center in Germany, where the V-2 rocket was developed. When von Braun was brought to the United States in 1948, his file had been re-written: "No derogatory information is available on the subject. He does not constitute a security threat to the United States." Von Braun worked on guided missiles for the U.S. Army and later became director of NASA's Marshall Space Flight Center. In 1970, he became NASA's associate administrator.
Arthur Rudolf was operations director of the Mittelwerk factory at the Dora-Nordhausen concentration camps, where, according to Tom Bower in The Paperclip Conspiracy, 20,000 workers died from beatings, hangings and starvation. A member of the Nazi Party since 1931, Rudolf's 1945 security evaluation read: "100% Nazi, dangerous type, security threat." However, when the JIOA took an interest in Rudolf's scientific work, it changed his dossier to read: "Nothing in his records indicating that he was a war criminal or an ardent Nazi." As a result, Rudolf became a U.S. citizen. He later designed the Saturn 5 rocket used in the Apollo moon landing and received NASA's highest award, the Distinguished Service Medal. He remained in the United States until 1984, when an investigation of his war record finally began and he fled to Germany.
Kurt Blome, a high-ranking Nazi scientist, told U.S. interrogators in 1945 that he had experimented with plague vaccines on concentration camp prisoners. He was tried in the Nuremberg War Trials–but acquitted–on charges of extermination of sick prisoners and conducting experiments on humans. Only two months after the trial, he was interviewed at Camp David, Md., about his scientific expertise. His file now showed no record of his Nuremberg trial. Blome was hired by the U.S. Army Chemical Corps to work on chemical and biological warfare.
Hermann Becker-Freysing was convicted at Nuremberg and sentenced to 20 years in prison for conducting experiments on Dachau concentration camp inmates, including starving them and force-feeding them chemically altered seawater. Before the trial, however, he was being paid by the Army Air Force to write reports about his inhumane experiments.
Georg Richkey worked for the JIOA at Wright Field from 1946 until his arrest a year later for Nazi war crimes. During the war, Richkey headed the slave labor factory Mittelwerk at the Dora concentration camps. Among other atrocities, there are reports that Richkey had numerous slave laborers hung from a crane to die slowly in public view. During his time in the United States, Richkey's job was to translate 42 boxes of Mittelwerk documents shipped from Normandy–the very documents a U.S. Army war crimes unit sought to use as evidence of Richkey's own crimes.
Defenders of Operation Paperclip cite achievements such as the moon rockets and jet planes as positive products of postwar research in our country. But what Paperclip's defenders fail to mention is the shockingly inhumane psychochemical experimentation conducted on over 7,000 U.S. soldiers under the project.
Edgewood Arsenal, located near Baltimore, Md., is the most secret military base in the country. Paperclip scientists worked there between 1947 and 1966 conducting experiments on human beings. Initially, their main efforts were to test the poison gases that had been invented by the Nazis during the war. Soon, the testing turned to LSD and other mind-control agents. Nazi science that was reminiscent of concentration camp experimentation was used as the basis for research in the United States on humans.
MKULTRA is the name of the mind control experiments conducted on U.S. soldiers under Operation Paperclip. Reviewing the experiments in the late 1950s, one CIA auditor wrote of them:
Precautions must be taken not only to protect operations from exposure to enemy forces but also to conceal these activities from the American public in general. The knowledge that the agency is engaging in unethical and illicit activities would have serious repercussions."
Master Sergeant James Stanley, for one, remembers being locked in an isolated room with barred windows, padded walls and furniture bolted to the floor. A doctor instructed him to drink a glass of clear liquid containing LSD, telling him it was water. An hour later, Stanley's head filled with terrifying visions and he became violently ill.
In 1992, the highly respected physician Dr. D.C. Hammond gave a lecture on hypnosis and satanic ritual abuse at the Conference on Abuse and Multiple Personality. In his discussion of horrifying brainwashing methods being used in the same way all over the country, he notes its beginning:
Here's where it appears to have come from. At the end of World War II, before it even ended, Allen Dulles and people from our Intelligence Community were already in Switzerland making contact to get out Nazi scientists. As World War II ends, they not only get out rocket scientists, but they also get out some Nazi doctors who have been doing mind-control research in the camps. They brought them to the United States.
The recruitment of the men responsible for atrocities committed under Hitler to fight the Cold War resulted in serious breaches of U.S. security, as well as extremely inhumane treatment of American soldiers, similar to that of concentration camp prisoners. On the security level, as Linda Hunt writes in Secret Agenda:
In direct defiance of President Truman's policy, the Paperclip masterminds brazenly had the German scientists' records changed to expunge evidence of war crimes and ardent Nazism and secure permanent immigration status for them in the U.S. Ostensibly that was done in the interest of national security. Once here, however, the scientists were given access to classified information that revealed the inner-most workings of our defense system. As a result, it was not long before the very people brought here to ensure our security had themselves become a security risk. Eventually some of the scientists took advantage of security lapses and left the country with classified material. German specialist Heinz Gartmann, for example, left Wright Field air base with turbojet rocket engine blueprints in his hand luggage. The full extent of the damage from incidents like that is still unknown.
Even worse, on a moral level, Nazis went unpunished and federal law was violated. Worst of all, as Linda Hunt has documented, Nazi attitudes toward research on human subjects were imported and adopted by various U.S. officials. "The Machiavellian attitude behind these operations was born when a World War II ally became a new enemy and the world axis shifted…[but] no matter how necessary intelligence activities may be, they cannot be allowed to operate unchecked, in secrecy and darkness, shielded from the democratic process of accountability. Otherwise, in the end we become our own worst enemy."
Read the article at Freedom Outpost here:
THE VOICE OF REASON
NOW, THIS LIST PROBABLY DOESN'T LOOK HALF AS CRAZY!!!
THE U.S. MILITARY SURE SEEMS READY FOR AN UPRISING OF SOME KIND! THIS LOOK "NORMAL" FROM WHAT YOU REMEMBER GROWIG UP?