WITH PLANES LIKE THIS BEING SEEN LANDING ALL OVER THE COUNTRY FOR A WHILE, IT WAS HARD NOT TO WONDER WHAT OBAMA WAS UP TO…
AT THIS POINT, IF YOU DON'T ALREADY KNOW OBAMA WANTS YOUR GUNS YOU'VE BEEN LIVING UNDER A ROCK!
For those of you that HAVE been living under a rock, (liberals), Barack wants your guns. Barack has EVERY intention of getting your guns. EVERY intention. If the REALIZATION THAT SANDY HOOK WAS A TOTAL HOAX INTENDED TO GET GUN LEGISLATION PASSED didn't tip you off, you've had plenty of other opportunities. Recently, a $1 TRILLION LAWSUIT WAS FILED OVER THE HOAX! We now know the FEDERAL GOVERNMENT HIRED CRISIS ACTORS OFF CRAIG'S LIST FOR A "STAGED MASS SHOOTING" AT FORT HOOD, and we know several of the same actors have been used at the Boston Bombing, Sandy Hook, The Aurora Shooting, and the list goes on. See below:
[Audio/Video below cannot be seen in Newsletter - have to go to Blog]
How is it that the same woman is caught giving testimony of the horror she witnessed at BOTH the Boston Bombing AND Sandy Hook? This woman JUST HAPPENED to be at BOTH events? She not only JUST HAPPENED to be at BOTH,she saw BOTH right up close enough to be a witness? This woman not only JUST HAPPENED to be at BOTH, she JUST HAPPENED to see everything at BOTH,and JUST HAPPENED to be picked out of crowds of witnesses to chose from? Oh yes, and she JUST HAPPENED to be picked at BOTH EVENTS by two independent news stations as THE person they were going to interview? Wow. Some odds.
HOW ABOUT SOME PICTURES!
THIS LINK HAS THE MOST COMPREHENSIVE COLLECTION OF ALL THE EVIDENCE I COULD FIND, AND I COMPILED IT ALL IN ONE PLACE!
IT'S SICK!
Barack wants your guns, and he has plans to get them. Said a better way, he will stop at NOTHING until he gets them. THE LIST OF DEATHS CONNECTED TO THE WHITE HOUSE is already miles long… so I don't think human life, least of all American lives are much of a concern to Barry. From what his childhood friend tells us, BARRY HAS BEEN KILLING HIS ENEMIES FOR SOME TIME NOW!
A FEW MORE PIECES OF THE PUZZLE SEEM TO MAKE SENSE NOW:
I also go into great detail in my post this morning titled: U.S. MILITIA LAUNCH OPERATION BORDER CLOSURE, TO DEFEND THE BORDER WHILE DR. CARSON SAYS OBAMA IS USING THE BORDER AS A WEAPON, about how that has the potential to EXPLODE into a VERY ugly situation. Here is the bottom line:
I DO NOT ADVOCATE VIOLENCE. I WANT BARRY IN A PRISON CELL! That said, there are 100 MILLION Americans who own 300 MILLION guns. We have an active, and very worn out military of 1.5 Million. The only way Barry has ANY chance of getting our guns is if one of two things happen. Either the Chinese show up on our shores with their ENTIRE ARMY, or WE voluntarily give them to him… because he DOES NOT have the means to take them.
FOR MORE ON BARACK'S MORE OBVIOUS GUN CONFISCATION PLANS:
America, we as a nation have some real soul searching to do. We are truly standing on a precipice 0f fundamental transformation, which if fully realized, will leave our nation forever changed. While there are many, many Americans who view this shift to socialism as a positive thing, it is only because they are severely misinformed, and have had their analytical thinking skills completely destroyed by the communist controlled education system. It is my belief that if the average leftist really understood what it was in the Bill of Rights they stood to lose, by advocating for "change," they would snap out of their trance and get with reality. As a writer and a patriot, I have spent a great deal of time trying to get this message out, trying to draw a sharp contrast between the America our founders had envisioned for us and the "social democracy" Obama and the United Nations have in mind. This article will continue on this theme.
Throughout the past couple of weeks there have been numerous internet articles concerning the spotting of U.N. vehicles being transported across the country.
[Audio/Video below cannot be seen in Newsletter - have to go to Blog
To many Americans, this is alarming because we know one of the stated goals of the U.N. is to disarm America and merge her into the one world government envisioned by the global elite. Our own government has also signed onto the U.N. Small Arms Treaty, and while it has not been ratified by the US Senate it seems the U.N., and those advocating for world governance, are intent on seeing through with its implementation. While many on the left would scoff at any conservative being concerned about such a thing it should be noted that the treaty contains language authorizing the U.N. to disarm opposing factions in times of crisis. If you can't see by now that this crisis is being intentionally fabricated by the left, using the classic Hegelian "problem, reaction, solution" formula, then there is little hope for you.
Again, many people in America actually believe the U.N. should be the head of a world governing body, and that America should give up a little of her sovereignty in order to make things more fair in the world. More specifically, these people are for outright gun confiscation and believe that confiscating guns from law abiding American citizens is the only way to end gun violence.
(For people who yet don't believe the U.N. intends on forcing gun confiscation upon us, I suggest you check out this job posting listed by the U.N. Perhaps you should pay special attention to the part about people from foreign militaries and police forces having preference.)
What I find the most astonishing is that we have people in this country calling for gun control at a time when our government should be telling us to remain vigilant and perhaps even calling us to arms. The Middle East is set to become the next holocaust, and with our borders wide open amidst the current immigration crisis, we are virtually sitting ducks as these Islamofascists are vowing to bring their reign of terror here. I say thank God for the Second Amendment!
Unfortunately, it seems as if our own government and other anti-gun groups, would rather see good people defenseless in the face of such violence. In fact, this brings me to the whole point of this article. There are people out there who do not believe that self-defense is an inherent human right. A 2006 U.N. human rights council report, written by a Barbara Frey, refuses to acknowledge that human beings have a right to keep arms for self-defense. Furthermore, the U.N. is claiming that governments that don't impose severe restrictions on the rights of individuals to own firearms are guilty of human rights violations.
America, the U.N. is coming.
The whole point of the United States Constitution was to establish a system of government where the sovereignty of the individual was supreme over government, and the government's sole function was to protect liberty. The Second Amendment was written specifically to protect life against the murderous onslaught that is currently underway in the Middle East, and to protect individual sovereignty against a government run amuck. The very fact that we have our own government pushing for gun control at a time such as this should be viewed as treasonous by all Americans. Especially, seeing as though we have Muslim Brotherhood operatives working within the administration. Far too many American have drank the collective "kool aid" and are literally brain dead when it comes to having the ability to do an honest assessment of where we stand.
What needs to be stressed here is that the Constitution was written by people who believed in God, the Judea Christian God of the Bible that is. People are created in the Image of God with free will, and they are fully capable of living independent lives, are capable of showing love, being responsible, providing for and caring for others, and most importantly, they are born with an inalienable right to defend themselves and their loved form evil.
Conversely, those on the left generally don't believe in God, at least not the Christian God anyway. The U.N. is doing nothing in the face of worldwide Christian persecution, and, in fact, they seem to be facilitating it! The left tends to believe in evolution and false science, and they typically see Christians as standing in the way of progress with their "outdated, superstitious" beliefs.
Remember, the basis for evolution is that mankind was merely an accident with no special purpose for existence, and because the left believes in the creation of a state run "utopia" (communism) there is no moral wrong in eliminating those who stand in the way. This was the continuing theme of the twentieth century as the sickness of Marxism/Darwinism spread across the globe and governments killed nearly 160,000,000 of their own citizens in the name of peace and progress. More people were killed in this period of history than in all of the world's wars in man's history. Yet, because we have an education system that has been taken over by the communists, trying to convince someone of these facts has become an arduous chore.
America, the very fact that we have a government professing we don't have a right to self-defense is because they have an agenda they know we will fight against. It isn't because they care about the children. If they cared about peace and humanity they would be overseas stopping the unnecessary annihilation of Christians at the hands of the Islamonazis, who have also vowed our destruction. Instead, we have the U.N. here hiring people to assist in disarming operations in America; it should be the people cutting off people's heads that should be disarmed, not law abiding citizens! We need to decide if we believe we have a right to protect ourselves and our loved ones from evil, or if we will leave it in the hands of those who would have you believe you don't. What type of world do you want to live in?
Read the article here at Freedom Outpost:
THEY'RE HEEEEERE!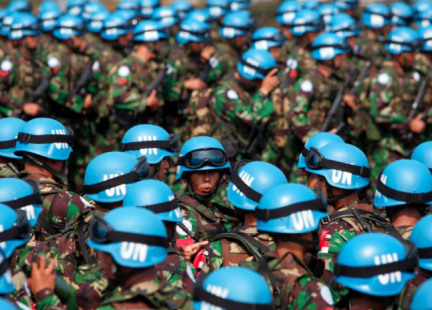 When the American people, courtesy of the independent media only, reported that The Department of Homeland Security had obtained 2.2 billion rounds of ammunition and 2700 armored personnel carriers, do you recall the government's explanation? After all, who is DHS preparing to fight? It is not likely that they will be sent to storm the beaches of Crimea. This nonmilitary army could only be used for one thing, the subjugation of the American people.
In yesterday's article, I documented the fact, beyond a shadow of a doubt, that U.S. Army field manuals that specify the command and control related to the running of the FEMA camps would be conducted by foreign troops. The fact that the Army has stated as much does not tell us exactly who these guardians of the political dissidents of the future will be. However, the list of suspects is indeed a very short list
WHEN A LIAR TELLS THE TRUTH
Presidential candidate, Obama, made a bold 2008 campaign announcement regarding the use of private assets (i.e. Brown Shirts) in order to fulfill his national security goals as he made the following statement:
"We cannot continue to rely only on our military in order to achieve the national security objectives that we've set. We've got to have a civilian national security force that's just as powerful, just as strong, just as well-funded."
[Audio/Video below cannot be seen in Newsletter - have to go to Blog]
There are some campaign promises that this president has fulfilled. It is clear, in the present context, that Obama was promising to raise an army of "Brown Shirts" that "would be just as powerful, just as strong, just as well-funded". This civilian national security force is a three-headed monster. As I pointed out, DHS, along with its acquisition of 2.2 billion rounds of ammunition and its 2700 armored personnel carriers, is the executive head of this new army of unconstitutional thugs which will head the upcoming martial law enforcement troops. The other two parts of this force would be the Chinese and Russian soldiers who are presently training on American soil and have been for some time.
AT THE LAST GREAT STAND, I'VE DETERMINED FROM ALL THE VARIOUS ARTICLES I'VE READ COMBINED, FEDERAL AGENCIES ARE IN POSSESSION OF APPROXIATELY 12 BILLION HOLLOW POINT BULLETS TOTAL.
ANYONE WHO MIGHT SUGGEST TO YOU THE BULLETS ARE MERELY FOR "TARGET PRACTICE," TAKE A LOOK FOR YOURSELF!
HAVE YOU EVER SEEN A HOLLOW POINT IN ACTION?
[Audio/Video below cannot be seen in Newsletter - have to go to Blog]
​THEY ARE NOT INTENDED FOR MINOR FLESH WOUNDS!
NOW REALIZE FEDERAL AGENCIES HAVE ENOUGH OF THEM TO SHOOT EVERY MAN, WOMAN AND CHILD ON EARTH 1.5x EACH, LET ALONE JUST DEALING WITH AMERICAN CITIZENS!
THE RUSSIANS ARE OUR ENEMY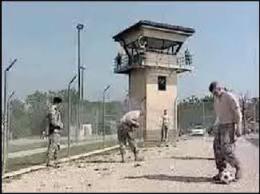 Previously, on my talk show, I posed the open question as to why FEMA would sign a bilateral agreement with the Russian military to permit Russians to train on American soil. My most immediate concern has to do with the fact that Russians have repeatedly threatened to nuke the United States if we invaded Syria or Iran in the fall of 2012. I also raised the point that FEMA is a Federal agency designed to respond to natural disasters. Why would we need the Russian military to help us with a response to a natural disaster? Are the National Guard units going to be disbanded? Has our military grown so inept that they cannot be counted on? Or, is it more likely that the Russians will not hesitate to fire on American citizens during a martial law crackdown, subsequent gun confiscation as well as the deportation of dissident Americans to re-education camps?
The following is a quote from the Russian Emergency Situations Ministry:
"The Russian Emergency Situations Ministry and the USA Federal Emergency Management Agency (FEMA) are going to exchange experts during joint rescue operations in major disasters. This is provided by a protocol of the fourth meeting of the U.S.-Russia Bilateral Presidential Commission Working Group on Emergency Situations and seventeenth meeting of Joint U.S.-Russia Cooperation Committee on Emergency Situations, which took place in Washington on 25 June.
The document provides for expert cooperation in disaster response operations and to study the latest practices. In addition, the parties approved of U.S.-Russian cooperation in this field in 2013-2014, which envisages exchange of experience including in monitoring and forecasting emergency situations, training of rescuers, development of mine-rescuing and provision of security at mass events."
Don't be deceived America, this is not just another example of international cooperation between two nations. As far back January of 2012, Russia threatened nuclear war and the threat was issued by the outgoing Russian ambassador to NATO, Dmitry Rogozin, when he said that "Russia has given Iran its bear hug and warns Israel and the West that an attack on Tehran would be considered an attack on Moscow"….
The nuclear attack threatened of the former Russian NATO ambassador is not the only time that the Russians have threatened to nuke the United States. Over two years ago, the Russians threatened to nuke targeted American sites in retaliation for a nuclear shield that the US erected in Europe. The unmistakable conclusion is that the Russian government is an enemy of the United States and as such their military does not belong on our soil in any way shape or form.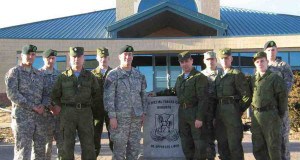 Disturbingly, in the fall of 2013, Russian troops were used in the highly secure Grid EX II drill. Further, in the same time frame, it was announced that Russian soldiers training at Ft. Carson, CO., would be used to police major events on American soil. This is martial law desensitization training in which the Russians are trained to interact with American citizens. In short, these enemies of the Republic are a part of the new martial law enforcement troops and this development defies belief.
Obama has opened the back door and let our enemies in the country in this version of the ultimate "Trojan Horse" scenario. This also explains why Obama is turning the United States military upside down on its ear with his endless series of purges of our military leadership. Obama knows that most of our present military leadership is not on board with the treason coming out of the White House. Therefore, Obama is reshuffling the deck in an attempt to find American generals and admirals who will do his unconstitutional bidding.
THE CHINESE ARE OUR ENEMY!
For the first time in American military history, the United States allowed communist Chinese troops to train on American soil. Like the Russians, the Chinese military were also a part of the highly secure Grid EX II drill in which they provided military support by a simulated attack of a rogue "third world nation" upon the US and its power grid infrastructure. The Chinese first put boots on the ground in Hawaii.
This is an incredible act of treason being committed by the White House. The Chinese government is the enemy of the American people. Just like Russia, the Chinese have threatened to nuke the United States over a potential invasion of Syria and Iran. Just like Russia, the Chinese have been involved in the purchase of Iranian oil for gold which undermines the Petrodollar. The latter is a direct attack on the United States economy. In my book, when a nation threatens to nuke us and attacks our economic interests, they should be considered to be a hostile enemy and should be kept at arm's length. However, our current President embraces our enemies and turns his back on our traditional allies.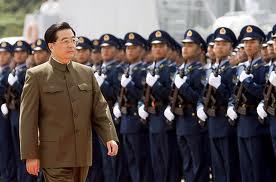 The leader of the Communist regime's delegation, Major General Zhu, became infamous worldwide after telling reporters in 2005 that the dictatorship in Beijing would deploy nuclear weapons against major American cities in the event of a conflict over Taiwan. Let me emphasize, that there can be no dount that Chinese President Hu and Major General Zhang Zhaozhong have threatened the United States with nuclear war if they invade either Iran or Syria.
Do the above statements sound like the statements of a trusted friend that we should let be a part of a highly sensitive RIMPAC war games in the Pacific? This is exactly what we have done over the past two years.
Interestingly, the only nation on the face of the earth which possesses a sufficient number of troops to effectively garrison the United States is China. Military estimates tell us that six million troops would be needed to occupy this country in a martial law takeover. The Chinese certainly have that capability. Hawaii would prove to be an optimal staging from which to send massive amounts of Chinese soldiers to this country in order to enforce martial law.
The Chinese own much of our debt. It is not hard to conceive of the fact that the IMF would strike a deal with the Chinese which promised debt collection through the seizure of American hard assets in exchange for occupying the country.
OBAMA IS A TRAITOR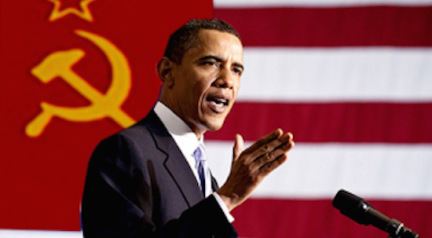 To perpetuate the running of our FEMA camps by the Russians and the Chinese, they would need assistance from within our government. Before you Obama supporters tell me that this president would not be this stupid, or this president would never be that treasonous so as to endanger the country by using troops from enemy countries to participate in a highly sensitive exercise with huge national security implications, I would refer you to a previous article that I wrote on the fact that Obama was bred by communists, raised by communists and had his political career launched by communists to do what he's doing today. This is not hyperbole, these are well documented facts that I would encourage all skeptics to read by clicking on the hypertext links, view the evidence for yourself and then do your own research. There is only one correct interpretation. Obama was put into office to deindustrialize the US through the introduction of cap and trade policies and to destroy the sovereignty and individual civil liberties of American citizens by putting the country under martial law. He is succeeding on both fronts.
CONCLUSION
We in the alternative media, do not have time to deal with the skepticism of America's sheep any longer. The situation is dire and deserves immediate attention and exposure if we have any hope of turning back the dark future that some have planned for the citizens of this country. It might already be too late.
The short answer to this problem is that this President needs to be IMPEACHED and immediately REMOVED from office.
In future articles, I will be reporting the expanding locations of these troops as well as the communities that this occupation force inhabits. The Russians and the Chinese are not coming, they are here and the American people have been sold out at the very top level of our government.
THE COMMON SENSE SHOW HAS A NEW LISTENING HOME!
LISTEN SUNDAY NIGHTS FROM 9PM-MIDNIGHT (CENTRAL)

To Listen By Phone: 832-999-1763
To be a part of the show please call: 1-888-420-9890
We try to provide just about every type of stream anyone would need, so here are the major ones provided for your listening pleasure: