WHAT'S HEARTBREAKING…
IS THIS WILL NEVER MAKE THE EVENING NEWS….
We were right about EVERYTHING! Pick a subject, something liberals had a derogatory name for, and something they called us crazy about in 2008… pick anything… we were right on ALL of it. We have the most successful TERRORIST of all time sitting in the Oval Office. Hijack a plane? Heck, he took a country… and now, whether liberal or conservative, smart enough to see it coming, or probably not so much if you're a liberal, YOUR kids and YOUR grandkids will pay for YOUR mistake.
WHAT'S WORSE?
WE'LL READ THIS, NOD, AND GO ABOUT OUR DAY…
I BET EVERYONE KNOWS WHO'S STILL LEFT ON THE BACHELOR…
OR AMERICAN IDOL… "BUT YOU DON'T HAVE TIME FOR THIS…."
THIS SHOULD BE THE PRICE!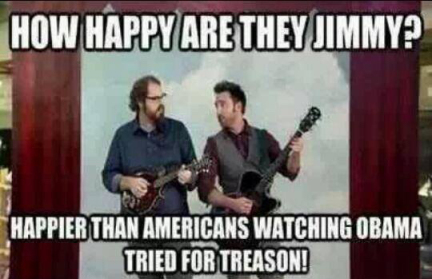 WHEN DO WE OWN UP TO WHAT WE'VE DONE?
In a post dated June 20th titled: OBAMA MUST BE ARRESTED & PROSECUTED FOR IMPERSONATING A PUBLIC OFFICER, the author goes into GREAT detail about Barack Obama's status as a USURPER of the Presidency. As such, the author tells us Obama CANNOT be impeached, because only a Lawful President can be Impeached. Obama was NEVER qualified for the office of the President of the United States. Rather, Obama hijacked it. He is an IMPOSTOR… a charlatan. Even OBAMA HIMSELF ADMITS THAT HE WAS BORN IN KENYA, but we're long passed the point of being able to do anything about it.
In 1979, an article was uncovered WRITTEN BY VALERIE JARRETT'S FATHER-IN-LAW ABOUT A MUSLIM PLAN TO PURCHASE THE PRESIDENCY OF THE UNITED STATES. If you READ that HORRIBLY disturbing article (that was written decades ago (and LONG before the years of the Obama Debacle), does the claim by an Iranian Commander that THE WHITE HOUSE IS ISIS HEADQUARTERS really seem THAT outlandish?
Perhaps that alone isn't enough. What about the OBAMA ADMINISTRATION DOING NOTHING TO STOP KNOWN JIHAD TRAINING CAMPS right here in the United States? What about FORMER CIA AGENTS COMING OUT AND SAYING OBAMA IS A "RADICAL ISLAMIST" AND ENEMY OF THE UNITED STATES?
We have FOUR STAR ADMIRALS WHO HAVE SAID OBAMA HAS CONSPIRED WITH THE ENEMY, other members of the CIA CONFIRM OUR WORST FEARS ABOUT BARACK OBAMA, and OBAMA'S INSISTENCE THAT AMERICAN SOLDIERS BE WILLING TO FIRE ON AMERICANS… does any of that concern you? Even the NEW ARMY MANUAL DETAILS THE USE OF LETHAL FORCE ON U.S. CITIZENS, EVEN THOSE PEACEFULLY PROTESTING!
AT WHAT POINT DO WE REALLY FACE THE FACTS OF WHAT WE'VE DONE?
WHEN DO AMERICANS TAKE OWNERSHIP OF OUR MISTAKE?
READ WHAT SENIOR CHIEF GEOFF ROSS WRITES ABOUT OBAMA'S SEALED PAST!
AS ALWAYS, THE MOST VALUABLE PART OF THE POST IS THE LINKS AT THE END!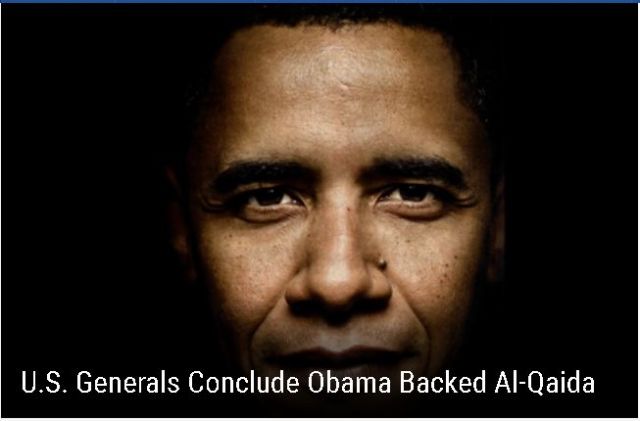 While Barack Obama has taken numerous and expensive steps to keep his past secret (and yes, other presidents have did the same), one thing that cannot be missed is what may be the smoking gun in the eligibility case: The passport information of Stanley Ann Dunham, Barack Obama's mother. It has been said that young Barry went to Indonesia with his mother to live with Lolo Soetoro and in doing so, because of his age, he was placed on his mother's passport. According to the documents obtained from the US State Department, under the Freedom of Information Act, Barack Hussein Obama's name was stricken from the original application. According to the State Department, they "could not locate a 1965 passport application referenced in an application for amendment of passport that is included in the released documents."
Why are these documents so important? Under US Passport laws, in order to add a child to one's passport, they would simply have to have the child's birth certificate and a photo of one's self and the child so that they could be matched when boarding a plane for their destination.
Upon the release of Dunham's passport files, they were examined and in her renewal application, dated August 13, 1968, she lists Barack Hussein Obama (Soebarkah). Obama would have been eight years old at the time, just about to turn nine.
However, if you take a look at the application, young Barry's name is scratched out on page two of the application, which means he was not in the application for his mother's passport renewal in 1967.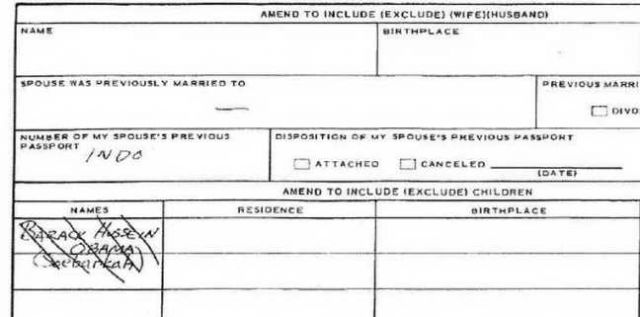 SO WHAT DOES THIS MEAN? CONSIDER A BREIF TIMELINE:
Stanley Ann Dunham allegedly married Barack Obama, Sr. in 1961.
Barack Obama, Jr. was allegedly born on August 4, 1961 to Stanley Ann Dunham
Later in August of the same year, Dunham moved to Washington to attend University of Washington
Obama, Sr. continued studies in Hawaii until June 1962 and then went to Harvard.
Dunham met Lolo Soetoro in 1963
Obama and Dunham divorced in March 1964
Soetoro and Dunham married in 1965 in Hawaii (according to P3 in the files obtained, but 1964 in P5)
Soetoro leaves Hawaii for Indonesia in 1966, leaving behind Dunham and little Barry
Dunham and Barry would travel to Indonesia in 1967
From ages 6-10 Obama was in school in Indonesia; first at a Catholic School where he was registered as a Muslim and then at Besuki School, one of the three best public schools in Indonesia. (Consider that Obama was labeled a citizen of Indonesia at the time and that it is extremely rare for non-Indonesians to go to Indonesian public school.)
Obama returned to Hawaii to live with grandparents in 1971
So, first let's be honest here. Dunham had a passport that was valid at the time Obama took his first trip to Indonesia (1967). However, when she chose to renew the application (August 1968), she listed Obama and then scratched him out. Since records are not available for her initial passport application due to them being destroyed, one wonders if Obama was listed on the passport. For the sake of argument, I'll assume he was. He's in Indonesia for four years.
He then returned to Hawaii and attended Punahou School and meets his alleged father Barack Obama, Sr. for the only time in his life (by the way, they look nothing alike). Here's where it seems there is a problem. Who did Obama travel with when he came back to the states? If it was his mother, consider that she had not properly listed him in her 1968 renewal application. She would have had to do this in order for Barry to travel with her to Indonesia.
The real kicker comes in her application dated June 1971. There is no listing for Barack Obama as her son on her passport. How is Barry getting from Indonesia to Hawaii now?
According to the man I was named after, who was a Christian missionary for decades to various parts of Indonesia beginning in 1967, he told me that he always had to list his children on his passport until they were 18. Then they could get their own passports. So why is Barack Obama, the son of Stanley Ann Dunham not listed on any of her passport applications? How was he able to travel to and from Indonesia?
The convenience of the 1965 passport records being destroyed is curious. For one might make the claim that there is a coverup (albeit circumstantial) regarding Obama's presence in his younger days. Age 5-6 is when kids normally began school in the US. I assume it would be similar overseas, such as in Indonesia.
But the question remains that Soetoro never listed him as her son on future applications, even when he was ten years old, which would have been when he came to Hawaii and stayed.
Perhaps there is an explanation, but without previous travel records for Obama, we may never be able to get a definite answer.
CDR Charles Kerchner (Ret) theorizes:
Stanley Ann Dunham Obama Soetoro-Passport Application File-Strunk v Dept of State-FOIA Release-FINAL-7-29-10. This file indicates via the 1967 passport amendment application (document marked P3) that Stanley Ann (Dunham) Obama had a passport for certain issued to her 1965 and she was applying to amend it. Thus, she had one for sure in 1965. Since a passport was good for 5 years, that means if the 1965 issued passport was a renewal that she likely got her first passport possibly as early as late 1960 or early 1961. How does that fit the narrative to explain the information coming out of Kenya that Obama was born there? Why did she need a passport at age 18? She would not need it to have a baby in Hawaii or to go to college in Seattle Washington. What was the real reason this pregnant teenager got a passport in late 1960 or early in 1961? I believe it was likely to be able to travel to Kenya to have the baby over there where it was her intent to leave the baby there to be raised by the paternal family in Kenya. She was to then return to re-start her life as a young teenager going to college in Seattle Washington. And then when Stanley Ann did not follow the plan because maternal instincts kicked in and she returned to college in Seattle WITH the new baby, grandma Dunham had to take action and filed the fraudulent action in Hawaii to falsely register the baby as born at home there in Hawaii, with no witnesses, to get her newborn grandson U.S. Citizenship … because it was very easy to do this in Hawaii in 1961. Listen to the Bill Cunningham Radio Show for how it was likely done [continued below video]:
[Audio/Video below cannot be seen in Newsletter - have to go to Blog]
I grant that CDR Kerchner's assumption that Dunham's passport was obtained at eighteen is just that, an assumption. However, it is interesting that he links to a story with similar documentation that we have provided documentation in a previous article as it relates to the Kenyan Parliament and the acknowledgment that Barack Obama was born in Kenya.
Too many things don't add up with Barack Hussein Obama: his selective service form, his social security number, his lack of being able to be verified to hold a job in the US and his birth certificate all point to a man who is a fraud and an illegal president.
So, I ask you, is this passport information the smoking gun in the Obama eligibility case? If so, what are people like Markwayne Mullins and a host of other elected officials doing by not pursuing this to verify the truth? I'll tell you what they are doing. They are being complicit in this and looking out for what they perceive as their political futures, plain and simple. Demand your congressmen pursue this and present the truth to the American people.
Read the article at Freedom Outpost here:
THE VOICE OF REASON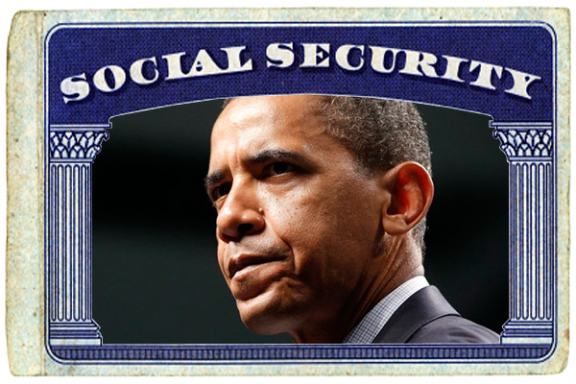 FOR LINKS ON OBAMA'S LACK OF ELIGIBILITY FOR PRESIDENT: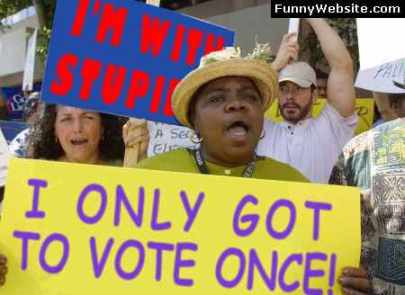 FOR MORE ON OBAMA'S VOTER FRAUD: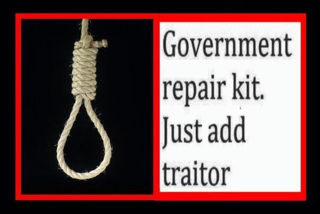 FOR MORE ON ALL OBAMA'S TREASONOUS ACTS!
BE SURE TO CHECK OUT THE GIFT SHOP!