Story Views


Now:
Last Hour:
Last 24 Hours:
Total:
Godfather or Tiny Dancer?
Saturday, March 21, 2015 3:28
% of readers think this story is Fact. Add your two cents.

Diogenes Middle Finger
Is Rahm Emanuel in Trouble in Chicago Mayoral Race? You Bet.

by Robert Janicki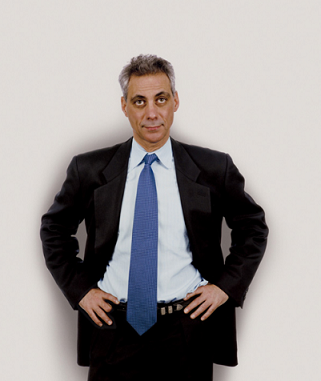 Rahm Emanuel, the current God Father of Democrat politics in Chicago, is in deep trouble. So, just how do we know Emanual is in trouble in seeking another term as Mayor of Chicago? First, we recently saw the results from the supposed nonpartisan mayoral election on February 24th, which requires a candidate get a majority of the vote in order to win the mayoral race. No one had a majority.

By the way, Chicago hasn't had a Republican major since William Hale Thompson (May 14, 1869 – March 19, 1944) was Mayor of Chicago from 1915 to 1923 and again from 1927 to 1931. Known as "Big Bill", Thompson was the last Republican to serve as Mayor of Chicago.
It would seem then, that an incumbent Democrat mayor wouldn't have much of a problem being re-elected. However, it didn't happen in the mayoral election for Emanuel, who basically faced an Hispanic novice, Chuy Garcia, who, by comparison, really did not have a ground game or a substantial Democrat Party organization behind him, that were at the beckon call of Emanuel.
Now on to the latest and most substantial challenge to the God Father's reign as Mayor of Chicago, the shooting gallery central for America. The Service Employees International Union has come out with a scathing video ad highlighting all the failures of Emanuel in his term as mayor. Watch below.
Looking back to the mayoral election for a moment, Emanuel garnered just 45% of the vote, while Garcia managed about 35%. Not bad for a politician relatively unknown in most of Chicago. Since this election, Emanuel has actually failed to increase or even nudge his percentage upward in polling, while Garcia has managed to decidedly edge up more than marginally. What Chicago has is a genuine race for the mayor's position not seen in my lifetime.
Traditionally in Illinois politics, the Mayor of Chicago has also been the kingmaker in state politics by virtually hand selecting and then anointing the Democrat candidate for Governor of the Land of Lincoln, who would then go on to win with the backing of every liberal Democrat in the state. In retrospect, last year's Illinois gubernatorial race was the first serious clue that Emanuel might be in political trouble. His hand picked candidate, the incumbent Democrat governor, lost convincingly in the general election to a self made millionaire Republican businessman unknown in Illinois politics.
Other cracks began to appear when the head of the Chicago Teachers Union heavily criticized Emanuel for closing dozens of schools in Chicago. The CTU head, a black woman, made serious sounds that she might challenge Emanuel, however this scenario never materialized. In stepped Chuy Garcia and people began to pay attention and that's where the God Father is today. Emanuel has been politically weakened by his not unexpected pattern of rewarding his political cronies, which often crossed purposes and political paths with the voting base he desperately needs to win another term as Mayor of Chicago. Stay tuned for one very interesting result come the mayoral runoff election on April 7th.
Having been born and raised in Crook County, Illinois, following politics there has been a hobby for me in adulthood.
__________________________________________
Rob Janicki is a retired educator, strong supporter of the 2nd amendment and all around good guy, as well as owner/operator of the website Wired Right and owes me 20 bucks.

Source:
http://suckersonparade.blogspot.com/2015/03/godfather-or-tiny-dancer.html