Senator Tom Cotton has really got the left in a tizzy. They are reacting to his recitation of a very simple Constitutional principle — the president has no authority to make binding agreements on behalf of the United States without Senate approval — in the way a little tiny girl vampire might react to Holy Water: lots of screaming, cowering, and wetted  panties.
The latest douchebag on the scene, predictably, comes from the left-wing AstroTurf group "VoteVets." That douchebag is retired Major General Paul Eaton. Eaton had the distinction of being in charge of training the new Iraqi Army in 2003-2004 and he did so well that he was never promoted again. Like so many little men with an axe to grind he made a career of criticizing the Bush administration's conduct of the war. Keep this in mind: a retired general officer; on television; criticizing the war effort; while young men and women are being killed in combat. This is a huge point as it speaks to Eaton's lack of honor and integrity as well as his, now clearly demonstrated, propensity for duplicity.
Five years ago I wrote about this odious dipstick. This is Paul Eaton in 2007 doing a television ad undercutting President Bush, effectively aiding the Islamist in Iraq and encouraging them to kill young Americans. This is Paul Eaton deliberately trading upon his former rank in the Army to sow dissension in the ranks of the military. This is Paul Eaton actually giving aid and comfort to our enemies:

Via one of the dimmest bulbs on any editorial page in the nation, the Washington Post's Jonathan Capehart: Tom Cotton picked apart by Army general over 'mutinous' Iran letter
"I would use the word mutinous," said Eaton, whose long career includes training Iraqi forces from 2003 to 2004. He is now a senior adviser to VoteVets.org. "I do not believe these senators were trying to sell out America. I do believe they defied the chain of command in what could be construed as an illegal act." Eaton certainly had stern words for Cotton.

"What Senator Cotton did is a gross breach of discipline, and especially as a veteran of the Army, he should know better," Eaton told me. "I have no issue with Senator Cotton, or others, voicing their opinion in opposition to any deal to halt Iran's nuclear progress. Speaking out on these issues is clearly part of his job. But to directly engage a foreign entity, in this way, undermining the strategy and work of our diplomats and our Commander in Chief, strains the very discipline and structure that our foreign relations depend on, to succeed." The consequences of Cotton's missive were plainly apparent to Eaton. "The breach of discipline is extremely dangerous, because undermining our diplomatic efforts, at this moment, brings us another step closer to a very costly and perilous war with Iran," he said.

"I think Senator Cotton recognizes this, and he simply does not care," Eaton went on to say. "That's what disappoints me the most." And that's what's so scary about this whole episode. The freshman senator from Arkansas and 46 of his Republican colleagues sought to bigfoot Obama on a deal not yet done whose details are not yet known.

…

"I expect better from the men and women who wore the uniform," Eaton said of Cotton. And the American people deserve better from the Senate.
What Eaton did was expose himself as the worst sort of rent-a-fool
1. Civilians can't mutiny. That is a military offense. Mutiny is only punishable under the Uniform Code of Military Justice. Civilians are not subject to the UCMJ… yet.
2. Tom Cotton is a Senator. Obama is not his commander in chief. No Senator has a chain of command. Ask Sen. Mitch McConnell (R-KY)Heritage ActionScorecard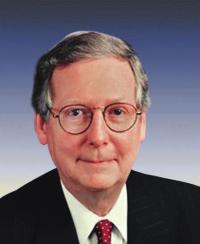 Sen. Mitch McConnell
Senate Republican Average
See Full Scorecard67% if you doubt my word. In fact, no civilian has a "chain of command."
3. The only selling out in question is the Obama administration selling out the United States by giving Iran a nuke and undercutting our regional allies who are now thinking about going nuclear themselves. While Senator Cotton voiced his objections professionally, Paul Eaton encouraged the killers of American troops to keep on killing them.
4. There is no world in which what Senator Cotton did is improper much less illegal.
5. Senator Cotton is not subject to "discipline" from the executive branch.
6. A veteran would know better than to give aid and comfort to the enemies of the United States while soldiers are dying but Eaton made a lucrative career of it.
7. Senators have as much right to contact foreign governments as anyone in the executive branch. Senators are part of the US Government. He was a failed war time leader and was quietly flushed out of the system –It is in the Constitution. Look it up. The Executive does not have a monopoly on foreign policy.
8. If the "work of our diplomats and our Commander in Chief" is against US security interests he has a moral, legal, and ethical obligation to ensure that work fails. Only in his case, Senator Cotton, unlike Eaton, did not betray the trust of men and women in uniform.
9. I don't see how Eaton can look at his own record and say that he demands better of anyone.
This is Paul Eaton in 2007 and his feelings on executive power then:
Retired Army Maj. Gen. Paul Eaton, who was in charge of training the Iraqi military from 2003 to 2004, appeared last night on HBO's Bill Maher Show.

"We are in the midst of recovering right now from a constitutional crisis where you had the executive trump the other branches of government," Eaton said. "Thank god" Congress changed hands in November, he said, giving us "a chance to unsort and figure out how to get out from under this."

Eaton lamented that so many service members believe that conservatives "are good for the military." "That is rarely the case. And we have got to get a message through to every soldier, every family member, every friend of soldier," that the Bush administration and its allies in Congress have "absolutely been the worst thing that's happened to the United States Army and the United States Marine Corps."
Paul Eaton is a low-rent political hack. He is the epitome of the perfumed princes Colonel David Hackworth blamed for the deterioration of the Vietnam era Army. He was a failed war-time leader who was quietly flushed out of the system — how many successful two-star commanders in a combat zone retire with two stars? None. After giving the Iraqi Islamists an assist by undercutting the war effort, he joined, naturally, Hillary Clinton's 2007 campaign. When her campaign went down by the cankles he jumped ship to the Obama campaign. Now he's trying to ingratiate himself with whichever Democrat  wins the 2016 nomination.
The sad part is that there is not a single point I make here that Eaton doesn't know. He may not be MENSA material but he's not an idiot. He is simply the political equivalent of a crack whore. Only cheaper and less attractive.
The post Retired Major General Paul Eaton: hack, hypocrite and odious dipstick appeared first on RedState.
Source:
http://www.redstate.com/2015/03/13/retired-major-general-paul-eaton-hack-hypocrite-odious-dipstick/