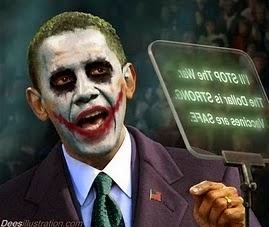 Known as a pretty funny guy by anyone who's not concerned about national security, healthcare and the economy, Barack Obama was the headliner at the White House Correspondents' Dinner last night!

My theoretical Top 10 that are not funny but actually very, very sad. And these 10 are only the tip of any iceberg:
I am in the Top 1 of the United States best Presidents,
The deaths at Benghazi and Fort Hood really were terrorist acts carried out by radicalized Muslims. Gotcha!,
I don't have a borderline personality disorder,
I did not have sex with that woman! Sorry, wrong President,
Sixties radicals can do a good job running the country,
Iran can be trusted. No really!,
My goal is not to bring down the US economy! No really!,
My open border policy is not designed to allow ISIS and any other terrorist who wants to into the country to commit acts of barbarism,
The country is safer now than when I took office,
On my watch we have eradicated terrorism and Islamic extremists for all time! Sorry, please strike that part about Islamic extremists and make it bad actors.
10. On former Pennsylvania Sen. Rick Santorum's declaration that he would not attend a gay wedding if invited: "Gays and lesbians across the country responded, 'That's not going to be a problem.'"
9. On ABC's new series "Blackish": "Being blackish only makes you popular for so long. There's a shelf life to that thing."
8. On his rapidly-graying hair: "I look so old John Boehner has already invited Netanyahu to speak at my funeral."
7. On why he's so relaxed in the final years of his presidency: "Those Joe Biden shoulder massages, they're like magic. You should try one. Oh, you have?"
6. On presidential long-shot Sen. Bernie Sanders (D-Vermont): "Some folks really want to see a pot-smoking socialist in the White House. We could get a third Obama term after all."
5. On Sen. Ted Cruz (R-Tex.) comparing himself to Galileo for denying the existence of man-made climate change: "Galileo believed the Earth revolves around the sun. Ted Cruz believes the Earth revolves around Ted Cruz"
4. On his ever-improving relationship with Vice President Joe Biden: "We've gotten so close that in some places in Indiana they won't serve us pizza anymore."
3. On how history will view his presidency: "Michele Bachmann actually predicted that I would bring about the biblical end of days. Now, that's a legacy. That's big. I mean, Lincoln, Washington, they didn't do that."
2. On his plans for his last year and a half in office: "I have something that rhymes with a bucket list. Take executive action on immigration? Bucket. New climate regulations? Bucket."
1. On Democratic 2016 front-runner Hillary Clinton: "I have one friend, just a few weeks ago she was making millions of dollars a year and she's now living out of a van in Iowa."
Advertisement
Source:
http://politicsandfinance.blogspot.com/2015/04/obamas-top-10-jokes-at-white-house.html