Aaron Spuler is a firearms enthusiast and recreational shooter. Follow more or his work at The Weapon Blog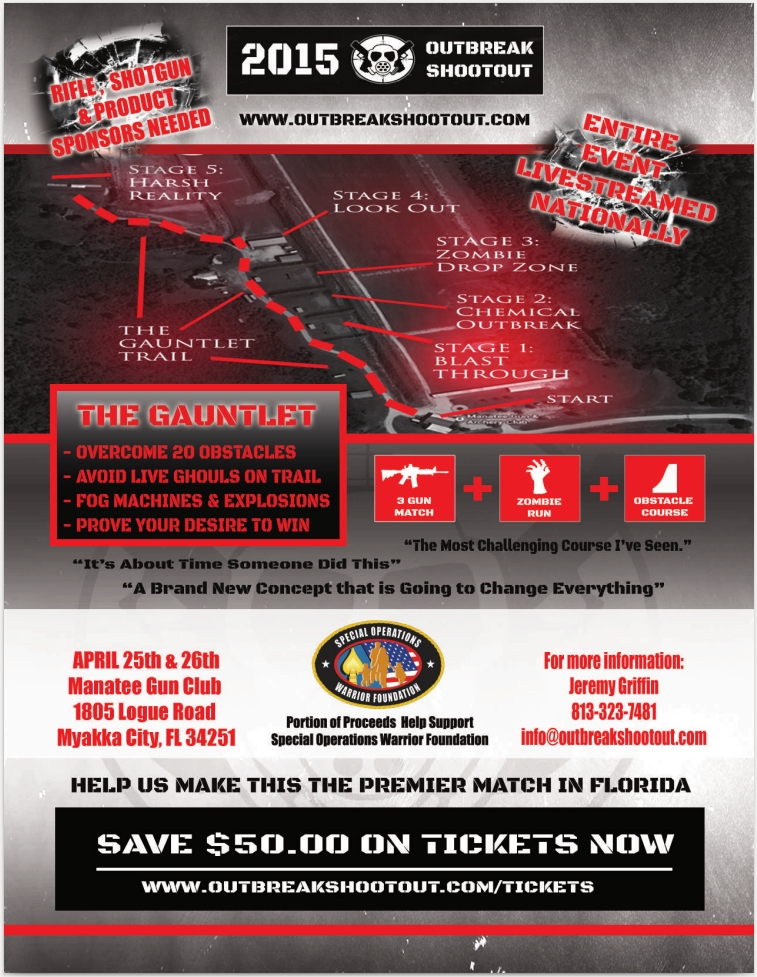 Outbreak Shootout
Where:
Manatee Gun Club
1805 Logue Road
Myakka City, Fl 34251
When:
April 25th and 26th, 9-6pm both days.
The next big thing in competitive shooting is here. On April 25th, the inaugural Outbreak Shootout will take place at Manatee Gun Club, just outside Sarasota Florida.
This match combines the following:
"Tough mudder" type obstacle course- over 20 obstacles
3 gun match- five themed courses of fire
Zombie Race- real zombies along the obstacle portion of challenge
American Ninja Warrior- One man, one run, one chance.
We have taken aspects of all of the hottest events in America right now and combined them into one incredible package. This is not your typical shooting competition, nor was it designed to be so. We are doing something different and think we are deϐinitely onto something big.
Current major sponsors include: American Tactical, KelTec, Youngs Manufacturing, Tonys Customs, Got-Rack, Lincoln Tactical, Grizzly Targets, Liberty Ammunition EO Tech and Noveske.
With over $10k in prizes, including 8 riϐles, this challenge is going to be a blast.
Source:
http://www.weapon-blog.com/2015/04/outbreak-shootout/