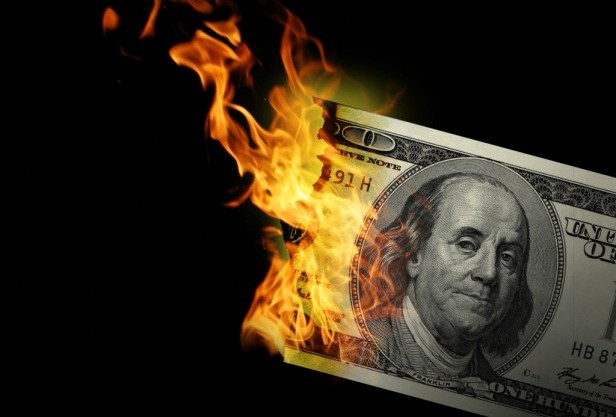 By: Voice of Reason
FOR MORE NEWS BY VOICE OF REASON CLICK HERE!
MORE TALK OF THE DOLLAR LOSING STATUS AS THE RESERVE CURRENCY!
WHICH MEANS THE COLLAPSE OF THE U.S. ECONOMY!
I'll try to sum up why the loss of the Reserve Currency Status is a CERTAINTY, not a "myth" or a "conspiracy," and how that will affect every day Americans. Then, for those who take the time to click on the few links provided before the article below talking about the IMFIF's meeting, you'll learn that that everything I've said can be confirmed, the posts coming out later today will dig into the details a bit more. Hopefully that will encourage many of you to change your current attitudes about beginning to save more, and of the of imbeciles we keep sending to Washington.
To begin, I think we can all assume that when we are both $18 TRILLION IN DEBT (making us the largest debtor in the world), and have over $200 TRILLION in unfunded liabilities, that becoming a BANKRUPT NATION with a WORTHLESS CURRENCY is VERY bad. I don't think you need to be a member of any party to come to that conclusion.
FACT:
We are $18 TRILLION in debt. Very soon the interest payments on the debt we owe will EXCEED our GDP, or what we earn as a nation.
TRANSLATION:
That is like making 35k per year, and the interest on your credit cards, or the minimums due on them, being more than than your ENTIRE take home pay. That means there is no money for a car, a home, food, or EVEN the Obamacare you love paying for so much.
FACT:
We have around $200 TRILLION in unfunded liabilities
TRANSLATION FOR NORMAL PEOPLE:
That means that the sh**load to end all sh**loads of promises have been made by politicians to buy votes for things that PEOPLE WILL NEVER SEE IN A MILLION YEARS, even though they were promised.
TRANSLATION FOR LIBERALS:
YOU'VE BEEN DUPED! All the free stuff you were promised isn't coming, and lower levels of poverty IS coming. Good work vetting your candidates or learning history. Well done.
Join my Twitter feed | Like my Facebook page
WHAT HAPPENS WHEN INTEREST EXCEEDS INCOME?
When the interest on our debt is greater than our ability to pay it, we are bankrupt. When was the last time you saw lenders (other nations in this case) rushing to lend money to bankrupt people? I hope I don't have to elaborate on that point. That's when the lights go out and you better be locked and loaded.
Moving on, in the past, because we were the World Reserve Currency, we have always just "printed more money out of thin air," because we've controlled the printing press. Kinda convenient right? It was for a long time. It won't be soon, when the world takes away our ink. The problem with just printing more money is it makes the existing money worth less. If it's worth less, when we exchange it with other countries for their currencies in order to be able to buy THEIR goods, it buys LESS. We've seen that erosion over my lifetime. When I was kid, you could go to Europe, and almost anywhere you went, you were filthy rich and could buy anything with a $100 in your pocket. Now go try that.
SO WHAT YOU SAY! YOU DON'T GO TO EUROPE.
YOU BUY THINGS HERE!
Uh, ok. You DO realize we currently have a trade deficit of about $500 BILLION annually right? NEWS FLASH: We buy a LOT of things from other places. In fact we buy WAY more from other places than we do from OUR OWN COUNTRY! Why do you suppose that is? That's because we've outsourced so much of our production capability to other countries for cheep labor. TRANSLATION: What little we produce here, no one here wants.
Join my Twitter feed | Like my Facebook page
WHAT DO YOU GET WHEN YOU MIX A BANKRUPT COUNTRY NO ONE WILL LEND TO, FULL OF ANGRY CITIZENS PROMISED THINGS THEY WILL NEVER SEE, AND WHO CAN NO LONGER IMPORT ALL THE THINGS THEY'VE GROWN ACCUSTOMED TO BECAUSE OUR DOLLAR WON'T BUY SO MUCH AS A USED SHOELACE ANYWHERE ELSE?
YOU GET A COUNTRY THAT HAS TO LIVE OFF WHAT IT PRODUCES!
WAIT! WE DON'T PRODUCE MUCH…
NOW, maybe you are seeing the problem I hope? It gets worse. The CHINESE HAVE BEEN SMART, AND HAVE BEEN BUSY BUYING UP AMERICAN MANUFACTURING WITH AMERICAN DOLLARS BEFORE THE DOLLAR IMPLODES! That means they'll REALLY be in the driver's seat when we go down. So, how do 300 million people survive if we can't import anything and don't produce squat because we are a "SERVICE" economy now? Short answer? WE DON'T.
WHY DO YOU THINK THE GOVERNMENT IS BUILDING UNDERGROUND ROADS CONNECTING MILITARY COMPLEXES AND GOD KNOWS WHAT ELSE (VIDEOS INCLUDED)?
DEAD HUMAN REMAINS HAVE NOW BEEN FOUND IN THOSE TOP SECRET GOVERNMENT TUNNELS, AND A NAVY SEAL INVOLVED WITH THE PROJECT SAYS STORAGE MUST BE FULLY STOCKED WITHIN SIX MONTHS?
UH… ANY GUESSES WHY?
WHY DO YOU THINK 30 STATES ARE PRACTICING FOR MARTIAL LAW?
There won't be anywhere NEAR enough for everyone. That means if you have food, people will do whatever is necessary for them and their loved ones to get to it. Chances are if you have none, you'll do the same. THAT is how a worthless Dollar plays out. Period. There will be a TON of violence for those without somewhere safe, heavily stocked with food, and well protected with serious firepower.
HOW VULNERABLE IS AMERICA TO MASS STARVATION? VERY!
WHY DO YOU THINK THE FOLLOWING IS HAPPENING:
HOW DO I KNOW WE ARE LOSING THE RESERVE STATUS?
The reason I know we are losing our status as the Reserve Currency, is because all you have to do is look at whether or not goods and services are being bought and sold in U.S. Dollars around the world. DUH! Guess what? If you've been reading the dozens and dozens of posts I put out on this matter (MANY OF THE BEST ONES ARE AT THE BOTTOM), each one talks about another country no longer using Dollars, or something to that effect.
Who are the 5 members of the U.N. Security Council, and arguably the most powerful nations on earth? The United States, Russia, China, United Kingdom, and France. What would happened if they all stopped using the Dollar?
FOR MORE NEWS BY VOICE OF REASON CLICK HERE!
Since ALL the world's oil used to be priced in Dollars, aka the PetrodDollar, that gave us total control over everything. CHINA AND RUSSIA NOW OWN THE WORLD'S LARGEST OIL COMPANY AND IT DOES NOT EVEN ACCEPT DOLLARS, MUCH LESS DEPEND ON THEM. Recently, Russia and China took things a step further than just oil, and now do not do ANY trade in U.S. Dollars. GUESS WHAT FRANCE ALMOST DID NOT TOO LONG AGO?
Folks, THAT is how you know the gig is up, and the world is moving as fast as it can AWAY from the Dollar. THAT is how you know we are moving as fast as we can toward OBLIVION! See what life is like in Iraq now? Expect that here… maybe worse. 100 million Americans own 300 million guns. Are you getting me yet?
NONE OF THAT IS THEORY…
HERE ARE SOME OF THE MORE SERIOUS FORMER POSTS:
WE ARE A TICKING TIME BOMB AS THE ARTICLE BELOW SUGGESTS!
Last Monday there was a meeting in Washington hosted by the Official Monetary and Financial Institutions Forum (OMFIF) to discuss the future relationship, if any, of gold with the Special Drawing Rights (SDR).
Also on the agenda was the inclusion of the Chinese renminbi, which seems certain to be included in the SDR basket in this year's revision, assuming that the United States doesn't try to block it.
This is not the first time the subject has come up. OMFIF's chairman, Lord Desai wrote a paper about it after the last Washington meeting on gold and the SDR exactly four years ago. The inclusion of the renminbi in the SDR was rejected in 2010 because of inadequate liquidity and is due to be reconsidered this year.
Desai pointed out in his paper that there are difficulties when it comes to including gold, because (and I think this is what he was trying to say) none of the SDR's paper constituents are convertible into gold, but gold's inclusion in the SDR would make them convertible through the back door. However, Desai seemed keen to re-examine the case for gold.
It should be pointed out that if gold is included in SDRs the arrangement cannot be long-lasting so long as the major central banks insist on printing money as an economic cure-all. However, China's position with respect to gold and her own currency could be a different matter.
The Chinese government has almost certainly accumulated large amounts of gold yet to be included in her reserves, and she has also encouraged her own citizens to own gold as well. We can therefore be certain that China sees a monetary role for gold while at the same time she is pushing for the renminbi to be included in the SDR basket. There is no doubt, if you read the IMF papers from the last SDR review in 2010 that the renminbi does now fulfil the criteria for inclusion today. So the question then is will the advanced nations, which dominate the IMF's membership, permit the renminbi's inclusion, and will the US, which has dragged its heels on giving China and the other BRICS nations a greater shareholding in the IMF, relent and permit these reforms, which were accepted by the other members back in 2010?
The Americans' blocking of reform signals her desire to preserve the dollar's hegemony; but given she lost out spectacularly over the creation of the Asian Infrastructure Investment Bank, IMF reform could become the next serious threat to the dollar's dominance. And if America does not back down over the IMF and the SDR, she will have no fall-back position; China on the other hand still has some aces up her sleeve.
Join my Twitter feed | Like my Facebook page
One of them is gold, and another is her role in a rival organisation established by the BRICS. The New Development Bank (NDB) is in the final stages of being set up, driven by frustration at America's attempts to protect the dollar's role and to keep the IMF as an exclusive club for advanced nations. Instead, the NDB could easily issue its own version of the SDR with the gold lining Desai referred to in his original paper
The reason this would work is very simple. The BRICS members, unencumbered by the cost burden of modern welfare states could exercise the monetary restraint required to tie their currencies to gold, perhaps running a Bretton-Woods-style gold-exchange arrangement between member central banks to stabilise their currencies.
However, the NDB would almost certainly want to see the gold price considerably higher if it is to play any part in a new rival to the SDR. Other BRICS members would be encouraged to make sure they have sufficient gold on board by selling US dollar reserves to buy gold, ahead of any decision to go ahead with a new super-currency.
It would appear the era of the dollar's global domination as a reserve currency is coming to an end, and the stage is now being set for gold to be officially accepted as the ultimate reserve money once again, this time by the next generation of advanced nations.
Read the article here at Zero Hedge
By: Voice of Reason
FOR MORE NEWS BY VOICE OF REASON CLICK HERE!
THE VOICE OF REASON
FOR LINKS TO UNDERSTAND THE ECONOMY & THE COMING ECONOMIC COLLAPSE:
BE SURE TO CHECK OUT THE GIFT SHOP!