read it all here……………http://jamesfetzer.blogspot.com/2015/04/gordon-duff-covering-for-jade-helm-and.html
…………….That the situation has come to this grieves me. I began writing for Veterans Today when Gordon invited me to join in 2011. I have believed in Gordon and thought he was a serious and professional journalist. I am dismayed at the turn of events, but reason and rationality require that, with the acquistion of new evidence and alternative hypotheses, we may have to reject hypotheses previously accepted, to accept hypotheses previously rejected and leave others in suspense. As the evidence I have presented explains, I no longer believe in Gordon Duff.
Targeting Talk Show Hosts I was scheduled to appear with Jeff Rense on Friday to discuss JADE HELM. When I linked with the station, the producer explained that he was having trouble getting in touch with Jeff. I hung around for 45 minutes in the hope that he might make contact and, when I reluctantly concluded it wasn't going to happen, I send an email saying that I hoped he was OK. The next morning I received a reply from his girlfriend, telling me that he had been in a serious autombile accident and giving me the number of the hospital treating him.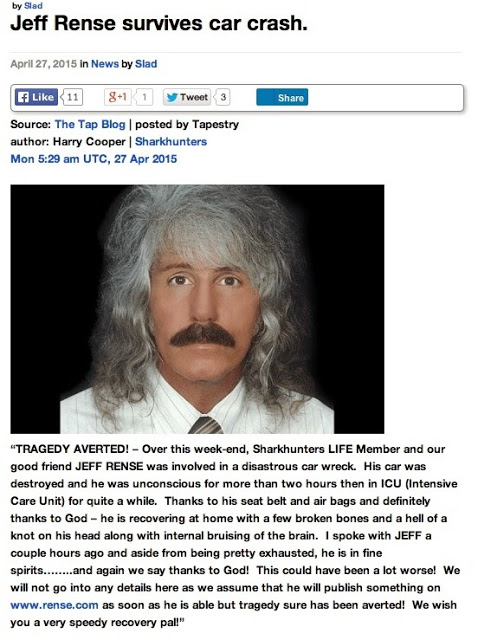 I called later that morning and was informed that he was resting comfortably in ICU. On Monday I learned that he was home with a broken wrist–and he called me that afternoon to invite me on his show (again) to talk about JADE HELM. He told me he had been hit with some kind of psychotronic weapon that rendered him complete unconscious and his car went off the road into a rather substantial ditch. It was totaled–actually, a complete wreck–and the police described it as "an unsruvivable accident". It looks like no accident to me.
At the end of our conversation on the air, I observed that Stew Webb, with whom I had done a show about VT and Gordon Duff Thursday night, had been run off the road on Saturday, which further confirms my believe that things are getting hot because JADE HELM is "the real deal". I wish I could deny it, but Gordon has boasted to me in the past that he could have people taken out with a few phone calls. I don't like to entertain the idea, but if I am right about JADE HELM, then this may be the game that is being played for "all the marbles".
watch this too………………http://blogdogcicle.blogspot.com/2015/04/thurs-04302015-falseflag-weekly-news.html
Source:
http://blogdogcicle.blogspot.com/2015/05/jim-fetzer-says-gordon-duff-is-covering.html