http://simplyjews.blogspot.com/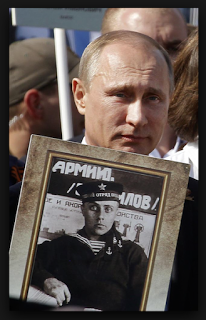 Russian PR isn't known for its subtlety. Beatification process of Valdimir Vladimirovich Putin is another example of negative impact of the chronic state of hangover.
Here is what one of the Russian media outfits MKRU reported re the above picture: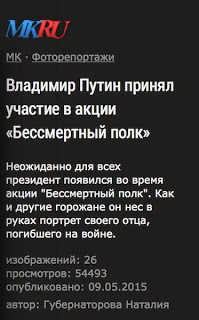 Here is what the text above says (more or less):

Unexpectedly, the President appeared during the demo "Undying brigade". Like other citizens, he was carrying a portrait of his father, who fell in the war.
Just for the hell of it, the reader is invited to do some simple arithmetic: the war in question ended in 1945; Putin V.V. was (officially) born in 1952. Since at the time all these modern methods of freezing one's sperm and artificial insemination weren't in vogue, only one option, no matter how improbable, remains on the table…
Oh well, the story is surely being blown out of proportion, since Putin's dad didn't die in the war and the whole brouhaha is to remain on the conscience of one hapless reporter. Still, another question remains: according to the official Putin's bio, his dad fought in the war in the ranks of 86th infantry brigade. In the picture, however, he appears in Navy standard garb.
Curiosier and curiosier…
http://simplyjews.blogspot.com/
Source:
http://simplyjews.blogspot.com/2015/05/putins-immaculate-conception-or-in.html