http://simplyjews.blogspot.com/ The history of football in Israel is rather a lesson in more or less uninterrupted failure and humiliation at the hands (feet) of even the least able of the world teams, national and otherwise. One would suggest it's time to quit this business altogether and direct the means into some more satisfying endeavor. Like bridge or bingo or something. Well, anyway, this post is about a rare heartwarming moment in this miserable history.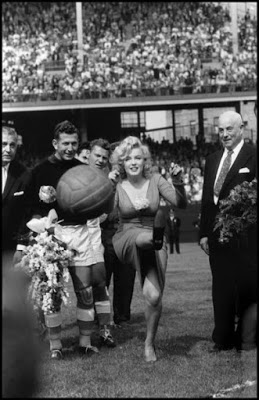 This picture, which I picked up thanks to Fred Lapides, depicts such a moment. The picture, according to the photographer Bob Henriques, shows Marilyn Monroe opening the USA-Israel Football International at Ebbets Field, home of the Brooklyn Dodgers in 1959.
The picture caused me to do some googling. The player on the left appears to be no one else but Ya'akov Hodorov, the goalkeeper of the Israeli team. Wiki knows some things about him:

Ya'akov Hodorov (Hebrew: יעקב חודורוב) (born 16 June 1927; died 31 December 2006) was an Israeli football goalkeeper in the 1940s, 1950s, and 1960s. He was considered by many to be Israel's best goalkeeper in history, and among the best goalkeepers of his generation.
There are more facts about one of the very few really good Israeli footballers in this link.
As for the occasion where this picture was taken: I have dug up a 2003 Haaretz article that tells the story of the Israeli team visit to US and the round of games it played there. The tour started with the game in New York, at Ebbets Field, as is correctly stated in the Bob Henriques' entry. The date, however, is wrong – the game was played on May 15, 1957.
According to the article, Ya'akov Hodorov succeeded to "monopolize" Marilyn's time, keeping her near himself all the time during an unprecedentedly warm and festive reception organized by New Yorkers for the Israeli team. A lot of pictures are said to be shot of the pair.
As for the game itself, played against the New York all stars team – the Israeli team won 6-4, while Hodorov, as the article remarks, was in a somewhat dreamy state. Probably influenced by his beautiful host…
Well, back to infamy. The Israeli team played another two game during the visit: one in Philly against a local team, another in Washington – against Scots of Glasgow's Celtic. Lost both. So much for the customary infamy.
Here is another picture of Marilyn Monroe and Ya'akov Hodorov: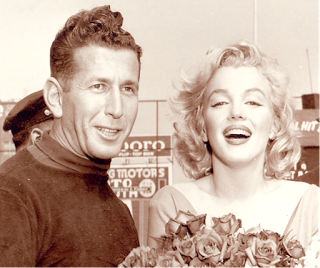 Which is surely better than just Israeli football.
http://simplyjews.blogspot.com/
Source:
http://simplyjews.blogspot.com/2015/06/marilyn-monroe-and-yaakov-hodorov-fame.html