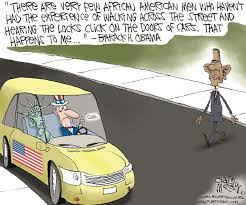 Barack Obama, Al Sharpton, Jesse Jackson and Eric Holder, among others, have race-baited to the point where police may be reluctant to act for fear of retribution!

The result? Using Baltimore as an example, murder rates not seen in four decades!
And what do you think that the sounds coming from the race-baiters concerning this mostly black on black crime is?
Utter silence of because unless a white cop kills a black suspect, they just don't care! And the media? With no potential for sensationalizing this crime story, they do not show up!
'A month and a half after six officers were charged in Mr. Gray's death, policing has dwindled in some of Baltimore's most dangerous neighborhoods, and murders have risen to levels not seen in four decades. The totals include a 29-year-old man fatally shot on this drug corner last month. Police union officials say that officers are still coming to work, but that some feel a newfound reluctance and are stepping back, questioning whether they will be prosecuted for actions they take on the job.

Around the nation, communities and police departments are struggling to adapt to an era of heightened scrutiny, when every stop can be recorded on a cellphone. But residents, clergy members and neighborhood leaders say the past six weeks have made another reality clear: that as much as some officers regularly humiliated and infuriated many who live here, angering gang members and solid citizens alike, the solution has to be better policing, not a diminished police presence.' (NYT)
And even as the New York Times reports on the problem, their answer highlighted above has nothing to do with finding a solution to the issues that create the crime problem in the first place, but rather lay blame once again on the cops.
Related Article

Police, Firefighters And The Military: Thank You!
Advertisement
Source:
http://politicsandfinance.blogspot.com/2015/06/murder-rates-that-race-baiters-have.html