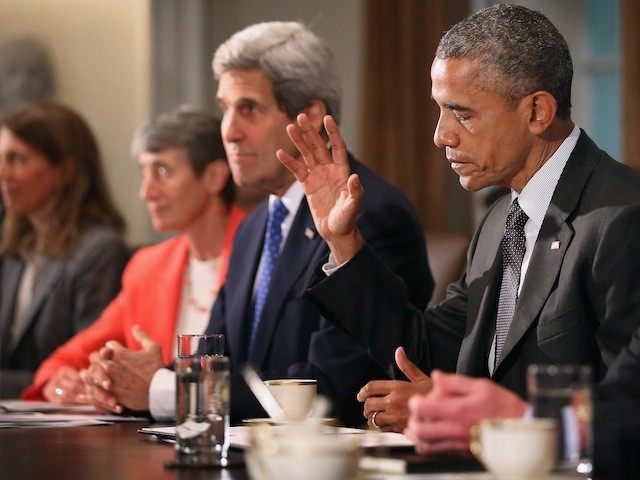 FOR MORE NEWS BY VOICE OF REASON CLICK HERE!
BE SURE TO GO MY PROFILE'S BELOW AT OTHER SOCIAL MEDIA:
FACEBOOK | TWITTER | PINTEREST | STUMBLE UPON | TUMBLER
NOT THE FIRST TIME AN ADMIRAL ACCUSED OBAMA OF TREASON!
In the first video below, see the retired Admiral James Lyons, Jr. the former Commander-in-Chief of the U.S. Pacific Fleet, and a former senior U.S. military representative to the United Nations had strong words when he spoke at the STOP IRAN NOW rally in Times Square calling the Obama/Kerry nuke deal an attempt to sabotage the United States from within. In less "politically correct" circles, Admiral Lyons has accused Obama of Conspiring with the Enemy to have Chris Stevens Killed over an illegal gun running scheme, and has called Obama an OUTRIGHT TRAITOR, as many other Generals and Admirals have as well.
BE SURE TO GO MY PROFILE'S BELOW AT OTHER SOCIAL MEDIA:
FACEBOOK | TWITTER | PINTEREST | STUMBLE UPON | TUMBLER
In the second video below, you will hear the Supreme Ayatollah Ali Khamenei, repeat his stance to crowds of thousands of Iranians cheering, "Death to America, Death to Israel, Death to Great Britain," yet still clowns like President (cough) Obama, and Secretary of State, John "Rambo, (cough) Kerry, repeatedly insist this is a good deal for America, and even worse, Americans buy into it.
BE SURE TO GO MY PROFILE'S BELOW AT OTHER SOCIAL MEDIA:
FACEBOOK | TWITTER | PINTEREST | STUMBLE UPON | TUMBLER
Good deal for America how exactly? Can ANYONE, Republican or Democrat, American or Iranian, can ANYONE name ONE single original demand Obama made that he stuck to? Let me see if I can jog your memory a bit:
12 Times the Obama Administration Caved to Iran .mp4
INSPECTIONS
OBAMA ORIGINALLY: Inspections must be allowed anytime, without notice
OBAMA NOW: Ok, forget the notice, and U.S. Inspectors won't be allowed.
IRAN'S STOCKPILE OF NUCLEAR MATERIAL
OBAMA ORIGINALLY: It Must be reduced at all costs.
OBAMA NOW: Iran won't dismantle it's stockpiles just became we tell it to do so.
IRAN'S RIGHT TO ENRICH URANIUM
OBAMA ORIGINALLY: "Iran has NO right to enrich Uranium. There is NO RIGHT to enrich."
OBAMA NOW: They still don't have a right, but we won't deny them the right. I can't tell you they won't have some enrichment.
IRAN'S SECRET UNDERGROUND FACILITY
OBAMA ORIGINALLY: "We know they don't need an underground fortified facility…"
OBAMA NOW: "Iran will not shut down one single reactor at it's secret underground facility."
IRAN'S PAST NUCLEAR WEAPON RELATED ACTIVITIES:
OBAMA ORIGINALLY: "They must be disclosed. If there is going to be a deal, it WILL be done."
OBAMA NOW: "We know what they were doing, so we're not worried about that anymore."
SANCTIONS:
OBAMA ORIGINALLY: "Iran is not open for business until it is closed for bombs."
OBAMA NOW: "We'll lift the sanctions anyway…"
I THINK YOU GET THE POINT!
HERE ARE 7 DEVASTATING FACTS ABOUT OBAMA'S IRANIAN DEAL:
As Iran and President Barack Obama cheer and champion their controversial nuclear deal, critics are roundly condemning the deal as a historic and catastrophic agreement that will strengthen Iran and imperil national security for America and its allies.
Here, then, are seven facts about Obama's proposed Iran nuclear deal Americans should know:
1. U.S. Nuclear Inspectors Are Banned From Inspecting Iran's Nuclear Sites
Obama National Security Adviser Susan Rice admitted to CNN's Wolf Blitzer on Wednesday that "no Americans will be part of the IAEA [International Atomic Energy Agency] inspection teams."
The administration's claim that the deal provides inspections "anytime, anywhere" is also false. Obama's deal allows Iran to block inspector access to any undeclared nuclear site. As Charles Krauthammer notes, "The denial is then adjudicated by a committee—on which Iran sits. It then goes through several other bodies, on all of which Iran sits" and the whole process may take up to 24 days.
2. Obama's Iran Nuclear Deal Lifts Economic Sanctions that Could Boost Iran's Economy with $150 Billion in Revenue
As the Washington Post reports, "Yet another worry is that the lifting of tough economic sanctions on Iran would provide it with as much as $150 billion in revenue. Some of that money would be spent on infrastructure and the Iranian people. Some of it, critics say, would go to the likes of Hezbollah, Syrian Bashar al-Assad and Iraqi militias that no long ago were killing Americans."
3. The Obama Administration Admits That 'We Should Expect' Iran Will Spend Some of the $150 Billion in Revenues Obama's Deal Gives Them On Their Military and Possibly Terrorism
In the same interview with Wolf Blitzer, Obama National Security Adviser Susan Rice conceded the following: "Yes, it is real, it is possible, and, in fact, we should expect that some portion of that money would go to the Iranian military and could potentially be used for the kinds of bad behavior that we have seen in the region up until now."
4. On the Very Week Obama Brokered His Iran Nuclear Deal, Large Crowds Across Iran Could Be Heard Chanting "Death to America"—And Iran's Ayatollah Ali Khamenei Declared 'Death to America' Just Months Ago
As even the Huffington Post noted under a headline titled, "'DEATH TO AMERICA' JUST LAST WEEK": "Hatred towards the United States remains a basic tenet of Iran's ruling system, on display just last week during an annual protest day that saw large crowds across Iran chanting 'Death to America' and 'Death to Israel.'"
Similarly, as CNN reported, Iran's Supreme Leaders Ayatollah Ali Khamenei called for "death to America" as recently as late March of 2015.
5. Obama's Iran Nuclear Deal Does Not Require Iran to Release Any American Prisoners
Obama's proposed deal with Iran does not require the Iranians to release American prisoners like Iranian-American Christian missionary Saeed Abedini, Iranian-American Washington Post journalist, Jason Rezaian, or U.S. Marine Amir Hekmati.
6. Obama's Deal Allows Russia and China to Supply Iran with Weapons
Russian Foreign Minister Sergey Lavrov confirmed on Tuesday that "weapons supplies will be possible" under the new deal. As the International Business Times reports, "Russia and China will continue to make weapons deals with Iran under U.N. procedures." Krauthammer argues that "the net effect of this capitulation will be not only to endanger our Middle East allies now under threat from Iran and its proxies, but to endanger our own naval forces in the Persian Gulf." He added, "Imagine how Iran's acquisition of the most advanced anti-ship missiles would threaten our control over the Gulf and the Strait of Hormuz, waterways we have kept open for international commerce for a half century."
7. 77 Percent of Americans Oppose Obama's Lifting of Sanctions Against Iran
According to the latest Associated Press-GfK poll, 77 percent of Americans believe U.S. sanctions against Iran should be kept the same or increased, not lifted as Obama's deal calls for.
Prior to the announcement of Obama's controversial Iran nuclear deal, 60 percent of Americans disapproved of his handling of U.S. relations with Iran.
This week, Obama embarked on a 60-day campaign to build support for his controversial Iran nuclear deal.
Read the original at Breitbart here:
BE SURE TO GO MY PROFILE'S BELOW AT OTHER SOCIAL MEDIA:
FACEBOOK | TWITTER | PINTEREST | STUMBLE UPON | TUMBLER
THE VOICE OF REASON