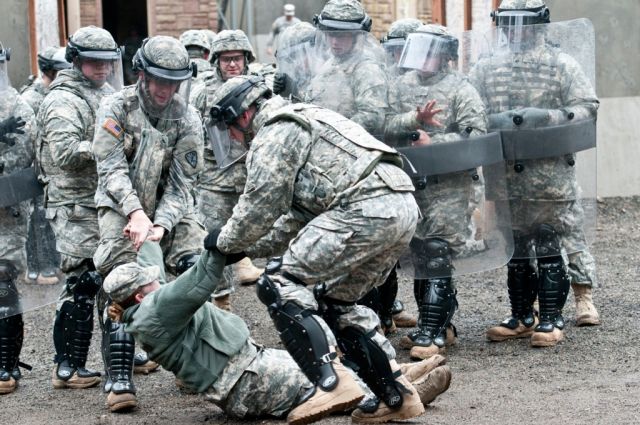 FOR MORE NEWS BY VOICE OF REASON CLICK HERE!
IF YOU AGREE WITH THIS, PLEASE SHARE!
FACEBOOK HAS SILENCED MY ABILITY TO POST IN GROUPS YET AGAIN!
For all of you not paying attention, the warning shot has been fired by government. The shot was to say, "All you Bible-thumping, gun toting, Constitution loving Americans WILL be re-educated, or you WILL be given a very public perp walk, and you WILL subsequently be LOCKED UP in the gray bar hotel until you conform to liberal ideology. Is that clear?" My point has NOTHING to do with gay marriage or gay rights, so check your idiotic comments about either at the door. This is about tyranny gone wild. If what has happened to jailed Rowan County clerk, Kim Davis, has not sent a wake up call to the sleeping giant otherwise known as sane, law abiding Americans, nothing will. Yesterday, I posted, Deleting American History: New Standards, "U.S. Constitution Simply Ignored By Teachers," and it got very little attention. We get the government we deserve. That post should be shared with every person you know.
Why do you think liberals are steam rolling our civil liberties without restraint? Because there is a deliberate, and systematic effort to make sure Americans are not TAUGHT their civil liberties and God given rights that their forefathers fought and died for, so that the government can violate those rights at will, and We the People won't even know. The more that people aware of how the Constitution DOES work, the more we are singled out as far right-wing, redneck, extremists. As our numbers dwindle, God help us all.
"BUT IT'S THE LAW OF THE LAND…"
SHUT UP! Every liberal jackass wants to talk about how gay marriage is the "law of the land," and I have news for them: IT IS NOT! It is nothing more than a fiat judicial decree in what has become a banana republic gone WAY too far off the rails with the encouragement of a lawless illegitimate President.
Article III of the Constitution does not give the Supreme Court ANY legislative power. Let me say that again: Article III of the Constitution does not give the Supreme Court ANY legislative power. I don't give a flying you know what how things have been done for the last hundred years or so, because how they've been done, doesn't make them lawful or right. We used to have slavery in this country too. Would liberals have been ok with the argument of, "That's the way it's been," during the time of slavery? Oh wait, they were. It was the Republicans who put an end to slavery, but regardless, that argument would have made no sense then, and it makes no sense now, so STIFLE IT! As with slavery, eventually SANITY must prevail, and lawlessness activist justices and courts must be stopped… Supreme Court notwithstanding.
Do you know who DOES have the power to make law? CONGRESS! Let me summarize this very simple argument for anyone too liberal to follow it: The power and thunder of the federal government coming with the authority of the barrels of their guns for this country clerk was NOT legal, and is NO DIFFERENT than the gestapo tactics exercised by Hitler's SS. What law did Kim Davis violate? Tell me. I won't hold my breath, because there was no law violated, because the courts CANNOT make law. That is what the LEGISLATURE does.
Now, let's flip the script. There ARE actual laws regarding oh… I don't know… say… IMMIGRATION… that are being ignored by everyone in the Executive Branch leading all the way up to Fuhrer himself, Barack Hussein Obama. Take a good look at the video below. Kim Davis is mocked, and at the moment she is in jail. This is the government telling you, "You've been warned. Act up, you silly little Christian patriot, and we'll throw your ass in prison next. Got it?"
Typically, when liberals lose an argument, they pivot to some other worthless point, so for anyone that suggests this clerk should have left her job if she did not agree with the law, allow me to respond to that ridiculousness: First, let me respond with a question, "If Obama did't like the laws when he took office, why did he swear to uphold them, and why isn't he rotting in Leavenworth, or dangling from a rope in some government gallows for TREASON?" What about Obama's handpicked Top General Saying That Obama Knowingly Armed ISIS Committing Treason? What about THAT "law of the land?" Second, what part of my previous statement Kim Davis did not violate any LAW did you not get? Courts DO NOT make law. CONGRESS DOES!
ONE FEDERAL JUDGE ALREADY ACCUSED OBAMA OF USING THE D.H.S. AS HIS OWN PRIVATE ARMY…
YOU ARE SEEING AN EXTENSION OF THAT NOW…
THE SLEEPING GIANT HAS NOW BEEN KICKED IN THE FACE…
HOW WILL IT RESPOND?
GRAYSON, Ky. — Hundreds of people gathered outside the Carter County Detention Center in a "Free Kim Davis" rally on Saturday and prayed for jailed Rowan County clerk, who was locked up just a few hundred feet away.
"She won't bow, I promise you," her husband, Joe Davis, told the crowd while dressed in overalls and a camouflage ball cap. "I'm just an old, dumb, country hillbilly, but I know God," he said.
For the second straight day, Kim Davis awoke in the Carter County Detention Center, put there by U.S. District Judge David Bunning for her refusal to follow a court injunction requiring her to issue marriage licenses to gay couples.
Following the U.S. Supreme Court ruling this summer that made marriage equality the law of the land, Davis stopped issuing marriage licenses all together saying that it would violate her religion to issues licenses to same-sex couples.
One man held a sign that said "Judge Bunning is an abomination."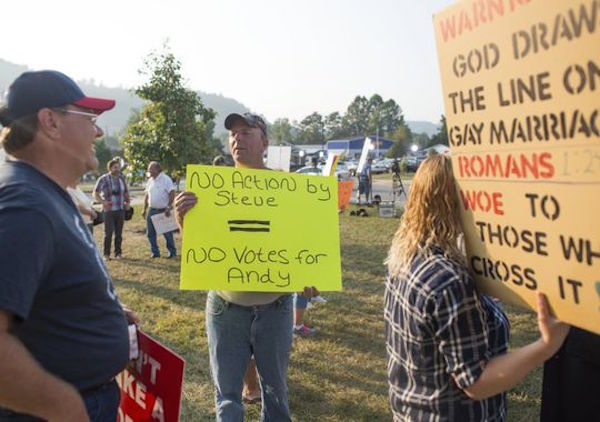 Flip Benham, an evangelist from North Carolina, praised Bunning's father, former U.S. Sen. Jim Bunning, as a staunch conservative but ended his kind words there.
"His son is working against the will of God," said Benham, who carried a white cap with the name "Jesus" on it. "He's being used by the devil to park Kim here."
Cal Zastrow, an evangelist from Michigan, served as emcee for the event and said he hopes to do more of them. People came from as far as Wisconsin and North Carolina to attend.
"This is as grassroots as it gets," he said.
As Davis' mugshot flew across the Internet, it became clear that the gay rights movement must confront the idea that Christianity is under siege, said Kenneth Upton, senior counsel for Lambda Legal, a law firm specializing in LGBT issues.
"This is what the other side wants," Upton said, pointing to an image of Davis in handcuffs. "This is a biblical story, to go to jail for your faith. We don't want to make her a martyr to the people who are like her, who want to paint themselves as victims."
The American Civil Liberties Union, representing couples she turned away, asked that she be fined rather than imprisoned, in part to avoid "a false persecution story," said Dan Canon, one of the attorneys. But Bunning ordered her to jail anyway, reasoning that she would be unmoved by monetary penalties.
Contributing: Associated Press
Read the article at USA Today here:
FOR MORE NEWS BY VOICE OF REASON CLICK HERE!
BE SURE TO GO MY PROFILE'S BELOW AT OTHER SOCIAL MEDIA:
FACEBOOK | TWITTER | PINTEREST | STUMBLE UPON | TUMBLER
THE VOICE OF REASON