Mainstreaming the Preferential Option For the Poor

A political society endures when it seeks, as a vocation, to satisfy common needs by stimulating the growth of all its members, especially those in situations of greater vulnerability or risk.
                              - Pope Francis speaking to the US Congress

Pope Francis' speech to the US Congress struck me as a message with strains long demanded in the corrupt halls of our government. It was a message that took me back 30 years to my travels in Central America during the Reagan years, which was a pivotal moment in modern US history for the rise of a money class and the problems of inequity we currently face.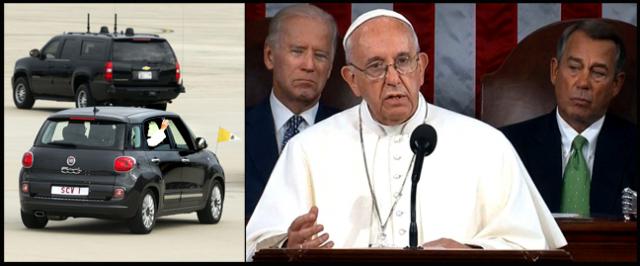 Pope Francis arriving by Fiat and speaking in front of VP Joe Biden and House Speaker John Boehner
I was raised an atheist by a right-wing militarist. As a little boy, when my father worked in research for a pharmaceutical company in suburban New York, there came a time he aspired to enter the corporate end of the business. So I was sent to Sunday school for a brief period. There I learned that Jesus Christ was this cool guy in robes who loved people and was nice to them.
My father's honeymoon with the corporate side of the company did not last long. I imagine it was a bitter affair, because soon enough he collected his wife and three sons and moved to a house in the truck farming area of south Dade County below Miami. I recall him saying he was going "bohemian." He got a job lecturing in physiology at the University of Miami Medical School and he set up our rural property as an amateur nursery, where he worked a hobby of botany, treating seeds aimed at the creation of strange new versions of sub-tropical plants.
You might say dear old Dad was a bit eccentric. He had been a PT boat captain in the Solomon Islands, Peleliu and Okinawa for a couple years and, though it wasn't an issue then, he must have had some variant of PTSD that contributed to his eccentricities. He and I fought most of our lives over politics, me taking a critical, leftist line, especially following my stint in Vietnam. Still, he was a complicated man and I recall him saying about me in public more than once, "Sometimes, at night, I wonder whether you might be right." The one thing we saw absolutely eye-to-eye on was a disbelief in some kind of supernatural deity who knew or cared what we humans were thinking and doing. What he believed in was biology.
One of the things we regularly fought over was Ronald Reagan. "If I could I'd vote for him five more times," he said at the end of Reagan's second term. I once responded to him by saying, "When you were in your PT boat hiding in terror in the mangrove from the Japanese, some starlet was rubbing suntan oil on your hero Ronald Reagan's ass beside a pool." He grimaced and said, "You really know how to hurt a guy."
A news collective, founded as a blog in 2004, covering war, politics, environment, economy, culture and all the madness
Source:
http://thiscantbehappening.net/node/2861