Story Views


Now:
Last Hour:
Last 24 Hours:
Total:
Militia and Popular Mobilization Forces in Iraq fleeing to European countries under the pretext of refugees
Sunday, November 15, 2015 1:44
% of readers think this story is Fact. Add your two cents.


November, 2015
In addition to problems regarding paychecks and living conditions of militias and members of the Popular Mobilization Forces (PMF) in Iraq, their heavy casualties in various battlefields have caused a major wave of troops, and even commanders, deserting their units. According to various militia members their motivation in showing up at the front lines was to occupy lands and plunder the population's wealth in order to make a living. Currently militia units no longer enjoy the ability to plunder items and transfer them back out of the battlefields using large trucks, as they did in the Tikrit and Salahadin operations.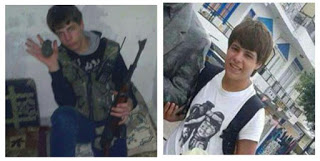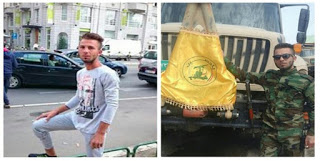 In al-Anbar Province these forces have suffered major defeats, there are much less grounds left for plundering and there is no longer any motive to remain in the frontlines. PMF units are literally referred to as "disposable" soldiers for the Quds Force and their elements in Iraq such as Hadi al-Ameri and Abu Mahdi al-Mohandes. During the 1980s Iran-Iraq War Tehran used such soldiers to clear minefields. Today, in Iraq the moment they become useless for the commanders they are abandoned without any pay and commanders are even refusing to pay the expenses of those wounded, or compensate the families of those soldiers killed in battle. During the 1980s Iran-Iraq War, instigated by Khomeini, the ayatollahs constantly placed "Keys of Heaven" on the necks of Bassij forces and they would be sent off to die. Currently the Quds Force is dispatching IRGC and Bassij elements to Syria under the pretext "Defenders of the Zeinab Sanctuary" in Damascus, a similar tactic of placing heaven keys on those back in the 1980s. In Iraq the Quds Force is using PMF troops in battlefronts under the pretext of waging war against "tikfiris" and Sunnis, all aimed at provoking further flames of the raging sectarian war in Mesopotamia.
In the past two months reports have indicated a major wave of desertion from Iraq and these militia members seeking refugee status in European countries, multiplying the number of foot-soldiers fleeing their ranks. Such desertion is seen in all levels of the ranks and files, including senior militia commanders. PMF and militia troops fleeing the frontlines are not sporadic cases. In fact, there is currently a large wave of such desertions, with many stationed temporarily in Turkey and Greece. Considering their poor financial conditions they are once again hired by the Quds Force under various promises of large paychecks, this time to carry out special terrorist attacks in European countries.
The following list is merely a tip of the iceberg of the conditions of PMF and militia members deserting their ranks and fleeing to European countries to seek residency. Through Turkey and Greece many are being transferred to European countries. The average militia and PMF member who have fled from Iraq sheds a clear light on the status of these units associated to the Quds Force. Around 50% of the individuals who have fled outside of Iraq are former PMF members. Asaeb and and al-Nijba militia units comprise nearly 30% of the list, while another 20% are related to other militia groups including Katayeb Imam Ali, Katayeb Hezbollah, Badr militants, Aqida battalions, Ibna battalions, al-Jihad, Tajamo' Do'a al-Iraq and …
| | | | | | |
| --- | --- | --- | --- | --- | --- |
| # | Name | Group affiliation | Post | Battlefront | Country migrated to |
| 1 | Amir Falah Hassan al-Sheibani | Asaeb al-Haq | Engineering platoon commander | Baiji | Germany |
| 2 | Ali Reza Mohamed al-Mahdawi | Asaeb al-Haq | Mortar platoon | Al-Anbar | Serbia |
| 3 | Ammar Ghasem Muzan al-Mahdawi | Asaeb al-Haq | | Dejil | Germany |
| 4 | Abdullah Hassan al-Tamimi | Asaeb al-Haq | | Al-Anbar | Turkey |
| 5 | Sajjad Muzan Namaq al-Bahadeli | Asaeb al-Haq | | | Turkey |
| 6 | Hossein Taleb al-Karawi | Saraya-e Salam | Medic | | Turkey |
| 7 | Samir Ali Vanas al-Harbawi | Saraya-e Salam | Engineering | | Finland |
| 8 | Mohamed Ammar al-Saliti | Saraya-e Salam | | Al-Anbar | Finland |
| 9 | Abass Ali al-Soheili | Saraya-e Salam | | Al-Anbar | Belgium |
| 10 | Mohamed Taleb Ali al-Mousawi | Saraya-e Salam | | Baiji | Turkey |
| 11 | Maher Rashid Kazem al-Wahili | Saraya-e Salam | | Baiji | Turkey |
| 12 | Bisam Riyadh al-Sharifi | Saraya-e Salam | | Jurf al-Sakhar | Greece |
| 13 | Mahmoud Abdullah Ardalan al-Dalwi | Saraya-e Salam | | Baiji | Turkey |
| 14 | Bisam Allawi Nazem al-Ma'mouri | Saraya-e Salam | | Al-Anbar | Turkey |
| 15 | Heidar Kazem al-Rikabi | Nijba | | Jurf al-Sakhar | Greece |
| 16 | Kazem Bashar Majul al-Mohayawi | Nijba | | Jurf al-Sakhar | Greece |
| 17 | Omar Finjan Shuwai al-Shawili | Saraya-e Aqida | | Al-Anbar | Turkey |
| 18 | Morad Ali Faraj al-Azraqi | Asaeb al-Haq | | Al-Anbar | Germany |
| 19 | Hassan Na'im Hassan al-Bahrani | Unknown | Platoon commander | Baiji | Turkey |
| 20 | Haider Mohamed Kadhem | Badr | | | |
| 21 | Morteza Adel | Badr | | | |
| 22 | Hossein Malek | Asaeb al-Haq | | | |
| 23 | Naser Ra'ad Mahudar | Asaeb al-Haq | | | |
| 24 | Ashraf Mohamed Issa Wali | Asaeb al-Haq | | | |
| 25 | Mahdi Jilal Ahmed | Asaeb al-Haq | | | |
| 26 | Zeid Arkan Majid al-Hasnawi | Asaeb al-Haq | | | |
| 27 | Hassan Ali Ehsan | Nijba | | | |
| 28 | Ali Saleh Mostafa al-Saraj | Nijba | | | |
| 29 | Mothana Mohamed Ali al-Shawili | Katayeb Imam Ali | | | |
| 30 | Majed Mashkur al-Diraji | Aqida | | | |
| 31 | Anwar Abed Ali Fadhel | Aqida | | | |
| 32 | Ahmed Mohamed Ali al-Ibrahimi | Saraya-e Salam | | | |
| 33 | Malik Mahdi Meitham | Saraya-e Salam | | | |
| 34 | Saeed Feisal al-Sultani | Saraya-e Salam | | | |