http://simplyjews.blogspot.com/ About 50 pictures of the German avant-garde artists from the period between WW I and WW II presented. As one who usually does his best to forego the blight of the audio guide, I was bending over almost 50 times to read the short blurbs telling about the artists and the fate of their works. During the Nazi time a lot of their masterpieces ended up in the specially created exposition of "Degenerate art". And a lot was destroyed, being considered decadent and degenerate.
Besides getting a creaking back, I realized that the fate of these artists or, rather, of their work (most have emigrated – but not all), is eerily similar to that of many Russian painters, writers, composers etc, whose work was banned, destroyed or forbidden. Although the Nazis murdered less of their artists, I have to add.
And, by the way, the "politically correct" artwork as approved by the Nazi regime was no less eerily similar to that approved by Stalin's art connoisseurs. As close as twins.
And – a result of simple arithmetic – the German artists were somewhat luckier than their Soviet counterparts. At least, their travail lasted only about 12 years (well, a bit more, given the aftermath of the war). At the time when Soviet oppression of the arts continued for 70 years, give or take. Still somewhat not totally over, if you ask me.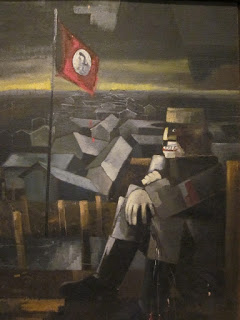 Horst Strempel's "Nacht über Deutschland" (Night over Germany)
This painting gave its name to the exposition.
The photograph of the painting was "borrowed" from the blog post of Ein Berliner, Briefly.
http://simplyjews.blogspot.com/
Source:
http://simplyjews.blogspot.com/2015/11/the-israeli-museum-night-over-germany.html