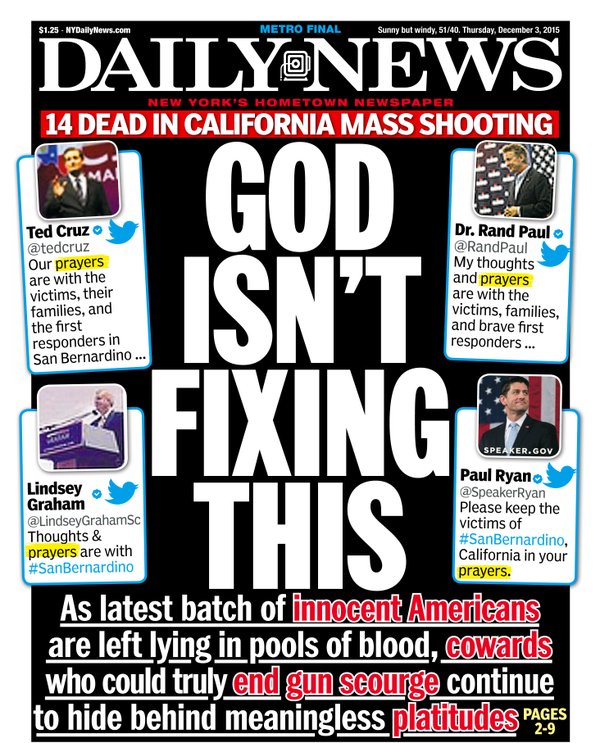 New York Daily News: Mainstream media pushing an agenda instead of reporting the news!

Barack Obama loves to invoke gun control and blame Republicans every time a mass murder is committed by deranged individuals or groups!

The very same individuals or groups who would find a way to buy guns illegally no matter how tough the guns laws were (see Chicago).

His Democrat lemmings in Congress of course dutifully follow along and do the same.
But despite the Presidents tired and empty rhetoric it seems to me that the only thing still missing from yesterdays mass murder in San Bernardino is the killers shouting Allahu akbar!
Yesterday the smoke hadn't even cleared in San Bernardino and none of the facts were known when Obama followed his usual playbook calling for stricter gun laws.
Addressing issues that fit his agenda without all of the facts being known is something that this President loves to do.
Unfortunately Mr. President this mass murder has the look and feel of a terrorist act carried out by lone wolf Islamic extremists.
I say this as CAIR quickly called a press conference to condemn the killings.
The male shooter, Syed R. Farook, recently returned from a trip to Saudi Arabia and according to his father was '"very religious. He would go to work, come back, go to pray, come back. He's Muslim."
Obama has completely botched the Middle East to the point where it may not be fixable. ISIS is running wild and refugees with Islamic extremists interspersed among them are pouring into Europe with the plan to have some come to our shores.
The game plan of the extremists seems to be changing with the Paris murders and now likely the killing yesterday in California with a new and horrible blueprint.
What America needs now and has needed over the past 7-years Mr. President is less of a community organizer looking to spread dissent and division among the populace and more of a LEADER!
A president strong on national security and foreign policy who put the needs and safety of the United States first. What we actually got was much different although not unexpected by anyone who bothered to do a little homework prior to casting a vote in the ballot box.
Gun control wouldn't have stopped yesterdays senseless killing but leadership, courage and an actual foreign policy may have. I leave you with just these four examples of failure that Barack Obama was all-in on and that likely have the potential to change the course of history…
In other words as Twitter says: #Obamafail!
Arab Spring
Iran nuclear deal
Complete pullout from Iraq
Syrian redline
Advertisement
Source:
http://politicsandfinance.blogspot.com/2015/12/california-mass-murder-terrorism-on.html