Aaron Spuler is a firearms enthusiast and recreational shooter. Follow more or his work at The Weapon Blog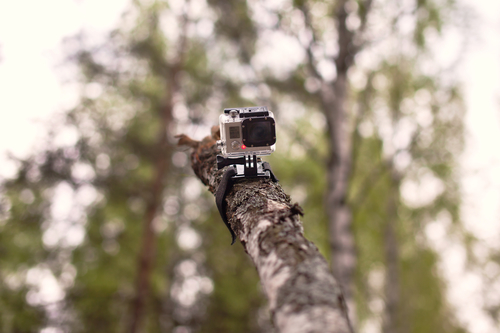 Video camera GoPro tied to the wooden log
You've done all your research, received your permits, packed your bags, and now you're ready for your next hunting trip. All you have left to do is figure out how you can share your experience with others. If you're searching for a way to capture your next hunt on film, these cameras and tools will provide you with the stellar footage you've been dreaming about.
Get Rough With a GoPro
Popular GoPro cameras are durable, small and able to affix to your body, so you can have your hands free to hunt. There's a reason outdoor enthusiasts and pro athletes uses these to capture their high-intensity activities: they work well and last even through rough-and-tumble activities. They are so durable that GizmoSlip has done a series of tests to see what it will survive, including dropping it 100 feet onto concrete, dropping it out of a car at 40 mph and putting it near explosives.
A shaky camera results in equally shaky and blurry footage. The best way to prevent this is to place your GoPro on a mount. One good option is the Sportsman Mount. With this model, you can secure it to just about anything, including gun barrels, fishing rods, and bows. You can use one or two cameras with this mount, so you can capture both the action as you go after your prey and your reactions throughout your hunt. This helps you get multiple angles and for your video to feel immersive and like the viewer is in the action. And it's black, which means it will blend into the background most of the time.
Record Your Hunt With a Panasonic HC-V770 Video Camera
If you're searching for a compact video camera that will shoot great hunting footage, the Panasonic HC-V770 video camera is a great option, according to BestForHunting. The long, 20x zoom is perfect for getting images of your subjects, even if they are far away. You also can wirelessly connect the camera to your smartphone. This feature enables you to shoot from two different angles at once, so you can pick the best footage to use. Then, you can edit together your footage from both cameras and share it easily on social media.
Take High-Quality Photos With the Samsung Galaxy Note5
If you want to take high-quality photos of your hunt and you don't want to shell out for a camcorder, consider investing in a large-screened smartphone or phablet like Samsung's Galaxy Note5. This phone's 16-megapixel auto HDR camera captures high-quality shots and video. One of the best features of this phone is that with just two clicks, you can open your camera and quickly be ready to get that coveted shot. The display screen is bright, so you can see it in full sunlight, and it also can be dim if you need to be more hidden. The large battery also ensures that you won't run out of power before the hunt is over.
Source:
http://www.weapon-blog.com/2015/12/the-top-recording-devices-you-can-use-to-film-your-next-hunt/