"They Knocked The World Trade Centers" Donald Trump
O'Reilly: Trump's Muslim Comments Have 'Sealed His Doom' in the GOP
Trump Muslim ban: Politically brilliant but trouble for GOP?
Poll: 68% Of Trump Supporters Would Vote For Him If He Left The GOP – The Real Story
Will Trump run as a third-party candidate in 2016?
http://davidswanson.org/node/5001
Trump Didn't Vote to Kill 1 Million Muslims in Iraq, Hillary Did
Thanks to Glenn Greenwald for pointing out that the U.S. media is acting as though Donald Trump just invented bigotry this week (one of those ugly details I'm happy to miss by never watching television). But not only is explicit bigotry toward Muslims not new, implicit bigotry toward Muslims has been the foundation of the largest public project in the United States for the past quarter century.
Donald Trump didn't vote for the war on Iraq that killed a million Muslims. He didn't vote to fund it and escalate it over and over again. Hillary Clinton did that. Which is not to say that Trump wouldn't have done so too, or worse, if he thought it would get him on TV more. The point is that the hatred is not new. Without it, basic U.S. policy would be understood as irrational.
Trump, More Presidential Than Obama – Poll
Montagraph
Media's Trump Honeymoon Phase Is Over…
The Young Turks
Donald Trump Stands by Barring Muslims Despite Criticism
Donald Trump Under Fire For Plan To Ban Muslim From Entering United States – On The Record
https://pbs.twimg.com/media/CVyjG1QWEAAHOxm.jpg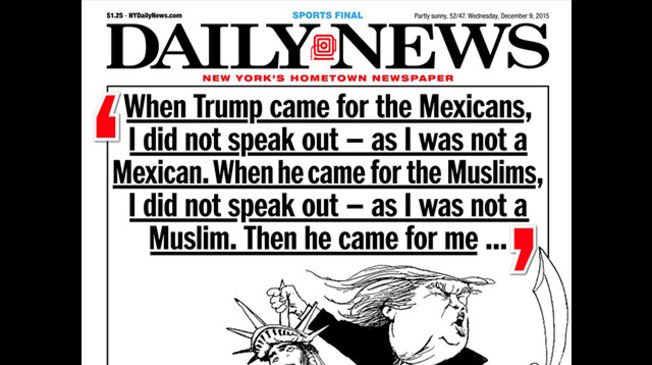 Mainstream Media Begins Calling Donald Trump The Next Hitler!
Beginning of the end for Trump's campaign?
"Assassinate Trump" Says Rick Ross in New Song 'Free Enterprise' w/ John Legend – Wants Trump Killed
Liberals Call For Trump's Assassination On Twitter!
The Alex Jones Channel
Loretta Lynch: "No Comment" on Trump Assassination Threat – Attorney General Ignores Threats
0:00 / 8:22
Petition To Ban Trump From The UK Makes Us All Jokers
The Kev Baker Show
Megyn Kelly Is Sick and Tired of the Media's Endless Trump Coverage: Remember Terrorism?!
Source:
http://blogdogcicle.blogspot.com/2015/12/trump-update-12092015-trump-didnt-vote.html