More Pennsylvania Court Scandal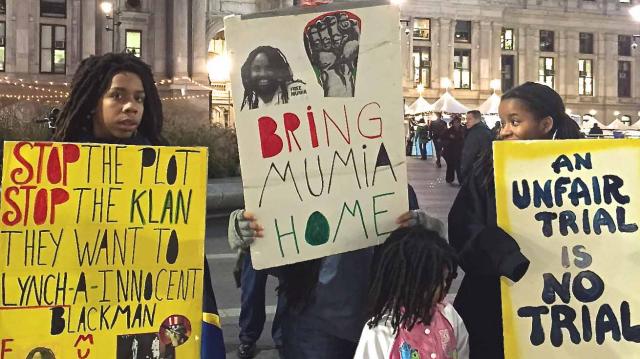 Philly City Hall Protest

The first in a three-part series on Mumia Abu-Jamal's fight to force the Pennsylvania prison system to treat his active Hep-C infection, and that of thousands of other infected state inmates, and on the raging Hepatitis C epidemic in the nation's prisons. (Click here for Part II)

The big courthouse news in Pennsylvania this week does not involve yet another sordid revelation in the sleazy racist-pornographic email scandal now soiling top justice system officials in the Keystone State that include a state supreme court justice and ranking prosecutors.
This big news is rare courtroom testimony from Mumia Abu-Jamal, the renowned jailhouse journalist considered by many around the world as an authentic political prisoner in America.
On December 18th Abu-Jamal is scheduled to testify during a federal court hearing on his lawsuit attacking medical mistreatment from Pennsylvania prison authorities, and demanding –- negligent treatment that almost ended his life earlier this year. The lawsuit also seeks a court order mandating that he and other Pennsylvania inmates diagnosed with Hep C, a potentially deadly diseased, get treated with medications that, while costly, have a proven cure rate that is quite impressive
Abu-Jamal has rarely testified in court during the thirty-plus-years he's waged legal battles in criminal and civil courtrooms at state and federal levels. Abu-Jamal spent nearly thirty-years on death row improperly due to calculated error by the judge at his 1982 trial for killing a Philadelphia policeman. Pennsylvania appellate courts cavalierly upheld that trial judge's error but that error was eventually overturned in federal court leading to Abu-Jamal's current life-without-parole sentence. Pennsylvania is the state with America's second largest number of inmates with life-without-parole sentences
This federal court hearing arises from a lawsuit filed over failures of Pennsylvania prison personnel to properly treat medical problems that produced painful rashes and open sores all over Abu-Jamal's body. Medication given to Abu-Jamal during the mistreatment of those rashes produced dangerous side effects including diabetes, a serious condition that went untreated by the prison medical personnel that also refused to inform Abu-Jamal about the diabetes. Earlier this year that untreated diabetes caused Abu-Jamal to blackout. Prison officials reluctantly rushed him to a hospital emergency room in diabetic shock close to death.
A news collective, founded as a blog in 2004, covering war, politics, environment, economy, culture and all the madness
Source:
http://thiscantbehappening.net/node/2960