Judge's ruling on Mumia challenge to policy expected next month
Following three days of contentious testimony in a courtroom in Scranton, PA late last month, a federal district judge is considering a legal petition by Pennsylvania's most well-known prisoner Mumia Abu-Jamal for a finding that the state's long=running refusal to treat his active case of Hepatitis-C, a potentially fatal disease, violates his Eighth Amendment right not to be subjected to cruel and unusual punishment.
Over the past 16 months Abu-Jamal has suffered an array of symptoms and ailments that witnesses at trial testified were symptomatic of and likely caused by an active case of Hep-C, an infection the state has known him to have in his body since a blood screening test taken when he was first transferred off of death row and placed into a general population prison following the overturning of his 1982 death sentence.
The Pennsylvania Department of Corrections (DOC) tried initially to prevent the hearing, claiming that Abu-Jamal had not "exhausted" the department's grievance procedures, and that his complaint about non-treatment was defective, for example because he had not explicitly named all of the doctors who had seen him. but Judge Robert Mariani was dismissive of those dilatory arguments and after rejecting them, ordered that the hearing on the injunction go forward.
During subsequent testimony by several DOC witnesses, including executives from Corizon, the controversial private Tennessee-based contracting firm that provides health services to the state's prisons, and from the DOC itself, it was revealed that for 22 months until last November, the state DOC had no guidelines for treating the Hep-C epidemic that afflicts as many as a quarter of the state's prison inmates. It was also disclosed that the DOC attorney, Laura Neal, had in her possession at the defense table a copy of a new treatment guideline drawn up in November, which the state had not even informed the court or Mumia's attorneys existed. She said she had planned to use the document in questioning her witness, but had not planned on entering it into evidence.
When Mumia's attorneys Bret Grote and Robert Boyle, and the judge, asked for a copy of that document, Neal sought to keep it sealed, ultimately explaining that the DOC didn't want it to be disclosed publicly for fear that it would be used by another legal team that is currently pursuing a class action suit in a court in Pittsburgh against the DOC on behalf of all inmates in the state with Hep-C.
Again the judge was unsympathetic and ordered the document released. (See illustration)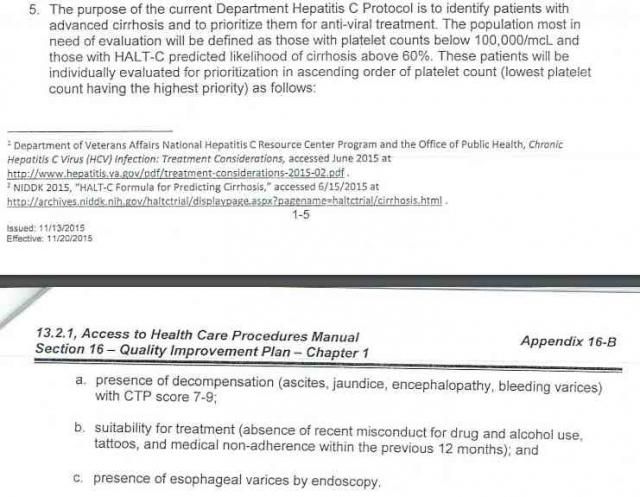 Sceen shot of portion of the DOC's secret Hep-C (non-)treatment protocol, ordered made public by a federal court in Scranton

A news collective, founded as a blog in 2004, covering war, politics, environment, economy, culture and all the madness
Source:
http://thiscantbehappening.net/node/2976