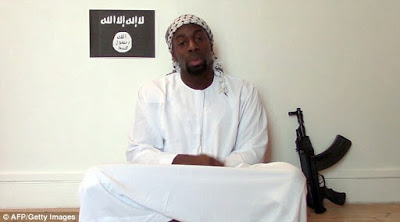 That's what our President Barack Obama, the worst American leader since Jimmy Carter, would like Americans and our allies to believe!

But as is always the case, facts on the ground trump empty rhetoric and the fantasy world that's been concocted by a narcissistic, megalomaniacal 'Commander-in-Chief'!
If what is happening around the world is containment of ISIS, I would hate to see what ISIS not contained would look like!
In his SOTU address Barack Obama said that the one failure of his time in office is the rancor in government. Not only is that rancor of his own creation, but the rise and spread of ISIS should actually be at the top of his list!

Lesson to be learned? Elections Have Consequences!
Last night in Jakarta, Indonesia:
1/13/2016: (CNN) Here is the chronology of the attack, as outlined by police spokesman Anton Charliyan:

– At 10:55 a.m.local time, an first attacker blew himself up at a Starbucks coffee shop.

– Two other attackers outside Starbucks then seized two foreigners, a Dutch citizen and an Algerian citizen.

– The attackers then opened fire, shooting people on the street.

– They then dragged the two hostages into a parking lot and shot them. The Dutch citizen was killed. The Algerian was injured.

– Police then found the two attackers and fired at them. The attackers responded by throwing two grenades at police.

– Minutes later, two attackers rode a motorcycle toward a police post near the mall and blew themselves up.

In total, there were five explosions in the area. Police also found another five unexploded bombs and two pistols in the area, Charliyan said.

Police believed main target of the attack were foreigners and the police, he added.

At this moment, a manhunt is under way for other suspects, but Charliyan said police cannot say which group carried out the attack.

They believe the attackers were affiliated with ISIS.

(Note: ISIS has since claimed responsibility)
1/12/2016 Istanbul, Turkey: (CNN) The suicide bomber who killed at least 10 foreigners Tuesday in a popular central Istanbul tourist area belonged to ISIS, officials said — an attack that shows the group's nerve, reach and capacity for terror.

No group claimed responsibility for the blast, yet Turkish Prime Minister Ahmet Davutoglu pinned blame on the group that calls itself the Islamic State, which has entrenched itself in neighboring Syria and Iraq while proving willing time and again to lash out elsewhere.

At least eight Germans died in the blast between the Hagia Sophia and Blue Mosque tourist attractions in Istanbul's cultural and historic heart, German Chancellor Angela Merkel said, warning that figure may rise. A Turkish official earlier told CNN that at least nine Germans were killed. Davutoglu indicated that the 15 wounded were from inside and outside his country, with German Foreign Minister Frank-Walter Steinmeier saying nine of those were German.

December 2015 San Bernardino California: (CNN) ISIS on Saturday hailed the two people who massacred 14 people in Southern California this week as "supporters" of the terror group — a message that came after U.S. investigators said they suspect one of the shooters professed loyalty to the Islamist network.

The terror group's official Iraq-based station made the declaration following Wednesday's San Bernardino shooting that also left 21 injured, but — notable for a group quick to claim attacks — did not say the couple were members or that ISIS was responsible.

November 2015 Paris France: (New York Times): The Islamic State claimed responsibility on Saturday for the catastrophic attacks in the French capital, calling them "the first of the storm" and mocking France as a "capital of prostitution and obscenity," according to statements released in multiple languages on one of the terror group's encrypted messaging accounts.

The remarks came in a communiqué published in Arabic, English and French on the Islamic State's account on Telegram, a messaging platform, and then distributed via its supporters on Twitter, according to a transcript provided by the SITE Intelligence Group, which tracks jihadist propaganda.

January 2015 Paris France: (Daily Mail) The kosher supermarket in Paris which was targeted by terrorists has reopened two months after four hostages were killed as part of an Islamist plot.

Amedy Coulibaly, who pledged allegiance to ISIS, slaughtered customers at the Hyper Cacher shop in January as part of a coordinated attack on the French capital with the Charlie Hebdo gunmen.
There were sombre scenes as the Jewish grocery reopened yesterday morning to 'show that life is stronger than barbarity'.

January 2015 Paris France: (NY Times) The police organized an enormous manhunt across the Paris region on Wednesday for three suspects they said were involved in a brazen and methodical midday slaughter at a satirical newspaper that had lampooned Islam.

The terrorist attack by masked gunmen on the newspaper, Charlie Hebdo, left 12 people dead — including the top editor, prominent cartoonists and police officers — and was among the deadliest in postwar France. The killers escaped, traumatizing the city and sending shock waves through Europe and beyond.
Advertisement
Source:
http://politicsandfinance.blogspot.com/2016/01/thankfully-isis-remains-contained-in.html