Story Views


Now:
Last Hour:
Last 24 Hours:
Total:
Obama Hand Picked America's First Muslim Woman Judge
Sunday, February 21, 2016 4:56
% of readers think this story is Fact. Add your two cents.

http://www.snopes.com/muslim-woman-sworn-new-york-city-civil-judge/
"It was an honor to join Hon. Carolyn Walker-Diallo—the first Black Muslim Female Civil Court Judge in New York City—at her December 10 inauguration. Justice Walker-Diallo presides over the 7th Municipal Court District of East New York, Cypress Hills, Bushwick and Brownsville."
T

he first Muslim woman judge — Carolyn Walker — was hand-picked by President Obama and sworn in as judge of the 7th Municipal District, Brooklyn, choosing to swear her oath of office holding the HOLY QURAN at the Brooklyn Boro Hall on December 10, 2015. It was a historic day! Oddly enough, there was almost no media coverage of this event . . .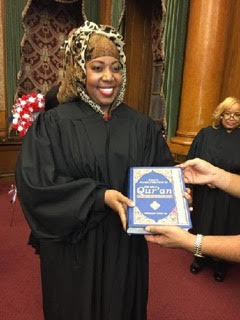 Since the Quran forbids all law but Sharia Law, isn't it reasonable to assume that Her Honor will head the first federally sanctioned SHARIA COURT.
Makes one proud, doesn't it? "Gives me chills up my legs" said Chris Mathews.
Another little chink in the armor? A small, quiet erosion here and there. No one cares, until it's too late. Step by step by step….this is how American culture will end.
Rejoice Obama supporters! Your dream of destroying America is coming true.
See Snopes in link above – it's true!!!