UK Lawmakers Announce New Iran Policy
On February 12, 2016, over 200 MPs and Peers called on the British government to adopt a firmer policy towards Iran, making an end to human rights abuses and regional meddling conditions to improving bi-lateral relations. The announcement was made at the National Council of Resistance of Iran (NCRI) headquarters in Paris, during a meeting with Maryam Rajavi, President-elect of the Iranian Resistance, and a delegation of eight MPs and a member of the House of Lords.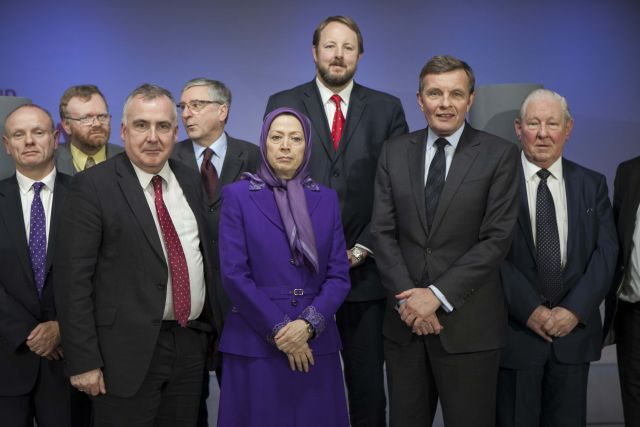 The delegation included Rt. Hon. David Jones MP, Lord Clarke of Hampstead, Mark Williams MP, Sir Alan Meale MP, Martyn Day MP, Dr. Matthew Offord, Jim Fitzpatrick MP, Toby Perkins MP, and Mike Freer MP. They were joined by London lawyer Claire Offord.
This meeting and the policy recommendations come during a time of increased scrutiny by the United Nations over its human rights record. In two weeks, Iran will hold its Parliamentary and Assembly of Experts elections, which critics have argued are not free elections because the candidates are strictly filtered and not considered representative of the people.
Evidence continues to mount that political suppression has increased under the Hassan Rouhani presidency, including increasing executions and imprisonments. Iran has continued to influence events throughout the region as well.
"Some apologists claim that after the nuclear agreement, the Iranian regime would move towards moderation. Yet, we can see that the situation is otherwise. Human rights abuses in Iran have worsened after the nuclear deal, as has the mullahs' meddling and massacre in Syria," said Rajavi. "If this religious fascism were not in power in Iran, we would not have a shattered Iraq today with all its painful tragedies. Likewise, in Syria, there would not have been this violent war and genocide and Yemen would not have turned into a killing field by the regime's agents."
Rajavi also indicated that based on the mullahs' theocracy, expanding extremism and retaliating against Western nations are the main tendencies. "The outcome of these two tendencies are terrorist attacks in Europe," Rajavi said.
The policy recommendations focused on human rights, with their statement reading in part, "Human rights must be a central factor in our relations with Iran. We must make it clear to the rulers of Iran that their behavior towards their own people is unacceptable. We must not turn a blind eye to the grave violations of human rights in Iran. On the contrary, expressions of concern about the human rights situation in Iran must be a priority in any bilateral relationship."
They also expressed the need to support allies within the region, empowering them to stand up to Iran, who is considered a source of instability in the region.
The delegation reiterated that in confronting Islamic extremism and fundatmentalism, there needs to be engagement with modern forces within the world of Islam, including the Iranian opposition movement and the People's Mojahedin Organization of Iran (PMOI).
https://www.youtube.com/watch?v=VVZDDFnA5rE&feature=em-subs_digest