UPDATED 3/14/2016
I was going to leave this be but it is such a comedy of absurdity I had to look into this further. Veterans Today's Chief Editor Gordon Duff an Ex Marine Grunt Is an admitted C.I.A. Asset. All one has to do is look at his bio. He is on the Board of Directors of Several Banks. Better yet lets take a look at what an ivestigative journalist has come up with:
If he has deliberately misled people with his bio, he has done it to impress gullible readers/viewers with his supposed expertise. By falsely claiming experience and knowledge in all these diverse areas, he is attempting to show that he knows what he's talking about. But if he's bullsh*tting about his resume, is he not also bullsh*tting in the information he's putting out?
But if, on the other hand, his biographical entries are real, they read like a globalist devil's resume. He claims extensive and continuing relationships with the globalist-controlled defense industry, the globalist-controlled intelligence industry, the globalist-controlled finance and banking industry (including the Federal Reserve itself), and the globalist-controlled United Nations. If he really has all these relationships, then he is clearly spreading disinformation for the globalists. If he were telling us things that were truly damaging to the globalist bankster agenda, they would have frozen him out or suicided him long ago.
Either way you look at it, Gordon Duff is not a person to be trusted. And the information he and his ASSOCIATES are putting out precisely follows the "blame the Anglo-American bankers / Nazis / Zionists" propaganda template of the globalists.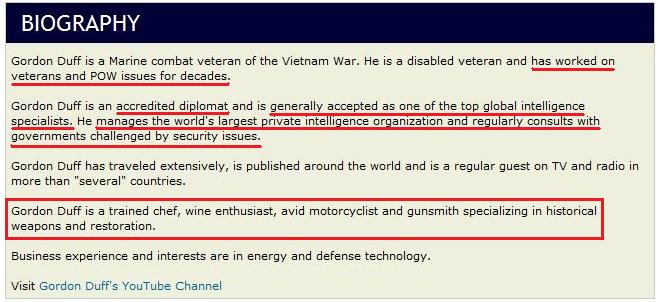 …the Duffian ego goes supernova: All while being 100% disabled
1) the inability to perform one or more essential life functions, and
2) the inability to work.
As for my personal take on the man, his claim of being an accredited UN diplomat brings to mind something dutchsinse said back in 2013. He reported that he'd been offered money and UN credentials to participate in a "media revolution" (a propaganda campaign to provide positive spin for the transition to the new globalist control system), but he refused due to his personal convictions. I suspect that Gordon Duff is a willing participant in that campaign. He strikes me as a low-to-midlevel globalist propaganda asset who pads his resume to look important to his readers.
In the coming entries of this series, I will delve into the shady histories of the "Adamus Group," VT, RT, and PressTV. I will also explore the relationships VT and Duff have with "Leo Wanta," Kerry Cassidy, Benjamin Fulford, Jeff Rense, John Stokes and other shady figures in the globalist-controlled side of the alternative media (which I call "Bullsh*t Incorporated").
Buckle up, this is gonna be fun.

[Update 1 – 6 October 2014]
While researching the "Adamus Defense Group," I came across this entry from another blogger that does a good job of de-spinning Duff's resume to show people what his claims really mean. Have a look.
http://redefininggod.com/2014/10/shady-as-hell-the-veterans-today-rt-presstv-disinformation-conglomerate-part-1-the-amazing-gordon-duff/
If anyone can tell me why Paul Ryan a career Politician who has been on the hill since 1999 is a good thing speak up. Let's take a look at his voting record.
From Jan 1999 to Jan 2016, Ryan missed 238 of 11,570 roll call votes, which is 2.1%. This is on par with the median of 2.2% among the lifetime records of representatives currently serving. ProPublica has tracked 96 explanations for these missed votes.
If you want a good laugh check his reasons for not voting above. Now lets take a look at what he stands for.
But there are occasionally big votes that really matter, and they divide the party. Time and time again, on the big votes, Ryan has not only not been a leader, he's also been a follower toward bigger and more expansive government.
Ryan voted for No Child Left Behind, President Bush's massive and failed education program. He voted for the prescription drug benefit, siding with Republicans who, at the time, called themselves "big government conservatives."
He voted for the 2005 energy bill that was a lobbyist-fueled festival of big government mandates and loan guarantees. He voted for the 2011 debt ceiling plan that capped spending only to then undercut it with his eponymous plan joined with Sen. Patty Murray, D-Wash. He voted for the auto bailout, TARP, the AIG bailout, expansive immigration reforms, and other reforms that split Republicans from conservatives.
Perfect just what we need. A President that wants to open the borders to anyone. Now lets take a look at Dunford the Head of the JOINT Chiefs of Staff. This one line in my research said it all. This guy is a chemtrail spraying envionment killing warmonger that will continue to fight wars around the world to kill our best and brightest. The fact alone that he alligns himself with John "Songbird" McCain who spilled his guts to the Vietnamese costing untolled American lives is enough to scare anyone.
Sen. McCain is running pretty hard," Gen. Dunford said, at his talk on Monday signals he will run alongside the senator.
Now we will move on to one of my favorite psyops The Galactic Federation who not only said they would allow no more neuclear weapons exploded but left Steve Beckow out to dry by telling him they would take him and 50 others on a tour of the galaxy. Then was a no show. Twice. It was so bad Steve ended up shuting down his site and opened another under another name "Golden Age of Gaia. And I guess the Galactic Federation had missed the two nuclear detonations within the last month by North Korea. Nukes given to N. Korea by the Obama administration but thats a story for another day.
In a prior article I covered what is called by DARPA V2S or Voice to Skull technology. For over 20 years the Government has been able to target an individual and read them a script that only they will hear. And it is called chanelled. It makes me think that Lord Sananda is a figment of D.A.R.P.A. mind control. I am not saying this is true in all cases what I am saying is it can explain many of the conflicting messages people receive.
If Obama is really missing how could he be on telivision offering his condolences on the death of Nancy Reagan. How could he know this in advance and pre tape this message. He also made a well publicised and televised presentation at a weekend event by the Tech Industry in Texas. Like I have said for a guy thats missing he seems to be all over the place and here is his schedule for today as per WhiteHouse.gov.
In the morning, the President and the Vice President will receive the Presidential Daily Briefing in the Oval Office. This meeting is closed press.
Later in the morning, the President will visit the State Department to deliver remarks at the Chief of Missions Conference. There will be pooled coverage of the President's remarks.
In the afternoon, the President will have lunch with the Vice President in the Private Dining Room. This lunch is closed press.
Later in the afternoon, the Vice President will visit the State Department to deliver remarks at the Chief of Missions Conference. These remarks will be closed press.
Afterward, the President will deliver brief opening remarks to the performance of musical selections from Hamilton. This will be a culmination of a daylong event hosted by the First Lady for students with the Broadway cast of Hamilton. The President's remarks and the opening number of the performance will be pooled press and streamed live at WhiteHouse.gov/live.
Unfortunately time will tell what this entire disinfo story is all about. It stunk when I first saw it. And still does. Only worse.
If one is to do a simple search on Paul Ryan, General Dunford and Gordon Duff you will find that you would not want Dunford or Ryan anywhere near the White House. You will also find Veterans Today, as well as Alex Jones are both C.I.A. controlled opposition to the truth movement. God help us all.
Please recommend this story, not for me but because this information needs to get out and be viral.