I wonder what the people who still deny that Obama (or his successor Hillary) are ABSOLUTELY coming for our guns have to say to these 260,000 law abiding Americans who've had their guns taken. Would they call them "conspiracy theorists" too? Do you know what I call them? UNARMED!
Anyone who says Obama/Hillary/Democrats won't try to confiscate all guns is an outright fool, and anyone who says they can't succeed is severely misinformed. They are often the same people you often hear quoting platitudes like, "from my cold dead fingers," because that's a lot easier to say than looking into the facts.
When did Americans become so gullible that they began believing whatever they read on bumper stickers, or what comes across as a headline in Twitter, and yet still have the gaul to think they are informed? Was it the same time most Americans outright stopped questioning the same people and institutions that have been caught in outright lies time after time? The mainstream media calls many of us in the alternative media "conspiracy theorists."
FACEBOOK | GOOGLE+ | TWITTER | PINTEREST | STUMBLE UPON | TUMBLER
Do you know what a "conspiracy theorist" is? Someone not afraid to stand up and question people and institutions who are known liars. Period. Speaking of questions, here's a question for you: How on earth has the entire mainstream media ignored the fact that Mass Shootings Have Skyrocketed 700% Under Obama? Does everyone just think that's a random coincidence?
As I have said in the past, only one type of person needs to have others disarmed, and that is an executioner. Period. Furthermore, we already KNOW Obama wants every damn gun in this country CONFISCATED. The reason we know that, and it's not speculation, is because Michelle Obama has publicly said as much, so what more do you need to know?

SUBSCRIBE TO THE TOP STORIES OF THE WEEK IN THE NEWSLETTER HERE
FOR MORE NEWS BY VOICE OF REASON CLICK HERE!
Dave Hodges of the Common Sense Show writes:
The Obama administration is engaged in a four-part plot to eviscerate both the First and Second Amendments;
1. Criminalize certain groups as being terrorist simply because they belong to groups who oppose government policy of any type and then labeling these groups as terrorists (see Assistant Attorney General John Carlin).
2. Criminalize free speech which opposes any government program, action, or official (e.g., Loretta Lynch).
3. Seize the guns of all the newly declared "domestic terrorists" (e.g., the No-Fly List, Christians, etc).
4. Perpetuate more false flag attacks in an effort to disarm even more Americans through an ever-growing web of gun confiscation efforts.
Then there is the X-factor: does anyone else wonder why this administration is so determined to end the private ownership of guns when it has been clearly established that those areas who have the most stringent gun control (e.g., New York, Chicago, and Washington DC) also have the highest gun violence and homicide rates?
What will this administration do once they have all of our guns? What are trying to accomplish?
A grossly corrupt and dishonest media and the liberal education system are to blame for people's lack of awareness on what is really happening all around them at alarming speed. Multiple examples have been provided for ways this election season is not only heading toward Martial Law, at this rate it looks likely! How many people realize 35,000 people have petitioned to have the GOP convention Open Carry because they are so scared of the security risk? See the following for more examples:
Looks Like President Barack Obama May Suspend 2016 Presidential Elections…
Trump Protesters Admit Answering Craigslist Ad Paying $16/hr to Protest (Video)
Warning: The Establishment Is Preparing For Martial Law and Civil War (Videos)
Stop 2016 Election, Then Begin Martial Law Is Goals of Soros' Democracy Spring (Video)
A Former Federal Prosecutor Warned: Obama Plans to Incite Race War This Summer (Video).
FOR MORE NEWS BY VOICE OF REASON CLICK HERE!
People who people make the argument that Obama could never pull off Martial Law, because our military would never act against its own citizens should refer to my above statement about starting to question known liars. For the sake of argument, let's assume the U.S. military would not act against the citizens. That goes a long way toward explaining why Obama has allowed in excess of 500,000 foreign troops to be stationed here on American soil at different times. It also helps explain why U.N. Troops Have Been on U.S. Soil Conducting Massive Military Exercises With the U.S. Military Within the Last Year. It stands to reason then, that it's probably no small coincidence that as reported by Mac Slavo in June 2014:
"A recent job posting at the United Nations website suggests that the organization is not only working to get guns out of the hands of American citizens, they are actively preparing personnel to assist in what they call "disarmament, demobilization and reintegration" activities."
The following ad is the one Mac Slavo was referring to.
FOR MORE NEWS BY VOICE OF REASON CLICK HERE!
FACEBOOK | GOOGLE+ | TWITTER | PINTEREST | STUMBLE UPON | TUMBLER
In the past, after mentioning the position above, on more than one occasion I have been blasted in emails from people telling me what an idiot I am for saying the position above refers to a multinational force that will be used to disarm Americans. That is one of the biggest problems in the country today. People need to learn to be more INFORMED, and less OPINIONATED. That's not my "theory," that the position is for a multinational force that will be used to disarm Americans. In the post titled, Delusional: Obama and UN Declare Themselves Above the U.S. Constitution, I provided the following links directly from the United Nations website:
FOR AN ACTUAL PDF OF AGENDA 2030 FROM THE U.N.: CLICK HERE
FOR AN ACTUAL PDF OF AGENDA 21 FROM THE U.N.: CLICK HERE
In those ACTUAL United Nations documents, the concept of "disarmament, demobilization and reintegration" is well documented and explained, but you have to read the documents. Members of the United Nations Multinational Force have already been caught on film here in the United States. That's just the beginning. Do you not remember Attorney General Loretta Lynch's big announcement this past October at the United Nations that her office would be working in several American cities to form what she called the Strong Cities Network (SCN), a law enforcement initiative that would encompass the globe (aka a "global police force acting on U.S. soil)? In an article from Breitbart on October 20th, Pamella Gellar wrote:
"This amounts to nothing less than the overriding of American laws, up to and including the United States Constitution, in favor of United Nations laws that would henceforth be implemented in the United States itself – without any consultation of Congress at all!
What is a global police force doing in our cities? This is exactly the abdication of American sovereignty that I warned about in my book, The Post-American Presidency: The Obama Administration's War on America."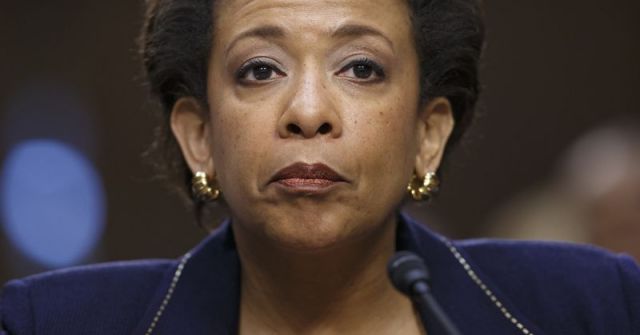 Patriotic Americans should feel comforted (sarcasm) that just recently, The Department Of Justice Announced its Plans To Step Up War On "Domestic Extremists." You can thank a Freedom of Information Request from Judicial Watch that was able to obtain an Obama Department of Defense training manual, that actually defines "Domestic Extremists" for us too. The training manual defines "Domestic Extremists" as:
"Americans who are 'reverent of individual liberty,' and 'suspicious of centralized federal authority' are possible 'extreme right-wing' terrorists.
The document linked above also lists people who embrace "individual liberties" and honor "states' rights," among other characteristics, as potential "extremists" who are likely to be members of "hate groups."
Finally, the document goes on to call the Founding Fathers, "extremists."
SUBSCRIBE TO THE TOP STORIES OF THE WEEK IN THE NEWSLETTER HERE
FACEBOOK | GOOGLE+ | TWITTER | PINTEREST | STUMBLE UPON | TUMBLER
Not long ago, a Former Federal Prosecutor Said Obama Plans to Incite a Racial War No Later Than This Summer. Sound crazy? Unless you've been sleeping under a rock, you may have noticed things seem to be getting awfully tense at certain presidential campaign rallies lately. Do you think that is more likely to cool off, or more likely to escalate in coming months? Please! Further adding legitimacy to all this, is the fact that even The Pentagon Says They Are Preparing For Huge Civil Unrest in U.S. (Videos).
In the video below, Lisa Haven gives a very accurate description of this New World Order program know as the Strong Cities Network, which has granted itself the authority to supersede the United States Constitution. There can be no other way to interpret this – America is now under a UN mandate to outlaw all criticism of the state. The time-honored practices of governmental criticism and public debate are quickly coming to a close. All Americans must pay homage to the new (world) authority or face dire consequences.
FOR MORE NEWS BY VOICE OF REASON CLICK HERE!
It has been pretty well documented that today's Democrat party is out to undermine the 2nd Amendment whenever possible.
Some Democrats are willing to admit that they want guns confiscated from all Americans but most like to pretend that they believe in "common sense" reforms which basically means they want to make it impossible for law abiding citizens to defend themselves.
Unfortunately, our nation's veterans have been caught up in this movement as well and as many as 260,000 of them have been stripped of their right to own a gun.
FACEBOOK | GOOGLE+ | TWITTER | PINTEREST | STUMBLE UPON | TUMBLER
From Weasel Zippers via Guns:
Two Senate Republicans are seeking to understand the Veterans Affairs office practice of reporting veterans to the FBI's National Instant Criminal Background Check system.
Currently a veterans assigned a fiduciary trustee to act on their behalf is automatically declared "mentally defective" and is reported to NICS, the database Federal Firearms Licensees use to determine whether a prospective buyer is eligible to buy guns. As of December 2015, the VA has reported 260,381 individuals to the FBI, effectively making them prohibited firearms possessors under the law.
Making a due process argument, the lawmakers argue the VA uses the fiduciary trustee status of a veteran to regulate firearms possession without ever seeking to find out if the service member is a danger to themselves or others
If there is anyone who shouldn't be stripped of their right to own a gun it's someone who defended our freedom with one wouldn't you think?
Just another example of the incompetence of this administration and a reminder of how big government mixups have serious consequences for your average American citizen.
Hopefully they get this resolved soon but with this administration it's not likely.
FOR MORE ON BARACK COMING FOR OUR GUNS!
Secret Audio Of Hillary Clinton's Real Plans For Guns Leaks Out (Videos)
Obama SCOTUS Appointment Will Neuter More Than Gun Rights
All You Need To Know About Obama's Coming Gun Grab
Convince a Skeptic: Obama and U.N. Coming For Your Guns (Videos)
Video: "Mr. President: Guns Don't Become Radicalized and Kill – Terrorists Do!"
Patriots Guard Home of Veteran to Stop VA From Confiscating His Guns
Happy New Year! Obama Has Targeted Your Gun Rights for Just After Christmas
Obama Wants Americans Disarmed – Because That's What Executioners Do
Veterans: Obama is Coming For Your Guns, and he Will Get Them!
Massive Gun "Buyback" Bill Introduced in Congress
How Will You Respond When They Come For YOUR Guns? Better Think it Through!
If They Come For Your Guns, Do You Have A Responsibility To Fight?
Whistleblower Exposes CA Shooting Cover up – Guess Who It Implicates
U.K. Paper Accidentally Reveals More Obama Lies on San Bernardino
Mass Shooting, 300 Shot At, 17 Wounded, Media Silent. Why?
Mass Shootings Have Skyrocketed 700% Under Obama – Why?
Michelle Obama Promises To Confiscate All Firearms Before Leaving the White House
FACEBOOK | GOOGLE+ | TWITTER | PINTEREST | STUMBLE UPON | TUMBLER
DONATIONS ACCEPTED VIA PAYPAL TO GET THE RADIO SHOW RUNNING…
AND THEN TO HELP KEEP SPREADING THE MESSAGE!
COMING SOON TO INTERNET RADIO!
STAY TUNED!
FACEBOOK | GOOGLE+ | TWITTER | PINTEREST | STUMBLE UPON | TUMBLER