Brinksmanship, but by Whm? Russia…or the US?
US reports on an incident Tuesday in which two Russian jet fighters buzzed very close to a US destroyer, the USS Donald Cook, in the Baltic Sea, make it sound like a serious threat in which the US might have been justified in defending itself against a simulated attack on the high seas.
Nowhere in the reports in the US was it mentioned that the Cook was itself engaging in provocative behavior.
The Baltic Sea is an international waterway, bordering the countries of Denmark, Germany, Poland, Russia, Latvia, Estonia, Lithuania, Finland, Sweden and Norway, and as such, if the US wants to sail a ship there, it has every right to do so. But honest reporting on this incident should have included that the Cook wasn't just sailing around in the open waters of the Baltic. It was within a 70-mile radius of the Russian port enclave of Kaliningrad — an isolated and thus sensitive part of Russian territory located on the Baltic coast that is bounded by Lithuania and Poland and thus is separated from the rest of Russia. Kaliningrad is the site of a major Russian naval base, and is also home to 500,000 Russian people.
Here's a map of Kaliningrad showing the 70-mile radius within which the USS Cook was positioned at the time of the multiple flybys by two Russian Su-24s.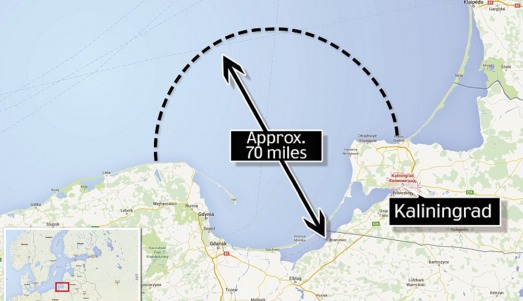 The US reporting on this has been hysterical.
CNN's Pentagon reporter said the jets were "demonstrating a simulated strafing run" and implied that it was dangerous because "if it had been a real strafing run, we wouldn't have known it until it was too late." Of course, Russia and the US are not at war, so why would Russia have strafed a US destroyer? The reporter didn't say. Instead, he said the ship's commander deserved "kudos" for keeping his cool and not loosing the ships anti-aircraft defenses on the two jets.
A news collective, founded as a blog in 2004, covering war, politics, environment, economy, culture and all the madness
Source:
http://thiscantbehappening.net/node/3128