Aaron Spuler is a firearms enthusiast and recreational shooter. Follow more or his work at The Weapon Blog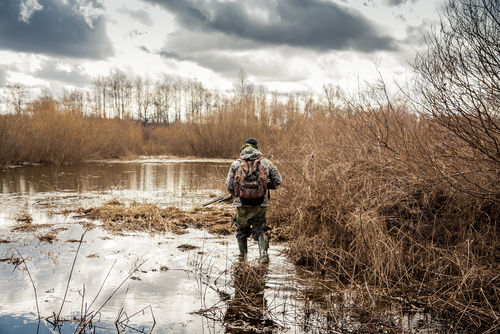 As the mountain snow melts and the flowers sprout the first buds of the year, you know that spring has officially begun and you can start prepping for open season. To get ready for your most successful season yet, here are the best spring destinations and the most highly recommended equipment and permits you need to make sure you are ready for the thrill of the hunt.
Manitoba, Canada
Manitoba has some of the most coveted hunting grounds in the world. In the vast square miles of open wilderness, you can catch sight of wildlife such as timber wolf, black bears, whitetail deer, bald eagle, moose, ruffed grouse, fox, marten and lynx. If you also are a fisherman, Manitoba offers fishing opportunities for species like small-mouth bass, walleye and northern pike.
Most hunters that visit the Manitoba area, particularly those east of Lake Winnipeg, begin their hunting season in search of whitetail deer; however, given the area's close location to Ontario where bear hunting was banned for several years, the area is rumored to have increased numbers of black bears.
If you're not a resident, the most important gear you need is a permit. All non-residents must also book their hunting trip through a licensed outfitter or lodge. If you plan to bring your own firearms from the States into Canada, you should contact the Canadian Firearms Centre as well as the Canada Border Services Agency before you cross the U.S./Canada border.
Missoula, Montana
Since the bears are emerging from their winter slumber, the northwest area past Missoula is your prime locale if you're on a budget. This region is also renown for its elk population. No matter what you plan to hunt, set up your base at a public campground to save some money and to experience a decent terrain. These campgrounds are generally seated in national forests and offer hunting grounds that are hundreds of miles long and mostly closed down and unavailable to traffic.
A good strategy for this area is to park and then hike around until you find a road that loggers have recently been working on. The theory is that the noise will have disturbed the bears and that they will be easier to spot through the cleared trees. However, if the snow is slow to clear, wait until a little later in the season to go as the bears may postpone their debut.
In addition to your usual gear and equipment, if you plan to trap in Missoula, you are required to attend a one-day information and training course. The course is usually offered in early spring.
Northern Arizona
Although Arizona may not be the first location that comes to mind when you think of hunting, the northern part of the state boasts black bears of all color phases, including cinnamon, coal black, blonde and chocolate. The chocolate-brown bear has been the most prevalent and frequently harvested throughout the past 20 years. The Arizona bear variety is migratory, traveling to both high and low country in search of food. This means a bear's home range can exceed 100 miles. Experts say that keeping track of what the bears eat helps them know where to find and hunt the bears.
When deciding what firearm to use for hunting black bear, everybody has an opinion. If you take the medium of high and low caliber guns generally used, you get the .338 Weatherby Magnum. Appreciated for its flat-shooting cartridge and power, it's small enough to manage easily while still packing enough punch to take out a small car. Additionally, if you plan on handling a firearm in the glare of the Arizona sun, quality eye protection is extremely important. Revant Optics sells impact-resistant lenses that are strong enough to beat the sun and take a beating.
No matter where you head this spring for hunting season, check for permits required in the area. Take a few new tips with you, add in a little skill and a lot of luck and you just might hit that trophy kill this year. Happy hunting.
Source:
http://www.weapon-blog.com/2016/04/open-season-hot-spots-top-tips-for-spring-hunters/