When it comes to vilifying his political enemies, Donald Trump is a master of reducing the computed character of his opponents through short, catchy phrases:
We have heard these insults over and over. Trump is a master at using insults in such a way that they stay indelibly embedded upon our consciousness in a manner that they are not easily forgotten. And as the Washington Post has noted, these insults have gathered media coverage and these insults are immortalized because Trump has the courage to speak the truth.
Rubio is indeed a small man both in stature and in character

Cruz and the truth are indeed complete strangers to each other

Clinton is indeed a sociopathic and serial criminal
The Most Honest "Trumpism" In the Campaign
Trump further speaks the truth as he campaigns on a platform of honesty, that all can easily see, when his campaign slogan says "Make America Great AGAIN".
The last word in his campaign slogan, AGAIN, speaks clearly to American decline. We are indeed a crumbling empire and the dismantling of America is happening at a faster rate than it did for Greece, Rome and Great Britain.
Trump has been outstanding in identifying the dangers of the free trade agreements, the cost of illegal immigration and the dangers associated with unchecked refugee/resettlement programs.
Trump Is the Most Truthful Candidate but Is Falling Short of the Mark
Trump talks about the fact that America is falling behind because we make bad deals. Sorry, but Trump knows there is much to this quote. America's demise is much more complicated and much more deliberate than Trump is saying. There are clear and identifiable forces at work that have declared war on America. Until Trump is willing to identify these forces and what plans he has to deal with them once he is elected, I cannot fully trust Donald Trump. Yes, I am voting for him and he is light years ahead of the other candidates in terms of problem identification and how these problems relate to our rapid and tragic decline as a nation, but he is woefully behind the trend curve compared to those of us in the Independent Media. Please take a few moments and listen to a man who was not afraid to point fingers at the problem makers in a much more definitive manner than Donald Trump is doing. I am specifically referring to JFK's Secret Societies speech.
Key Excerpts of the Secret Societies Speech that Trump Needs to Address
Here are some quotes from the above-mentioned speech. These comments give rise to the fact that Trump has a real opportunity to connect with the American people in a manner not seen since JFK.
"…For we are opposed around the world by a monolithic and ruthless conspiracy that relies primarily on covert means for expanding its sphere of influence–on infiltration instead of invasion, on subversion instead of elections, on intimidation instead of free choice, on guerrillas by night instead of armies by day. It is a system which has conscripted vast human and material resources into the building of a tightly knit, highly efficient machine that combines military, diplomatic, intelligence, economic, scientific and political operations."
In our time, this JFK quote deals with a two-headed monster, the unwarranted influence of the United Nations on our country and the unconstitutional influence of the Federal Reserve. Although Trump has talked about some of the dangers posed by the UN, he has not spoken out against some of the specific threats to American society coming from the UN, namely, Agenda 21/2030 and the UN Small Arms Treaty. Also, the Federal Reserve is the beast that imprisons our economy and makes it nearly impossible for the average person to get ahead. Mr. Trump, you are not a true populist until you address this latter threat and declare what you are going to do about it. JFK produced C-Notes in an attempt to counter the Federal Reserve. We are waiting Donald for a definitive statement of some kind.
"The very word "secrecy" is repugnant in a free and open society; and we are as a people inherently and historically opposed to secret societies, to secret oaths and to secret proceedings."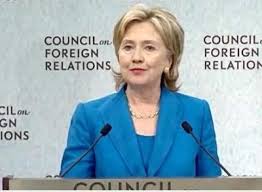 Although Mr. Trump has spoken eloquently and decisively on the dangers of the free trade agreements and what he is going to do about them (i.e. impose a 35% tariff on related products coming back into the country), Trump fails to identify the brain children who are behind this. He speaks of Lyin' Ted, but he seems ignorant to the fact that Lyin' Ted occasionally sleeps with the enemy, his wife Heidi. Heidi Cruz is a regional VP at Goldman Sachs (i.e. presently planning to bring bail-ins to America through Goldman's online bank). If I can find this, why can't Trump? Heidi also was deeply involved in making NAFTA a reality. Donald, you could knock Lyin' Ted right out of the race with this revelation. Why won't you close the deal? With Cruz gone, you are the presumptive next President of the United States. Oh, and there is that "secret society thing", Heidi Cruz is a regional director of the secret society, founded by John Rockefeller, called the Council on Foreign Relations which advocates for world government and the destruction of American sovereignty. Mr. Trump, this revelation is your ticket to the GOP nomination. Why won't you seize this moment?
Ask the Question
I am going to vote for Donald Trump because EVERY other candidate has been a participant in schemes that are enslaving America. Trump has addressed issues that the rest of the candidates refuse to address. However, I am baffled why Trump won't seize the opportunity to finish the job that JFK started 56 years ago.
Like what we do? Please consider donating to The Common Sense Show–CLICK HERE
More Critical Reads You Need to See by Dave Hodges! Click Here!
Subscribe to My Website at: www.thecommonsenseshow.com
Check Me out On Youtube
Check out our radio show on Sunday nights which airs on Global Star Radio Network from 8pm-11pm Eastern. The following icon is located in the upper left hand corner of our
---
Next Guests: Gary Haevin, the producer of the movie Amerigeddon – Greg Jackson, Ty Bollinger