In the Lenin Barracks in Barcelona, the day before I joined the militia, I saw an Italian militiaman standing in front of the officers' table. … Something in his face deeply moved me. It was the face of a man who would commit murder and throw away his life for a friend — the kind of face you would expect in an Anarchist, though as likely as not he was a Communist. … I hardly know why, but I have seldom seen anyone — any man, I mean — to whom I have taken such an immediate liking.
                                                                                          - The opening of Homage To Catalonia by George Orwell

John McCain is certainly an interesting American politician. To be politically correct, maybe I should call him an American "warrior/politician," since he's a key leader in the post-911 culture saturated with the warrior-ethos. Last month, this warrior/politician wrote an op-ed in The New York Times that I can't get out of my mind.
In the piece titled "The Good Soldier," McCain saluted Delmer Berg whose obituary had run March 2nd in the Times. (Belatedly appreciating the irony, the Times changed the op-ed's title online to: "John McCain: Salute To a Communist.") Berg, who died at age 100, was presumably the last living American veteran of the famous Abraham Lincoln Brigade that fought on the Republican side in Spain against a 1936 fascist coup led by the caudillo general Francisco Franco, certainly a warrior/politician of his day. The Republic had been constitutionally set up and its leaders duly-elected after the monarchy collapsed in 1931. The Soviet Union supported the Republican side and Hitler and Mussolini supported the Fascists. The Republican side had a romantic, underdog quality that drew writers and adventures like George Orwell and Ernest Hemingway.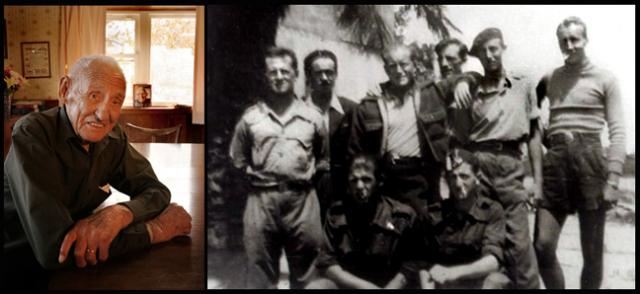 Proud American communist Delmer Berg in 2014 and in 1938 in Spain, second from right in beret
In 1937, Berg was a 21-year-old dishwasher who saw a poster for the Lincoln Brigade and signed up. He soon shipping out to Spain on an ocean liner; he was eventually wounded and sent home. Of the 3000 American volunteers who fought in Spain, around 800 were killed. The Fascists prevailed in 1939. Berg joined the Communist Party in 1943. The Times called him "an unreconstructed communist." A newspaper in California asked Berg what were the proudest moments of his life; one he said was "when one of my grandsons was valedictorian at his Oregon high school graduation and said in a newspaper interview, 'My grandfather is my inspiration. He's a Communist!' "
A news collective, founded as a blog in 2004, covering war, politics, environment, economy, culture and all the madness
Source:
http://thiscantbehappening.net/node/3116