http://simplyjews.blogspot.com/

"However stupid a fool's words may be, they are sometimes enough to confound an intelligent man."
― Nikolai Gogol, Dead Souls
I don't know how many Western readers are familiar with Dead Souls**, but I would venture a guess that there is no Russian above age of, say, 15 that isn't (of course, seeing as how Gogol was an Ukrainian and how Russia and Ukraine are apart today… oh well, no matter). The reason I am mentioning the popularity of the book is that I was sure that no Russian could be so stupid as to give birth to the modern version of that story. However…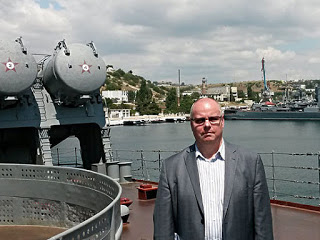 Academician Alexander Ageev
In a conference "Faith and deeds: social responsibility of businesses in the time of crisis", being conducted in the framework of Anti-crisis Forum, Academician Alexander Ageev came up with an original idea. Thinking [aloud] about the Great Patriotic War as a point of consolidation of [Russian] society, he proposed to consider the possibility to grant the right to vote in elections to 27 million Soviet citizens who died during the Second World War.

Explaining his thought to a journalist, he said that in this way the dead could affect the current affairs in the country, in development and salvation of which they were directly involved. For example, their families could vote for them, said Ageev.

Academician Ageev also believes that the right to vote may be possibly granted to several previous generations, not only to those who died in the war. The reason is the same: they must be able to influence current events, as these events are a continuation of their own lives.
For your reference and admiration: Doctor of Economics Alexander Ageev is the director of Institute of Economic Strategy of the Russian Academy of Sciences, a member of the Writers' Union, the head of the department of business management projects of MEPhI, a member of Izborsky club, and also a nobleman (he was entitled by Maria Romanova's decree). At the end of 2015 he ran for post of the the director of Institute of Economy of the Russian Academy of Sciences, but hasn't gathered the necessary votes.
Well, what can I say (not that anything has to be necessarily added to the above)? Maybe just a technicality, a humblest proposal for a minor improvement. Why bothering with establishing the family connections of the dear departed, which in many cases might lead nowhere, on account of Stalin's perfectionism in getting rid of some people? Wouldn't it be simpler all around to pass all these votes to the direct representatives of the owners? I mean the Patriarch of the Russian Orthodox Church, the Chief Mufti, the Chief Rabbi etc. They will surely know how to vote.
And in case of a doubt, I bet that Vladimir Vladimirovich Putin will be there to advise them and to lead them from the darkness to the light.
(*) "Academician" – rather a Russian term for a full member of Russian Academy of Sciences (PAH).
(**) And if you are not familiar, it will do you only good to get familiar. The old anti-Semite surely did know how to write them sentences.
Hat tip: L.G.
http://simplyjews.blogspot.com/
Source:
http://simplyjews.blogspot.com/2016/05/academician-alexander-ageev-and-his.html