An Essay on Urinals and Stalls as the New Battleground

The problem of the 20th century is the problem of the color line.
                                                                        - W.E.B. DuBois

While I see his position as one of defending bigotry, I sympathize a bit with North Carolina Governor Pat McCrory when he tells NPR, "Most people had never heard of this issue five months ago."
I was one of those people. Until quite recently — certainly before Caitlin Jenner and going back to the early 1950s when ex-GI Christine Jorgensen had sex re-assignment surgery — the term transgender meant a person had submitted to hormone treatment and surgery that involved, for a male, cutting off the penis and surgically creating some approximation of a vagina. A male or female who chose to wear clothing of the opposite gender was known as a transvestite. That semantic understanding seems to have gone the way of negro and colored people. It's now a matter of how one feels inside one's body. Somewhere in time a semantic shift occurred in the minds of enough people that it has now reached the level of law where we see a classic battle between a reform-minded, liberal federal government and that old standby of conservatives and bigots, states' rights.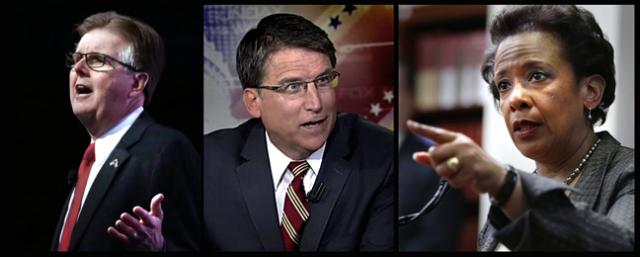 Texas Lt. Governor Dan Patrick, N.C. Governor Pat McCrory and US Attorney General Loretta Lynch
In North Carolina, a law known as HB2 was passed that limits protections for LGBT people and requires transgender people to use public bathrooms that correspond with the gender noted by a physician on their birth certificate. That sounds nice and neat — certainly to the conservative and bigoted mind. But what if one was born with real, physical ambiguity down in the pudendum area? Or what if a cocktail of chemical hormones and life experience led someone to see and feel themselves differently than the working stiff did who noted an infant's gender on a birth certificate — or for that matter, feeling different about oneself than the socially- and politically-correct views of certain southern, God-fearing conservatives? What if Norman Mailer, who is dead, was wrong when he wrote that little anti-feminist gem I read titled Prisoner Of Sex? Of course, many of us loved the strutting pugilistic Uncle Norman, especially when he protested the Vietnam War; but, then, Norman was famous for being a magnificent, often drunk, asshole.
A news collective, founded as a blog in 2004, covering war, politics, environment, economy, culture and all the madness
Source:
http://thiscantbehappening.net/node/3157