Former Ambassador, Human Rights Activist
Over 30,000 people within two days had signed an old languishing petition against the Tory bias of Laura Kuenssberg. They were motivated by outrage at the undisguised bias of her election night coverage, though that bias had already been evident daily.
For 35,000 people to be outraged enough to seek out and sign an online petition, millions must have felt that outrage. But the real furore started after 38 Degrees cancelled the petition due to "sexist abuse". Unfortunately for them, they were forced to admit there was virtually no sexist abuse from the 35,000 people who had signed the petition. They next claimed the sexist abuse was on unrelated social media, but refused point blank to present any evidence of it. Then an extraordinary group started to coalesce in defence of Kuenssberg – Laura Bates, Yvette Cooper, Jess Phillips etc – all of them denouncing this widespread sexist abuse. Not one of these people produced a single shred of evidence of the existence of this sexist abuse.
Probably some abuse is there. I am a much, much less well known figure than Kuenssberg, but since I started writing on this topic I have been the subject of numerous extremely unpleasant tweets and facebook messages. Please note the same epithet applied to Kuenssberg would undoubtedly be claimed as misogynist abuse:

I have cropped this to protect the identity of the sender, but I assure you it is perfectly real and not at all unusual. (This is actually sexist on my part as if it were a man I would not have cropped it. I can only ask you to forgive me, I am old). I am sure Kuenssberg, being vastly more famous, gets more abuse than I do. But the fact either of us receives abuse does not mean we are above criticism. The young woman tweeting above being unpleasant is not evidence I am right about anything. Still less does it mean criticism of me should be suppressed.
To say that abusers "hijacked" the petition criticising Kuenssberg for her terrible biased journalism, is like saying your car is hijacked by an insect landing on it.
But the extremely cheerful news is that the furore caused by 38 Degrees removing the petition has meant that tens of millions more people have heard of the petition, than if it had gone ahead. David Cameron standing up in the House of Commons saying Kuenssberg is not biased in itself will have made a million people realise that she is. Laura Kuenssberg, meet Barbara Streisand. The "Streisand Effect", named after the actress' attempt to suppress photos of her mansion, is the internet phenomenon whereby attempts to suppress information lead to far more people knowing it.
In this case, that is really important. Because what has struck me the last few days is the number of people who are saying "Wow, I thought she was pretty biased, but I thought it was just me." No, it wasn't just you. She really is the most appalling Tory shill. And now tens of millions more people are alert to it.
The Establishment, by its attempt to invent a "Misogynist campaign" and link it to Jeremy Corbyn, has just shot itself squarely in the foot.
You might enjoy this interesting word analysis of the comments of the 38 Degrees petition. The comments themselves can still be found from here. It should be understood that 35,000 people signed, but the large majority only sign and do not leave comments.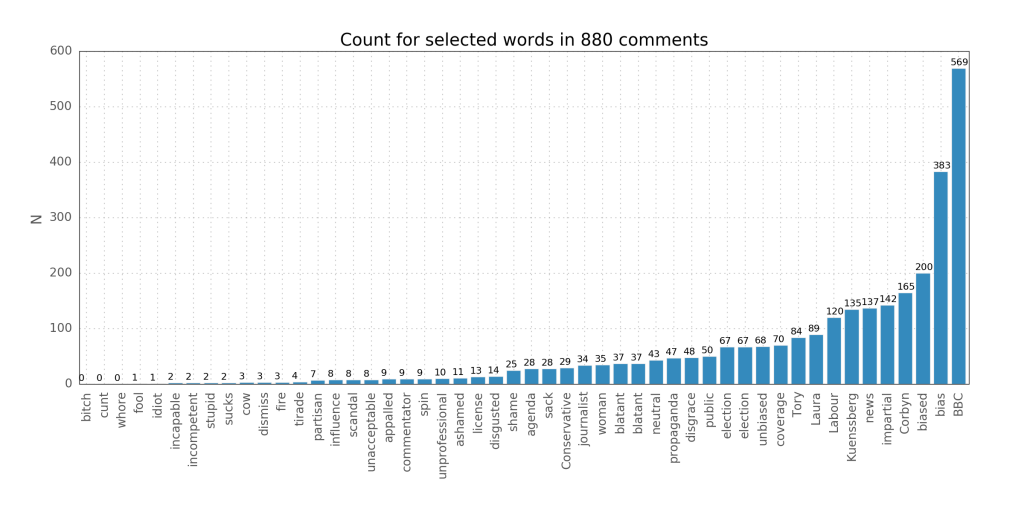 The post Laura Kuenssberg Meet Barbara Streisand appeared first on Craig Murray.
Source:
https://www.craigmurray.org.uk/archives/2016/05/laura-kuenssberg-meet-barbara-streisand/