Supreme Hypocrisy in Pennsylvania
One unintended consequence of the recent U.S. Supreme Court ruling in a death penalty case that rebuked actions of a Pennsylvania Supreme Court justice and prosecutors in Philadelphia for conflict of interest was to open a new avenue for activist-journalist Mumia Abu-Jamal to appeal his own 1982 murder conviction in a trial that was tainted by the same exact type of conflict of interest, involving the same DA and later appeallate jurist.
That ruling by America's highest court sharply criticized former Chief Justice of Pennsylvania's Supreme Court Ronald Castille for his participation in a 2014 death penalty deliberation because that justice had approved seeking that ultimate penalty when he served as the District Attorney of Philadelphia before becoming a state supreme court member.
That U.S. Supreme Court rebuke cited judicial conduct rules in Pennsylvania applicable to judges who had previously worked for a governmental agency like a District Attorney. Those conduct rules urged judges to remove themselves from "a proceeding if [their] impartiality might reasonably be questioned" because of their former position with such a governmental agency.
The U.S. Supreme Court, in the recent 5-3 ruling that rebuked Castille, stated that an "unconstitutional potential for bias exists when the same person serves as both accuser and adjudicator in a case."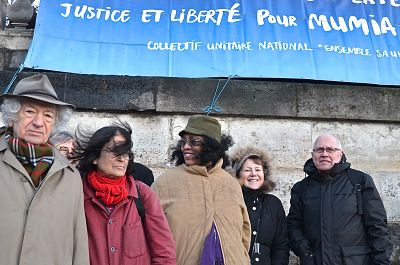 Paris Protest For Abu-Jamal. Jacques Lederer (left) and Abu-Jamal Collectif head Jacky Hortaut (right) – LBW Photo

Paris protestors for 21 years have held an annual demonstration to criticize the lack of impartiality by judges in Pennsylvania, particularly judges once employed as prosecutors and/or in law enforcement. Those protestors have also condemned misconduct by prosecutors in Philadelphia like prosecutors unlawfully withholding evidence favorable to defendants.
A news collective, founded as a blog in 2004, covering war, politics, environment, economy, culture and all the madness
Source:
http://thiscantbehappening.net/node/3206