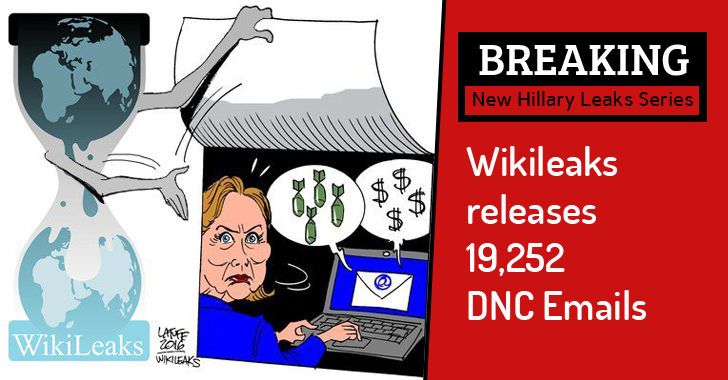 By Lisa Haven
All hell is about to break loose at the Democratic National Convention Monday, July 25th. As Wikileaks released 19,252 emails from US Democratic National committee members, as well as Hillary Clintons email hacks a few months prior.
Personally, I say it's about damn time someone started sharing the corruption happening from within the upper ranks of the globalists!! So God be with the hacker who leaked the intel.
On March 16th of this year, Wikileaks launched a searchable archive for 30,322 emails & email attachments sent to and from Hillary Clinton's private email server while she was Secretary of State.
Then, on Friday, July 22, 2016, WikiLeaks once again released 19,252 emails and 8,034 attachments from the top of the US Democratic National Committee — part one of the new Hillary Leaks series.
According to Wikileaks, "The leaks come from the accounts of seven key figures in the DNC: Communications Director Luis Miranda (10770 emails), National Finance Director Jordon Kaplan (3797 emails), Finance Chief of Staff Scott Comer (3095 emails), Finanace Director of Data & Strategic Initiatives Daniel Parrish (1472 emails), Finance Director Allen Zachary (1611 emails), Senior Advisor Andrew Wright (938 emails) and Northern California Finance Director Robert (Erik) Stowe (751 emails). The emails cover the period from January last year until 25 May this year.
Gary Franchi's The Next News Network brings us more on this report…
More Critical Reads You Need to Hear by Lisa Haven! Click Here!
Subscribe to My Website at: www.FreedomNationNews.com
Check Me out On Youtube
For More Information See: