No crooked sociopaths in the White House
Dr. Jill Stein, the presumptive presidential nominee of the Green Party, which holds its own nominating convention next week, Aug. 4-6, in Houston, had it right when earlier this year she offered to step aside and let Bernie Sanders, after failing to win the Democratic nomination, come in and head the Green Party ticket, running against Clinton and Trump in the general election.
Had Sanders taken her up on her surprising offer, instead of bowing to the corrupt powers that be in the Democratic National Committee and the oligarchic corporations that are backing Hillary Clinton, and ultimately endorsing Clinton, he could well have outpolled both Clinton and Trump and ended up winning the presidency as a Green partisan. He had a chance, even if he didn't win, to upend the stifling Democratic/Republican duopoly that has been crushing progressive movements and gutting what's left of New Deal and Great Society programs for generations, and to create the foundation for a new politics in the US — to give American voters a true choice finally between one or two sclerotic pro-capitalist parties, and, at long last, a genuine people's party.
Instead of that Hail Mary, Sanders decided to forfeit the game.
Some of his nearly 1900 pledged delegates, either after Tuesday's roll call voting or on Thursday, when Clinton is nominated as the Democratic Party's presidential candidate, will likely stage a walk-out from the Convention Center. Hopefully they, and hundreds of thousands of Sanders activists or the millions of Sanders backers who voted for him in the primaries, or who supported his campaign but were barred from voting in the many closed primaries and caucuses, will decide to walk right into the welcoming arms of the Green Party.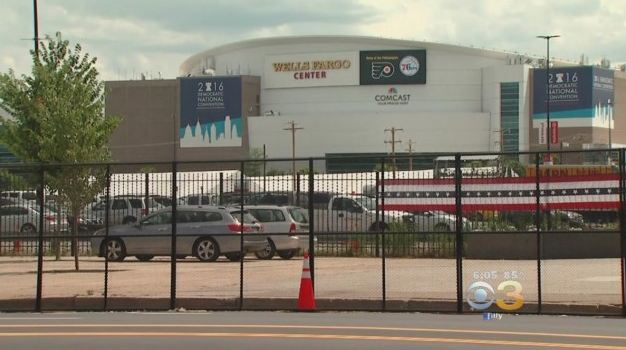 Forget Trump's wall. Hillary and the DNC, fearing protesters, had a 4-mile fence erected around the convention center, creating an exclusionary 'Green Zone' for party honchos and delegates.

Bob Nelson, a Sanders delegate from Pasadena who is at the convention, says that the California delegation, which includes factions of people including those who say they will in the end stay in the Democratic Party and ultimately will back Clinton (as Sanders is asking them to do, often to loud boos), those who will stay in the Party but who will only support down-ticket candidates but not Clinton, those who will quit the party — perhaps as part of a public walk-out from the convention hall — but who will still vote for Clinton in November so as not to allow Trump to win the state in a close contest, and those who will quit the party entirely, and probably support the Green Party. He predicts that the Green Party and its presidential candidate, and possibly candidates for other state offices, could fare very well in California this year as long as polls show the race Clinton-Trump to be not even close. He notes that the state is overwhelmingly Democratic, and also that more than half the state is people of color and either immigrants or the descendants of recent immigrants, meaning Trump is unlikely to do well there. "You could see a significant vote for the Green Party in California this year," he says. Certainly the level of anger among Sanders delegates at the convention and outside on the street, especially after the Wikileaks release of 20,000 emails showing the blatant, coordinated efforts by the DNC and the Hillary campaign to undermine and destroy Sanders' primary chances and to manipulate media coverage of his campaign, is unprecedented, and is not likely to go away after the convention is over.
At a breakfast Monday morning of the Florida delegation, Debbie Wasserman-Schultz, the Florida Congresswoman and Democratic Party Chair outed as an anti-Sanders saboteur by Wikileaks but still scheduled to gavel open the convention that day, was booed so severely by both Clinton and Sanders delegates that she had to leave the room, after which the DNC hastily cancelled her appearance as convention convener, handing it off to a minister (who herself was booed loudly when she ended her ecumenical prayer with a word for Hillary Clinton).
A news collective, founded as a blog in 2004, covering war, politics, environment, economy, culture and all the madness
Source:
http://thiscantbehappening.net/node/3245