Former Ambassador, Human Rights Activist
Yesterday I received a begging letter from Katharine Viner of the Guardian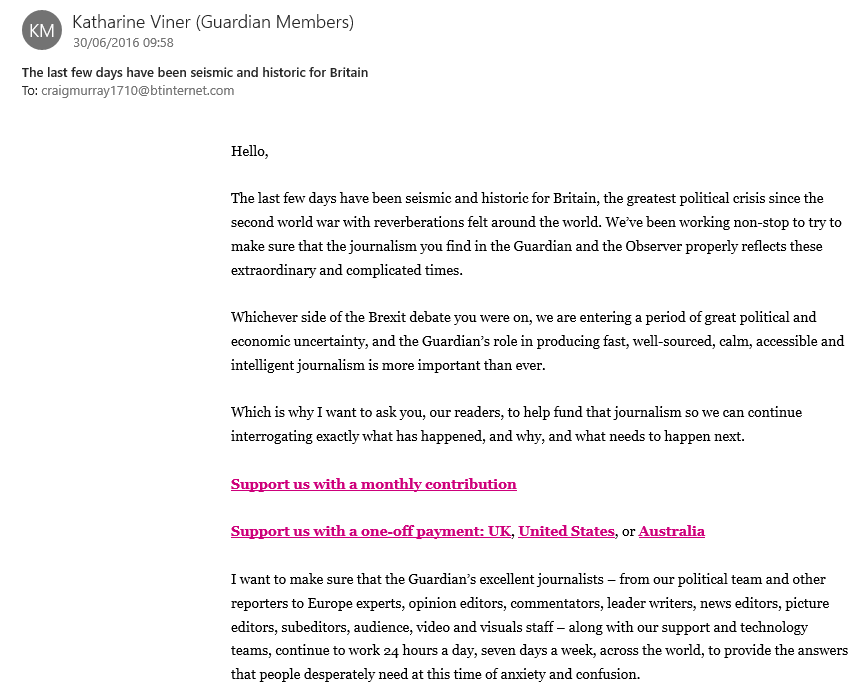 Perhaps they will be able to induce individuals to give £10 a month, £120 will buy Polly Toynbee one lunch at the Ivy. But apart from the ethics of asking ordinary people to fund some of the most overpaid people in the country, there are questions about the claims which Viner makes. She talks of Guardian journalism as "well-sourced", "calm", "intelligent", "in-depth", "thoughtful" and "well-resourced."
Now I put each of those in inverted commas, to indicate they are words which Ms Viner actually used in the full email. (The image is an extract).
Now let us look at some of the Guardian's actual output. Today Gaby Hinshliff, in a highly slanted comment on yesterday's incident involving Ruth Smeeth, writes in the Guardian that
a Corbynite activist stood up and accused her of being part of a "media conspiracy" against her own party
Note Ms Hinshliff's use of inverted commas there, indicating that "media conspiracy" was the actual phrase used. Except it wasn't. Wadsworth never used the phrase, or indeed either of the words "media" and "conspiracy" separately. What he actually said is widely available, as is video footage of him saying it. I published it yesterday, along with what I hope was a very rational consideration of what the incident did and did not signify .
Strangely enough, the only place the words "media conspiracy" occur – actually in inverted commas – is in Ruth Smeeth's own press release.
So, at best, Gaby Hinshliff is merely an extremely lazy journalist who took Ruth Smeeth's false account of what was said and wrote about it with no effort at all to check it and see if it was true, or if there was another side of the story. A ten second google search would have corrected her. Extreme laziness and the lowest of journalistic standards is the very best explanation of Hinshliff's behaviour. At worst, Hinshliff is knowingly and deliberately repeating and amplifying a deliberate lie.
What is beyond any possible dispute is that Hinshliff has demonstrated that Viner's claim that the Guardian produces responsible, properly researched and ethical journalism is another plain lie.
The difficulty is that the Guardian has columnists who are so blinded by their own prejudices and hatreds as to be incapable of rational analysis. On precisely the same subject, somebody suggested to Nick Cohen he look at my article on the Ruth Smeeth case to see another side of the story. Cohen's reply seems to me a fair summation of the intellectual standards and ethos which now prevail at the Guardian: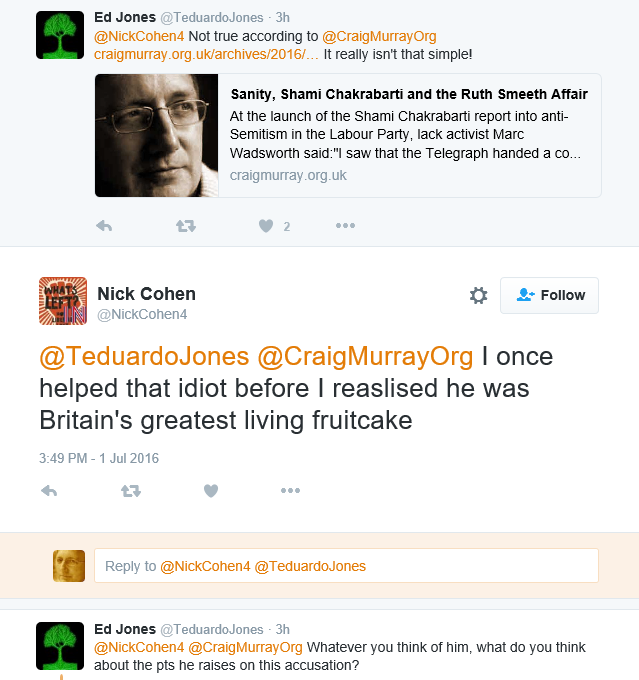 The rejoinder to him seems perfectly fair, but received no response. I like to think of myself as delightfully eccentric, rather than a "fruitcake". But the notion you can completely ignore or dismiss an argument by an insulting ad hominem again reflects the very opposite to the standards Viner claims that the Guardian espouses.
I do hope none of you gave them any money.
The post Journalistic Standards at the Guardian appeared first on Craig Murray.
Source:
https://www.craigmurray.org.uk/archives/2016/07/journalistic-standards-guardian/