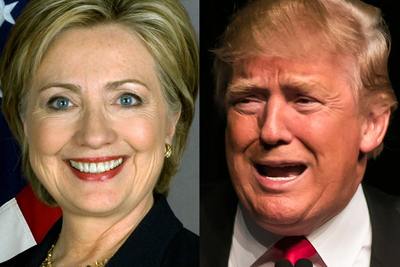 Republican nominee for president Donald Trump destroyed Democratic nominee Hillary Clinton on many fronts in their first of three debates. Without question, Clinton's lies span decades and are too many to name. From Bengazi to her emails to the Clinton Foundation to Whitewater and a dirt bag husband, Bill, who cheats and lies, the Clintons have left a wake of deception and destruction that is unlike anything this nation has ever seen.
Clinton said she stayed off the campaign trail to prepare for the debate, and tha means she was perfecting her lies. To her credit, it was a polished performance. But then again, she is a polished liar. The Clinton's re-entry into the White House would be a fiasco beyond any repair. But as rigged as the system is, it's very likely to happen.
If Trump does everything he says he will, there's a chance it could begin to turn around the country.
But we've heard this song before.
Do we choose an experienced busineesman with a personal interest in tax cuts for the wealthy? Or do we choose an experienced politician who has little to show for three decades in politics? Both choices are a litle scary.
In any event, here are some of Trump's top moments from the debate"
1, Hillary's 'Experience'
If experience is a teacher, it has taught us much over Clinton's 30-year political career. Not much has changed for the better during that time In fact, it has become much worse.
"Let me tell you. Hillary has experience, but it's bad experience," said Trump. "We have made so many bad deals during the last — so she's got experience,that I agree.
"But it's bad, bad experience. Whether it's the Iran deal that you're so in love with, where we gave them $150 billion back, whether it's the Iran deal, whether it's anything you can — name — you almost can't name a good deal.
.."We need heart. We need a lot of things. But you have to have some basic ability. And sadly, she doesn't have that. All of the things that she's talking about could have been taken care of during the last 10 years, let's say, while she had great power. But they weren't taken care of. And if she ever wins this race, they won't be taken care of."
2. Jobs
A simple scan of job boards speaks volumes about the kind of jobs that are plentiful. Most of the advertised jobs are for call centers, retail, cleaning, or warehouse work. These low-paying, often demeaning jobs have become the bulk of what's out there – even for educated or professional people who fall on hard times. Trump explains where the rest of the jobs have gone.
"Our jobs are fleeing the country," trump said. "They're going to Mexico. They're going to many other countries. You look at what China is doing to our country in terms of making our product. They're devaluing their currency, and there's nobody in our government to fight them. And we have a very good fight. And we have a winning fight. Because they're using our country as a piggy bank to rebuild China, and many other countries are doing the same thing."
3. The Economy
By almost every yardstick, our economy is far worse than Obama, Clinton, and the entire White House clan have led the public to believe. Home owenership rates are down, people are leaving the workforce for the lack of decent jobs, and food stamp applicaations are up – just to name a few. It is true, however, that bailing out and rewardng businsses did nothing to create more jobs, starting in 2008. Companies simply took the tax breaks and appliced them to their top executives. Tax incentives for "creating jobs" have had a similar effect Companies keep turnover high in an effort to "create" jobs. Not so more people are hired, but so the businesses can get the tax breaks.
"Now, look, we have the worst revival of an economy since the Great Depression. And believe me: We're in a bubble right now. And the only thing that looks good is the stock market, but if you raise interest rates even a little bit, that's going to come crashing down.
We are in a big, fat, ugly bubble. And we better be awfully careful. And we have a Fed that's doing political things. This Janet Yellen of the Fed. The Fed is doing political — by keeping the interest rates at this level. And believe me: The day Obama goes off, and he leaves, and goes out to the golf course for the rest of his life to play golf, when they raise interest rates, you're going to see some very bad things happen, because the Fed is not doing their job. The Fed is being more political than Secretary Clinton.
4. North American Free Trade Agreement (NAFTA)
Trump reminded the world and Hillary that her husband Bill signed NAFTA. Just imagine what Bill and Hillary can cook up in the White House this time around.
"Your husband signed NAFTA, which was one of the worst things that ever happened to the manufacturing industry," said Trump. "You go to New England, you go to Ohio, Pennsylvania, you go anywhere you want, Secretary Clinton, and you will see devastation where manufacturing is down 30, 40, sometimes 50 percent. NAFTA is the worst trade deal maybe ever signed anywhere, but certainly ever signed in this country.
"And now you want to approve Trans-Pacific Partnership. You were totally in favor of it. Then you heard what I was saying, how bad it is, and you said, I can't win that debate. But you know that if you did win, you would approve that, and that will be almost as bad as NAFTA. Nothing will ever top NAFTA."
5. Bailing Out Other Nations
Despite an estimated $20 trillion deficit, the U.S. continues to squander money in its attempt to become a "global" powerhouse. Again, the public loses out, and in this case the military industrial complex wins by the creatio of unecessary wars.
"Nuclear is the single greatest threat. Just to go down the list, we defend Japan, we defend Germany, we defend South Korea, we defend Saudi Arabia; we defend countries. They do not pay us. But they should be paying us, because we are providing tremendous service and we're losing a fortune. That's why we're losing — we're losing — we lose on everything. I say, who makes these — we lose on everything. All I said, that it's very possible that if they don't pay a fair share, because this isn't 40 years ago where we could do what we're doing. We can't defend Japan, a behemoth, selling us cars by the million."