The Iranian opposition has identified more than 110 senior Iranian officials who played a part in the 1988 massacre of political prisoners in Iran.
The information was revealed at a press conference in Oslo this morning organized by the Representative Office of the National Council of Resistance of Iran (NCRI).
According to the revealed information, the officials identified were members of the "Death Commissions" which oversaw the rounding up and execution of political dissidents in Iran in the summer of 1988. The killings followed the issuance of a fatwa by Ayatollah Khomeini demanding that political dissidents be exterminated. The commissions were established in Tehran and 16 other provinces in Iran.
The identity and roles of the vast majority of the officials involved have remained unknown for nearly three decades. The new information revealed the involvement of many high-level ministers and cabinet members.
Details of 213 regime officials who carried out the massacre were also revealed in the Oslo press conference.
Perviz Khazai, representative of the NCRI in Nordic countries addressed the conference. Ingvald Godal, former member of the Foreign and Defense Committee of the Norwegian parliament, and Julie E. Kroepelien, a Norwegian lawyer, were also present during the conference.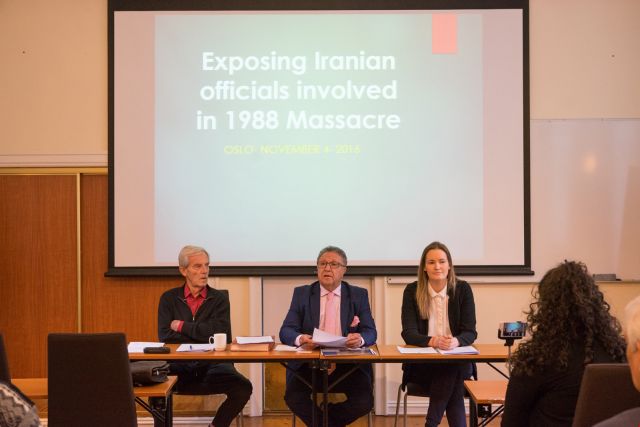 The speakers restated that a U.N. investigation of the massacre is long overdue and called on the Norwegian government to instigate such an inquiry. They emphasized that a country like Norway, renowned for its humaneness and championing of human rights, should lead the charge to create a U.N. commission of inquiry into the massacre, especially while participating in the ongoing U.N. General Assembly.
The information was gathered over a period of three months and utilized sources inside the government in Tehran and a huge network of informants of the People's Mojahedin Organization of Iran (PMOI or MEK) within Iran. Notably, Mustafa Pour-Mohammadi, Justice Minister in President Hassan Rouhani's government, has held onto power to this day despite playing a leading role in the killings. Mohammadi was the main Intelligence Ministry minister to play a role in the massacre. In August, he claimed that his role in the massacre was the result of God's commandment and boasted openly about his participation in it.