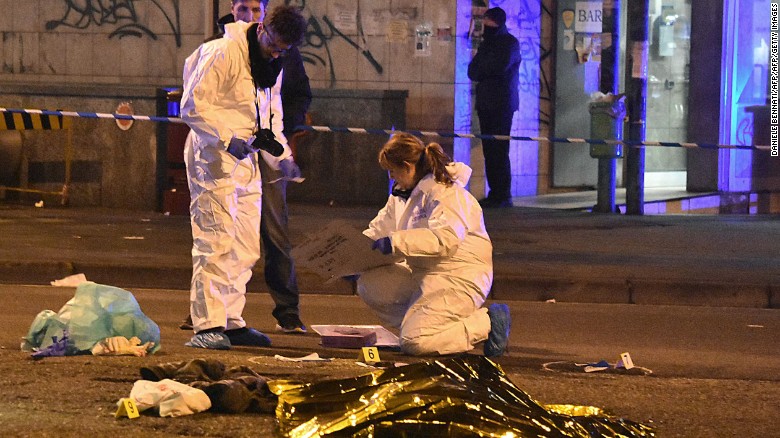 Italian forensics experts gather around the body of suspected Berlin truck attacker Anis Amri on Friday
Italian state police say the Berlin Christmas market terrorist, Anis Amri was killed during a shootout with police in Milan:
When the man was asked for his papers, he pulled a .22 caliber gun out of his backpack and fired, continued the tweet.

The driver of the police car returned fire, killing the suspect. A policeman was injured in the shootout and is in hospital, according to Italian police.

Italian Interior Minister Marco Minniti said the man shot was "without any doubt" Berlin terror suspect Anis Amri, in a press conference Friday.

He added that Italian officials had been in touch with German authorities about shooting.

The Interior Minister also thanked the "exceptional" Italian police forces, saying that they immediately identified and "neutralised" Amri.

Minniti added that they wouldn't be giving further details of the operation.
The state police tweeted out the news:
1. L'aggressore di Milano fermato da volante del commissariato Sesto San Giovanni durante un normale servizio di controllo del territorio pic.twitter.com/GmdIK0M9WS

— Polizia di Stato (@poliziadistato) December 23, 2016
Translated: 1. The attacker in Milan stopped by wheel of Sesto San Giovanni station during a normal service area control
2. Sparatoria di Milano avvenuta dopo le 3 di notte in piazza I maggio vicino stazione metro. Poliziotto ricoverato all'ospedale di Monza

— Polizia di Stato (@poliziadistato) December 23, 2016
Translated: 2. Shooting in Milan after the night in piazza I maggio 3 near metro station. Policeman rushed to the Hospital of Monza
3. A richiesta documenti aggressore ha estratto pistola cal 22 da zaino sparando a capopattuglia, autista ha risposto al fuoco uccidendolo pic.twitter.com/Xe5Dgdffb4

— Polizia di Stato (@poliziadistato) December 23, 2016
Translated: 3. A document request attacker pulled 22 cal pistol from Backpack guardian squad leader, driver returned fire shooting death
More details to follow.
The post BREAKING: Berlin Attack Suspect Killed In Milan Italy According To Authorities appeared first on RedState.
Source:
http://www.redstate.com/jaycaruso/2016/12/23/breaking-berlin-attack-suspect-killed-milan-italy/