How many times have you been talking to someone, and you know they're lying, they know they're lying, and they know that you know they're lying, but yet they keep lying anyway? What the heck is going on with Democrats these days? It's been years since they've had any sense, but at least they've always known how maneuver politically.
Democrats know darn well voter fraud has been rampant over the years (because they've made an effort to allow it), the whole country knows it, Democrats know the whole country knows it, and yet they're still insisting voter fraud is a "myth?" Ok, if voter fraud is a "myth," then Democrats have nothing to fear from an investigation, and it will be the quickest investigation in history, right? Wrong.
So far, we've known since before Election Day (Wikileaks) that Hillary Clinton's campaign chairman, John Podesta, was dumb enough to encourage illegal immigrant voting in writing. We know that two nonpartisan groups (VoteFraud.org and watchdog.org) have estimated that Hillary Clinton got between 3-7 million fraudulent votes. This week, a new study by a political scientist from Old Dominion University revealed that approximately 800,000 instances of voter fraud occurred during the 2016 presidential election, of which approximately 81% voted for Hillary Clinton.
Lastly, we also know the Inspector General of the Department of Homeland Security (DHS), John Roth, has opened an official investigation into Obama and Jey Johnson using DHS systems to hack various state election systems AFTER everyone had already voted, but BEFORE the votes had been certified!
It's not that there is no evidence of voter fraud, as the mainstream media would like people to believe. There is plenty of evidence to suggest that voter fraud is a major problem, but the corrupt and dishonest mainstream media refuses to cover it. The video below reviews much of what IS known about voter fraud at this time, and then it makes the case for how Cornell William Brooks, president and CEO of the NAACP, isn't helping the Democrats by promising to "massively resist" the investigation.
Why the need to massively resist an investigation if you're not hiding anything? Furthermore, promising to resist blows up the only razor thin rationale the Democrats could have used, saying they were trying to "save the taxpayers" from a costly investigation. Resisting an investigation would cost the taxpayers more… what a fool!
SUBSCRIBE TO THE TOP STORIES OF THE WEEK IN THE NEWSLETTER HERE
CHECK OUT THE SOCIAL MEDIA PLATFORM FOR CONSERVATIVES:
GRASSFIRE, and REAL AMERICA TV
The head of the NCAAP has come out in stark opposition to President Donald J. Trump's coming investigation into voter fraud, claiming it is "racist."
In an interview on CNN, Cornell William Brooks, president and CEO of the NAACP, insisted that his organization would "resist" the president's investigation into fraud during the 2016 election.
"The President has claimed millions of fraudulent ballots were cast. The only place you will find millions of fraudulent ballots are right beside that fake birth certificate for Barack Obama, inside the imagination of President Trump. They don't exist," Brooks said on Thursday.
Instead of vote fraud, Brooks insisted that there was "unrelenting voter suppression" of the minority vote in 2016.
"We have seen our rights denied as Americans. Particularly seniors, African-Americans, Latinos and younger people," Brooks exclaimed. "So, if the President insists upon conducting an investigation into voter fraud as a pretext for voter suppression, the NAACP, along with millions of Americans of every human heritage, will resist. We will push back."
Brooks recently jumped to his Twitter account to attack the President's investigation, calling it a figment of Trump's imagination.
In a formal statement, Brooks called vote fraud a "myth" and insisted that voter suppression is a fact. He wrote:
Today, President Donald Trump called for the federal government to spend resources investigating alleged "voter fraud" in the 2016 elections. Unable to accept the fact that he lost the popular vote by some 2.8 million votes, President Trump has repeated his naked and reckless claim that 3 to 5 million illegal votes were cast in the 2016 election by "illegal immigrants." However, this notion of widespread voter fraud in the 2016 election, or any other American election cycle for that matter, is false and dangerous.
On CNN Brooks added that he would suggest the president change the direction of his investigation or they will have to resist it.
"If the President goes down this road, we must resist, and we must resist massively," Brooks claimed.
The claims Brooks made fly in the face of the evidence, according to longtime vote fraud investigator John Fund. In a piece published by Fox News, Fund and the Heritage Foundation's Hans von Spakovsky say that Trump's investigation is a long overdue look at the problem of vote fraud in the U.S.
Fund and von Spakovsky reveal that the Obama administration spent its entire eight years trying to quash investigations into vote fraud and also refused to allow the states to fix their voter rolls to eliminate dead voters and voters registered in multiple jurisdictions.
The authors further point out that our electoral system is currently set up entirely on the honor system, expecting that all voters will be telling the truth by affirming they are both registered and will only vote once. Fund also notes that voter ID cards are perfectly acceptable and that, "All industrialized democracies… require voters to prove their identity before voting."
"Our honor system for voting doesn't work," Fund concluded. "We don't know how big of a problem voter fraud really is because no systematic effort has ever been made to investigate it. But the public doesn't think it's as insignificant as the media insists."
FACEBOOK | GOOGLE+ | TWITTER | PINTEREST | STUMBLE UPON | TUMBLER
FOR MORE ON LIBERALISM: THE IDEOLOGY OF HATE, GENOCIDE, & IDIOCY:
Investigation Launched into Obama's DHS Hacking State Election Systems (Video)
New Study Reveals Shocking Information About Trump's Voter Fraud Claims (Video)
Michelle Obama Just Bailed on Barack and Girls; Off to Billionaire's Island Alone (Video)
Case Closed! Trump Was Right, Obama's Birth Certificate A Fake …
You Won't Believe What CNN and the Mainstream Media Are Doing Now… (Video)
Celebutards Call for 'Total Hollywood Strike' Until Trump Resigns (Video)
Look Who's Really Behind Snopes, Facebook's New "Fact Checkers" (Video)
Old Soviet Union 45 Goals to Destroy America Perfectly Match Liberal Ideology!?!? (Video)
Child Abuse? 9-Year-Old Transgender Girl Makes History on Magazine Cover??? (Video)
George Soros Funding Facebook's New "Fake News Fact Checking" Group (Video)
"Fake News!" Donald Trump Just Exposed CNN in a Massive Scandal (Video)
Americans Reject Their Continued Brainwashing Via Political Correctness (Video)
Tucker Carlson Chews Up, and Spits Out Privileged Liberal Student On Live TV (Video)
Tucker Carlson Ruthlessly Annihilates Liberal Reporter on Live TV (Video)
12 Liberals Who Absolutely Deserve the Karma of a Trump Presidency (Video)
Veterans Are Dying Everywhere; VA Wants To Perform Sex-Change Operations
VETERAN FREEZES TO DEATH OUTSIDE HOSPITAL: The VA Hospital Refused Him Treatment
Scientists: 40% Of People Have Newly Discovered Brain Parasite (Video)
Disbarment Charges Are Filed Against Baltimore State Attorney Mosby (Video)
News Flash: Being Offended Doesn't Make You Right (Video)
Black Lives Matter Do The Unthinkable To War Heroes Graves
Top 10 Liberal Lies About The Constitution
Florida Drunken College Students 'Urinate and Spit' On Wounded Veterans
"Americans Going Over the Cliffs of Insanity" (Video)
Peter Schiff: This Is Who Really Determines U.S. Presidents
FACEBOOK | GOOGLE+ | TWITTER | PINTEREST | STUMBLE UPON | TUMBLER
"I'M WITH THE DEPLORABLES" T-Shirt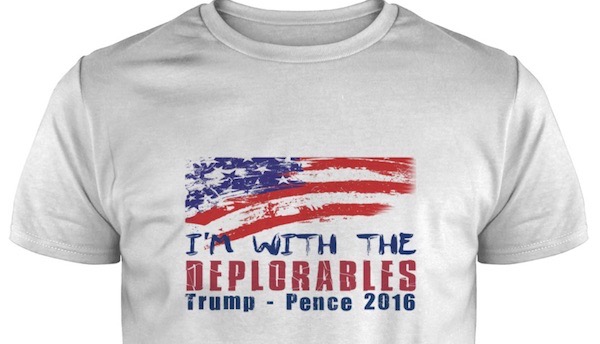 FACEBOOK | GOOGLE+ | TWITTER | PINTEREST | STUMBLE UPON | TUMBLER