It's hard to say exactly when Americans began to worship at the alter of their favorite politicians, because the phenomena isn't a new one, however it's safe to say the phenomena was magnified quite a bit during Barack Obama's presidency. For the last eight years, regardless of what actions President Obama took, many of his most loyal supporters remained willfully ignorant to any and all facts, and refused to look at his conduct objectively.
Unfortunately, that same disturbing trend appears to be continuing with a large number of President Trump's most avid supporters. There seems to be a belief among many Trump supporters that President Trump won't let anything bad happen to the people who voted for him, or that the country will magically become great again, provided we all just do as President Trump says. Sound familiar anyone? One of the many problems with that line of thinking, is that "Trumphoria" and reality don't intersect… not anywhere!
With no help from President Obama on his way out, President Trump inherited an overly polarized and bankrupt country that is sitting on the edge of total economic collapse. That is reality. As if any new administration doesn't have enough on its plate upon assuming office, the far-left and the mainstream media have been determined to undermine President Trump at every corner, and right now the country is teetering on the edge of social collapse in addition to all the other problems we're facing.
The video and article below examine the reality that far too many Americans have not paid enough attention to, one that the mainstream media is only encouraging with their dishonest reporting. As we saw on Inauguration Day when several far-left "protests" turned destructive and violent, or more recently when the student body UC Berkeley began rioting in order to silence free speech, civil unrest is growing in this country. If history can be any guide for what to expect in the future, sooner or later that growing civil unrest sweeping the country will eventually result in major American cities starting to burn. For anyone who hasn't already, it's time to begin preparing for what is increasinly looking to be some very volatile times ahead…
SUBSCRIBE TO THE TOP STORIES OF THE WEEK IN THE NEWSLETTER HERE
CHECK OUT THE SOCIAL MEDIA PLATFORM FOR CONSERVATIVES:
GRASSFIRE, and REAL AMERICA TV
It doesn't take much of a trigger to push extremely large crowds of very angry protesters into committing acts of rioting and violence. And rioting and violence can ultimately lead to widespread civil unrest and calls for "revolution". The election of Donald Trump was perhaps the single most galvanizing moment for the radical left in modern American history, and we have already seen that a single move by Trump can literally cause protests to erupt from coast to coast within 48 hours. On Friday, Trump signed an executive order that banned refugees from Syria indefinitely and that placed a 90 day ban on travel to the United States for citizens of Iran, Iraq, Libya, Somalia, Sudan, Syria and Yemen. Within hours, protesters began to storm major airports, and by Sunday very large crowds were taking to the streets all over the country…
From Seattle to Newark, Houston to Boston, hundreds jammed airport terminals — lawyers, immigration advocates, ordinary citizens compelled to the front lines, many refusing to leave until those who had been detained by U.S. Customs had been freed or had obtained legal counsel.
On Sunday, the movement caught fire and demonstrations and rallies erupted in communities across the U.S. from city halls to airports to parks. In the nation's capital, the site of the march that drew a crushing 500,000 people Jan. 21, Pennsylvania Avenue was shut down Sunday as thousands trekked from the White House to the U.S. Capitol. An energized crowd stopped outside Trump's showcase hotel along the avenue to shake fists and chant "shame."
You can see some really good pictures of the protests going on around the nation right here.
As I was going through articles about these protests today, I remember one woman holding up a sign that said "Remove Trump By Any Means Necessary".
It doesn't take much imagination to figure out what she was suggesting.
Visions of violence are dancing in the heads of these very frustrated people, and they are being egged on by top members of Congress such as Chuck Schumer…
'These orders go against what America has always been about,' Schumer told the crowd in Battery Park according to the New York Daily News. 'The orders make us less humanitarian, less safe, less American and when it comes to making us less safe people forget this, that's why so many of our military, intelligence, security, and law enforcement leaders are opposed to this order and all those like it.'
Chelsea Clinton, the daughter of Trump's presidential rival, Hillary, tweeted a picture from the rally. It was captioned: 'Yes. We will keep standing up for a country that matches our values and ideals for all. #NewYork #NoBanNoWall.'
On Sunday, President Trump attempted to clarify what his executive order was really about and make it clear that it was not a ban on all Muslims. The following comes from CNN…
BE SURE TO CHECK THELASTGREATSTAND.COM FOR SURVIVAL GEAR!
FREE DETAILED GUIDE TO SURVIVING ECONOMIC COLLAPSE OR MARTIAL LAW HERE
President Donald Trump insisted Sunday his travel ban on certain Muslim-majority nations would protect the United States from terrorists, after a weekend of outrage and confusion over the move.
In an afternoon statement, Trump wrote the country would continue showing "compassion to those fleeing oppression."
Unfortunately, polls show that somewhere around a third of the country greatly dislikes Trump, and those people are more than ready to believe that Trump is a racist bigot that hates all Muslims.
But the truth is that Trump does not hate any group of people. His target is simply Islamic terror, and he is actually pro-immigration as long as it is legal immigration.
Let us not forget that his wife is a legal immigrant.
I know that Trump is quite eager to get things done, but putting out this executive order at this particular moment was definitely a case of poor timing.
We are a nation that is deeply, deeply divided, and now this latest controversy threatens to divide us even further.
When I was out earlier today, I saw a pro-Trump billboard that some business owner had put up that was urging liberals to quit their whining.
On the surface that may sound funny, but it definitely doesn't do anything to bring us together.
If you give anger enough fuel, eventually it leads to violence. I am certainly not suggesting that we should ever compromise on what we believe, but what I am suggesting is that there is a wise way to handle things and an unwise way to handle things.
Someday, widespread civil unrest is going to sweep across the United States and major American cities will burn.
My hope is that we can put this off for as long as possible.
In fact, I sincerely hope that this will not happen at all during the Trump/Pence era.
But you would have to be blind not to see the hate, anger and frustration that are all growing like cancer in the hearts of our young people.
This is a time for the peacemakers. If there are any left in Washington, we need them to rise up now and try to bring healing before it is too late.
For those of you who are finally starting to realize there is major trouble on the horizon, largely as a result of the corruption within our own government and the 2016 election, the failure of the U.S. Dollar and Western banks, deteriorating conditions here domestically, or perhaps even because of nuclear tensions reaching all new heights, then I suggest you get your FREE GUIDE for how to survive Martial Law here, because if/when things begin to go south, by then it will be too late to do anything about it.
For anyone with no idea where to begin making preparations, a very good, and very inexpensive tool to teach you how and what you should be preparing, is a book called "Conquering the Collapse." Since I've practically worn out my own iPad reading my copy, in the following link I provide you with a review of the book: Be Ready For Any Emergency – The Crucial Guide For Any Family's Safety (Videos).
If you do nothing else, you can learn more about the coming crisis in the links at the bottom under the heading titled, "If nothing else, these links are essential." The writing is on the wall everywhere… I strongly suggest checking out the post titled, Start "Doubling Up On Your Prepping;" Countdown to Economic Collapse.
BE SURE TO CHECK THELASTGREATSTAND.COM FOR SURVIVAL GEAR!
FREE DETAILED GUIDE TO SURVIVING ECONOMIC COLLAPSE OR MARTIAL LAW HERE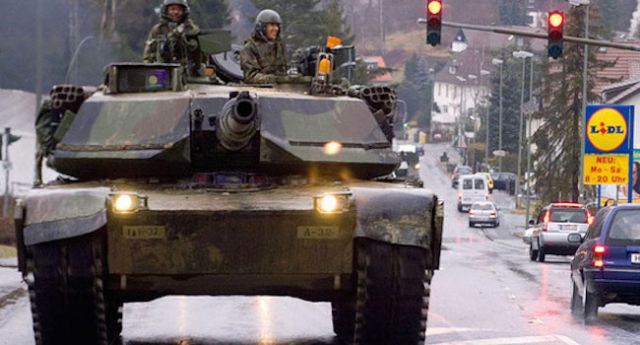 FOR MORE LINKS ON MARTIAL LAW:
Reports of Active U.S. Military Drilling for "Authoritarian Rule of Law" (Martial Law)
U.N. Soldier Says They Will Soon Occupy America: "Going Door-to-Door Taking Guns…"
1,500 Pages of New Documents That Reveal U.S. Government's Martial Law Agenda (Video)
Mainstream Media Blasts Alternative News Personality on FEMA Camps (Videos)
Ron Paul: Undeniable Proof Martial Law Is Coming Because of the Economy (Video)
Virginia Police and Homeland Security Doing Exercises for Marital Law Conditions (Video)
Latest News on Government's Preparing For Civil War or Martial Law (Videos)
Martial Law Convoys Sent to Baton Rouge, Dallas, and St. Paul Before Shootings (Videos)
Pentagon Approves U.N. Use Of Force Against American Civilians (Video)
What Is the U.S. Government Endlessly Preparing For (Videos)
Patriot Films Shocking New Video of a FEMA Camp Recently Discovered in Texas
Major Update to Military Movement and Actual Documentation of Their Plans (Video)
United Nations Troops on U.S. Soil Prepared to Assist With Martial Law? (Videos)
Obama Has Prepared FEMA for All Four Storms… Are You Prepared?
13 States Obama Is Using for His Nefarious Secret Agenda (Video)
Obama: Be Ready For EMP Attacks, Engineered Pandemics, Earthquakes, and Martial Law
How Likely is Martial Law in the US, and What Happens Under Martial Law
Law Enforcement Preparing For Rioting on National Scale (Videos)
All Armed Americans To Be Detained In FEMA Camps Starting In 2017? (Video)
Beware of Martial Law: Obama Will Confiscate Firearms Of All 50 States in 2016
Army Not Prepping for Battle; Training For Riot Control and Martial Law
Pentagon Says Preparing For Huge Civil Unrest in U.S. (Videos)
Political Dissidents Homes Being Marked By FEMA Prior to Martial Law?
Government "Threat List:" 8 Million People To Be Detained Immediately
SUBSCRIBE TO THE TOP STORIES OF THE WEEK IN THE NEWSLETTER HERE
FACEBOOK | GOOGLE+ | TWITTER | PINTEREST | STUMBLE UPON | TUMBLR
FREE GUIDE TO ECONOMIC COLLAPSE OR MARTIAL LAW…
AT THE OFFICIAL BLOG SITE BELOW!
FACEBOOK | GOOGLE+ | TWITTER | PINTEREST | STUMBLE UPON | TUMBLER