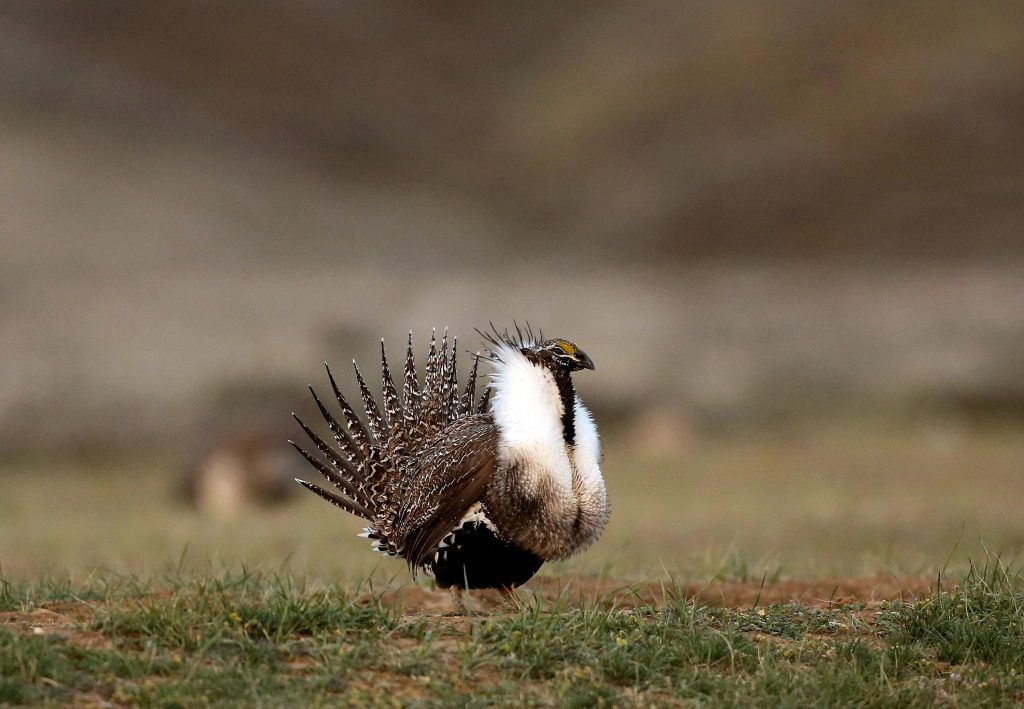 FILE – In this April 22, 2015, file photo, a male sage grouse struts in the early morning hours on a leak outside Baggs, Wyo. Declines in greater sage grouse across its Western U.S. range have been blamed in part on livestock grazing that's altered the ground-dwelling bird's habitat. New government and academic research suggests grazing at some times of the year may in fact benefit the chicken-sized grouse, by removing dead vegetation and stimulating additional growth of plants used for nesting. (Dan Cepeda/The Casper Star-Tribune via AP, File)
It's Sunday, which means it's time for the annual Sage Grouse mating season. Pic related.
Uh, also, it's Media Coordinator Update time.
---
Commentary
Logan Glitterbomb held down the commentary fort during the past two weeks with her article, "Terrorist is the New Green."
Past that, it's been kind of quiet 'round these parts. Hey did you know that Tobin Bell, or Jigsaw in the Saw franchise, is voice-acting a major role in Season 3 of the Flash? I'm just only now starting to get caught up.
---
Features
Most of the Center's energies have been expended on feature articles this month, which is just fine with us. Chris Shaw starts us off with his impeccably sourced critical look into basic income, "Basic Income as a System of Control." Next, we welcome new contributor and founder of "Pressing the Button," William Nava, who treads a well-worn path in a fresh way with "To Vote or Not to Vote." Finally, Logan Glitterbomb puts in some heavy time with three features, including her third piece in a series on gun control, "Combating Hate: A Radical Leftist Guide to Gun Control." She's also got "Time to Put the NAP to Rest?" and "The Failures of Fight for $15."
Have you noticed we've been inserting feature images into posts now? How're y'all liking that change? Does it matter to you, do you notice it and like it, or do you dislike it? Let us know.
---
Stigmergy Blog
Go check out Ryan Calhoun's latest, "Reactionaries Have Always Been 'Post-Truth.'"
---
That's it for another media coordinator update, and once again, thank you to everyone who supports the Center in months where we're writing every day as well as months where we… aren't. It means a lot to every writer and coordinator here.
Reminder! We are a 501(c)3 non-profit organization that relies on your tax-deductible donations to keep rolling along, putting anarchy into the hands of folks all over the world. Be like the generous individuals who have already donated this month or follow us on Twitter at @c4ssdotorg.
Questions? Comments? Concerns? email me at [email protected] or tweet at me at @trevor_c4ss.
The Center for a Stateless Society (www.c4ss.org) is a media center working to build awareness of the market anarchist alternative
Source:
https://c4ss.org/content/48317