Diogenes Middle Finger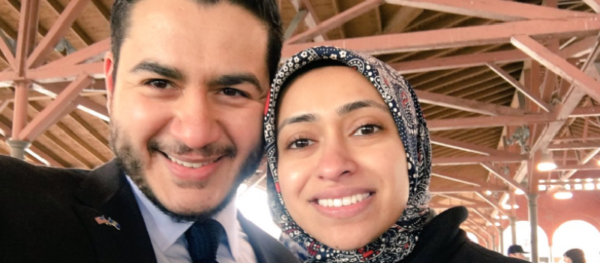 Dr. Abdul El-Sayed with wife Sarah.
His name is Dr. Abdul el-Sayed, a 32-year-old medical doctor who recently launched his campaign for Governor of Michigan, the election for which is in November 2018. If he wins he would be America's first Muslim governor.

He speaks articulately, without an accent, inserts humor into his speeches at seemingly just the right moments, and he has the full backing of America's powerful Muslim Brotherhood-linked network of Islamic organizations. In an interview with Al Jazeera, Sayed said Michigan voters are having "buyer's remorse," and that President Trump's decisions "are at odds with deeply held American values, and distractions from real issues." Sayed served as the executive director of the Detroit Health Department and Health Officer for the City of Detroit, appointed by Mayor Mike Duggan. At 30 years old, he was at the time of his appointment in 2015 the youngest health director in a major U.S. city.

Dick Manasseri, spokesman for Secure Michigan, a group that educates Michiganders about the threat of Shariah law, predicts that Sayed will at least win the Democratic nomination for governor. Sayed is highly educated, a Rhodes scholar who attended Oxford University in 2009 and became a practicing epidemiologist.

"It is the exact same thing as Barack Obama in Chicago in the early 2000s. He's young, attractive, he does not give out a lot of information, he speaks in platitudes about celebrating inclusiveness and diversity."
He's very well packaged. He's far more accomplished than Barack Obama. Obama was not this accomplished, they connected him to certain foundations and his candidacy took off. So if this guy rises in the polls, I would predict the Catholic Church will support his candidacy."
"Just like with Obama, because we gotta make history."
"Elizabeth Warren will be coming to campaign for him, the Democrats in other states will be raising money for him. The DNC number-two man [Keith Ellison] will be raising money for him. Of course this guy is going to be on the Sunday morning talk shows."
A candidate for governor who is Muslim Brotherhood …if that doesn't tell you there's a Shariah swamp in Michigan I don't know what does."

Thank You MJA for the Linkage
Source:
http://www.diogenesmiddlefinger.com/2017/04/has-democrat-party-found-its-next.html