The American economy is on the brink. Our national debt has never been higher, and it continues to pump up the overinflated stock market. And while the stock market has given the naive some hope that all is looking well, that hope is misplaced. GDP growth in 2016 came out to a miserable 1.6%; the worst since the Great Recession. Oh yeah, we're also facing the largest unfunded pension crisis in US history.
In the following video, Right Wing News interviews Charles Thorngren from Nobel Gold precious metals about his thoughts on what America is going to look like when the bubbles finally burst. The real estate bubble is forming again, only now joined by subprime auto loans and student loans. How will America look like when prices crash everywhere?
Will we be looking back at the years of the Great Recession with fondness? Only time will tell, but history has shown that social unrest always follows severe economic crashes. Can You Afford to Lose 40% of Your Retirement Account? Most of us can't! Find out what you can do to protect yourself, while you still have time!
SUBSCRIBE TO THE TOP STORIES OF THE WEEK IN THE NEWSLETTER HERE
SIGN UP FOR THE AMERICAN INTELLIGENCE NEWSLETTER AT
The Economic Collapse reports:
Have you ever thought about what comes after the bubble? In 2008 we got a short preview of what life will be like, but most Americans seem to have come to the conclusion that the last financial crisis was just a minor bump in the road toward endless economic prosperity.
But of course the truth is that the ridiculously high debt-fueled standard of living that we are enjoying now is not sustainable, and after this bubble bursts it will be an extremely painful adjustment for our society.
Since the last financial crisis, the U.S. national debt has nearly doubled, corporate debt has doubled, stock valuations have reached exceedingly ridiculous extremes, the student loan debt bubble has surpassed a trillion dollars, we are facing the largest unfunded pension crisis in U.S. history, and in many parts of the country (particularly the west coast) we are facing a housing bubble that is even worse than the one that burst in 2007 and 2008.
And even with all of these bubbles, U.S. GDP growth has been absolutely anemic. Even if you believe the grossly manipulated numbers that the federal government puts out, the U.S. economy grew at a "miserably low" rate of just 1.6 percent in 2016…
In terms of GDP, the fourth quarter was revised up slightly, but there were adjustments for prior quarters, and overall GDP growth for the year 2016 remained at a miserably low 1.6%. We've come to call this the "stall speed." It's difficult for the US economy to stay aloft at this slow speed. As Q4 gutted any hopes for a strong finish, GDP growth in 2016 matched the worst year since the Great Recession.
And corporate profits, despite a stock market that has been surging for years, are even worse. A lot worse. They've declined for years. In fact, they declined for years during the prior two stock market bubbles, the dotcom bubble and the pre-Financial-Crisis bubble. Both ended in crashes.
Things have continued to get even worse early in 2016. At this point, it is being projected that U.S. GDP will grow at an annual rate of just 0.9 percent during the first quarter of 2017.
So anyone that tries to tell you that the U.S. economy is in good shape is simply not being honest with you.
But even though things don't look great now, they are going to look far, far worse after the biggest debt bubble in human history bursts.
For example, what do you think that America will look like after half of all stock market wealth disappears? In a recent note to his clients, John P. Hussman stated that his team is projecting that by the end of this current market cycle "roughly half of U.S. equity market capitalization – $17 trillion in paper wealth – will simply vanish".
And of course that projection lines up perfectly with what I have been saying for quite a while. In order for key measures of stock market valuation (such as CAPE, etc.) to return to their long-term averages, stocks are going to have to fall at least 40 to 50 percent from their current levels.
As this coming crisis unfolds, other asset classes will experience astounding downturns as well. This week, Morgan Stanley (one of the too big to fail banks) released a report that said that used car prices "could crash by up to 50%" over the next several years…
For months we've been talking about the massive lending bubble propping up the U.S. auto market. Now, noting many of the same concerns that we've highlighted repeatedly, Morgan Stanley's auto team, led by Adam Jonas, has just issued a report detailing why they think used car prices could crash by up to 50% over the next 4-5 years.
Housing prices are primed for a major plunge as well. This is especially true on the west coast where tech money and foreign purchasers from Asia have pushed home values up to dizzying levels. Half a million dollars will be lucky to get you a "starter home" in San Francisco, and it was being reported that one poor techie living there was paying $1400 a month just to live in a closet. Many believe that some cities on the west coast will be quite fortunate if home values only go down by 50 percent during the coming crash.
Everywhere you look there are bubbles. In a recent piece, Daniel Lang pointed out some more of them…
Eric Rosengren, the president of the Federal Reserve Bank of Boston, recently made a startling tacit admission. We may be in the midst of yet another real estate bubble. Major financial institutions in this country are in possession of over $14 trillion worth of residential real estate loans. That's well over $40,000 for every man woman and child in America.
Low interest rates have fueled a bubble in subprime auto loans, and that bubble appears to be reaching its limits. There are now over 1 million ordinary and subprime auto loans that are delinquent, a number that hasn't been this high since 2009.
There is now well over a trillion dollars worth of student loan debt in this country; much of it owned by low income families. And there's little hope that these students will ever see a return on their investment. That's why at least 27% of student loans are in default. While more than one in four students are in default now, that number was one in nine a decade ago. And if current trends continue, there could be $3.3 trillion of student loan debt by the end of the next decade.
At some point the imbalances become just too great and the system collapses in upon itself.
In other words, we are heading for a massive implosion.
And once the implosion happens, people are going to go absolutely nuts. Anger and frustration are already rising to the boiling point all over the country, and it isn't going to take much to push millions of Americans completely over the edge.
In a recent interview with Greg Hunter, author James Rickards warned that when things get really bad in America we could actually see what he refers to as "money riots"…
So, could we be facing a "Mad Max" world if the financial system totally crashes?
Rickards says, "In 'Road to Ruin,' I talk about what I call the money riots. There is a lot of reasons for rioting. When you start shutting banks and the stock exchange and they say you can't get your money, it's only temporary, trust us, people will go out and start to burn down banks. The government is ready for that also with emergency response and martial law. . . . Governments don't go down without a fight. . . . You can see the shutdown coming because they will try to buy time until they come up with a solution, whether it's gold, Special Drawing Rights (SDR), guarantees or whatever it might be. There are only two or three possibilities here, but all of them will take time, and they will have to shut down the system. . . . People will not sit for that. So, that means people will riot. They'll burn down banks. They will smash windows, but what is the reaction to that? The answer is martial law, militarized police, actual military units and you get something that looks like fascism pretty quickly."
I very much agree with his assessment.
All it is going to take is another major financial crisis and this nation will go completely and utterly insane.
Unfortunately, all of our long-term economic problems have proceeded to get a lot worse since the last time around, and so when things fall apart this time we will likely be looking at a scenario that is absolutely unprecedented in American history.
A lot of people have become very complacent out there these days, but that is a huge mistake.
Just because a crisis is delayed does not mean that it is canceled. And because our leaders have kept making this economic bubble larger and larger, that just means that the coming crisis will be even more painful than it otherwise could have been.
BE SURE TO CHECK THELASTGREATSTAND.COM FOR SURVIVAL GEAR!
FREE DETAILED GUIDE TO SURVIVING ECONOMIC COLLAPSE OR MARTIAL LAW HERE

IF YOU READ NOTHING ELSE, THE FOLLOWING POSTS ARE ESSENTIAL:
Dr. Jim Willie Interview: Top 10 Risks to the U.S. Dollar (Video)
Bill Holter: Paper Currencies Approaching Their Real Value: Zero (Video)
Bill Holter: Global Economic System Is Going to Resemble Caveman Times Soon
Peter Schiff: "Default or Not, U.S. Dollar Is Going to Collapse Either Way" (Video)
Jim Rickards Discusses Looming Shut Down of the Entire US Economy (Video)
Dr. Jim Willie: Worst Bond Crisis in 15 Years, World Quickly Losing Confidence in US
Bill Holter: Between Now and Election Will Be Extremely Dangerous (Video)
Dr. Jim Willie: We Are on the Brink of World War; Americans Totally Clueless - Pt. 1
Dr. Jim Willie: We Are on the Brink of World War; Americans Totally Clueless - Pt. 2
Bill Holter: Newly Solidified Chinese Superpower Will Replace Dead U.S. Dollar (Interview)
Peter Schiff: Don't Believe the Hype! The Real Economic Fallout From Brexit (Video)
How Will the U.S. Conduct Trade With Worthless U.S. Dollars and No Gold? (Video)
Why Did Illuminated George Soros Liquidate 37% of His Stock to Buy Gold? (Video)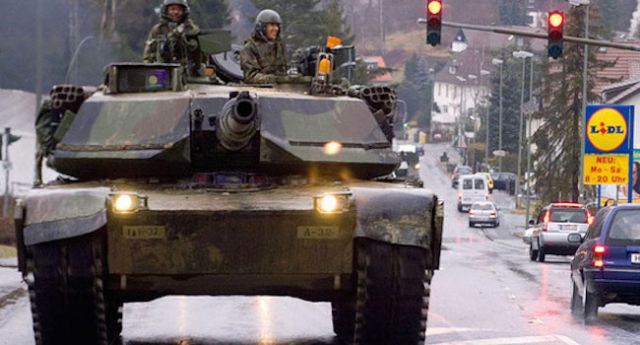 FOR MORE LINKS ON MARTIAL LAW:
Reports of Active U.S. Military Drilling for "Authoritarian Rule of Law" (Martial Law)
U.N. Soldier Says They Will Soon Occupy America: "Going Door-to-Door Taking Guns…"
1,500 Pages of New Documents That Reveal U.S. Government's Martial Law Agenda (Video)
Mainstream Media Blasts Alternative News Personality on FEMA Camps (Videos)
Ron Paul: Undeniable Proof Martial Law Is Coming Because of the Economy (Video)
Virginia Police and Homeland Security Doing Exercises for Marital Law Conditions (Video)
Latest News on Government's Preparing For Civil War or Martial Law (Videos)
Martial Law Convoys Sent to Baton Rouge, Dallas, and St. Paul Before Shootings (Videos)
Pentagon Approves U.N. Use Of Force Against American Civilians (Video)
What Is the U.S. Government Endlessly Preparing For (Videos)
Patriot Films Shocking New Video of a FEMA Camp Recently Discovered in Texas
Major Update to Military Movement and Actual Documentation of Their Plans (Video)
United Nations Troops on U.S. Soil Prepared to Assist With Martial Law? (Videos)
Obama Has Prepared FEMA for All Four Storms… Are You Prepared?
13 States Obama Is Using for His Nefarious Secret Agenda (Video)
Obama: Be Ready For EMP Attacks, Engineered Pandemics, Earthquakes, and Martial Law
How Likely is Martial Law in the US, and What Happens Under Martial Law
Law Enforcement Preparing For Rioting on National Scale (Videos)
All Armed Americans To Be Detained In FEMA Camps Starting In 2017? (Video)
Beware of Martial Law: Obama Will Confiscate Firearms Of All 50 States in 2016
Army Not Prepping for Battle; Training For Riot Control and Martial Law
Pentagon Says Preparing For Huge Civil Unrest in U.S. (Videos)
Political Dissidents Homes Being Marked By FEMA Prior to Martial Law?
Government "Threat List:" 8 Million People To Be Detained Immediately
SUBSCRIBE TO THE TOP STORIES OF THE WEEK IN THE NEWSLETTER HERE
FACEBOOK | GOOGLE+ | TWITTER | PINTEREST | STUMBLE UPON | TUMBLR
FREE GUIDE TO ECONOMIC COLLAPSE OR MARTIAL LAW…
AT THE OFFICIAL BLOG SITE BELOW!
FACEBOOK | GOOGLE+ | TWITTER | PINTEREST | STUMBLE UPON | TUMBLER