Story Views


Now:
Last Hour:
Last 24 Hours:
Total:
Astrophiz Podcast 31 is Out
Thursday, April 6, 2017 6:25
% of readers think this story is Fact. Add your two cents.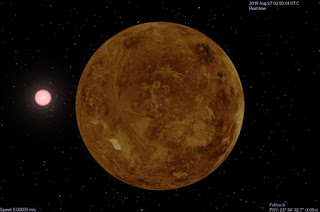 Astrophiz Podcast 31 is out now.
Our feature interview is with Dr Elisabetta Barberio who explains a new Dark matter Experiment deep in a goldmine in South Eastern Australia.
Elisabetta is a member of the Experimental Particle Physics Group at the University of Melbourne. Previously, she was a staff researcher at CERN, the European laboratory of Particle Physics. She was involved with data analysis in the OPAL experiment at the Large Electron Positron Collider at CERN, and has worked on the Higgs Boson and ATLAS, which is a particle physics experiment at the Large Hadron Collider (LHC) at CERN.
I tell you what to look for in the night and morning skies over the next few weeks using naked eye, binoculars or telescopes, and Jupiter is ruling our skies.
In the news:
Dr Brad Tucker and ANU astronomers launch a Citizen Science project and public search of the southern skies for the elusive 'Planet Nine' using data from the Skymapper telescope at Siding Springs in Australia.
2.The largest magnetic fields ever found in the universe are caused by collisions between immense galaxy clusters, and these giant magnetic fields are millions of light years across and 100 times larger than the Milky Way.
3. How to hunt for a black hole with a telescope the size of Earth. How do you photograph a black hole? Impossible you say? Inventive researchers have plans to do exactly that, and hope to grab the first images of an event horizon — the point of no return from the black hole at the centre of our Milky Way.
4. Using the Australian AAOmega+2dF Spectrograph and the Southern African Large Telescope astronomers have just discovered one of the most massive superclusters in the universe hiding behind the Milky Way in the constellation of Vela. This is a massive group of several galaxy clusters, each one containing hundreds or thousands of galaxies. The researchers estimate that this Vela supercluster could contain somewhere between 1,000 and 10,000 trillion stars. Their calculations also show Vela is about 800 million light-years distant and zooming farther and farther away from us at a speed of about 40 million mph (18,000 kilometers per second).
Source:
http://astroblogger.blogspot.com/2017/04/astrophiz-podcast-31-is-out.html