By Brian Clegg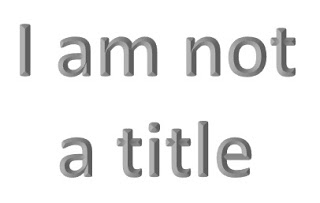 According to news reports, the bank HSBC will allow customers to choose from a whole range of gender neutral titles such as Mx, Ind, M, Mre, and Misc. Some may moan about political correctness gone mad – I would argue it doesn't go any where near far enough. Why do we need to give organisations our 'title' at all?
As far as I can see the only point of using a title is to establish your place in a feudal society – they really should have no place today. Whenever I fill in an online form I leave the title box untouched – yet all too often, the organisation makes it a non-optional selection. I don't want them to label me. It really irritates me, for example, when the programme for an event calls me Mr Brian Clegg. I'm not Mr Brian Clegg. I am Brian Clegg. And why someone who is, say, having a one-off online relationship with me should need a title is baffling.
Some of you may be thinking, 'Ah, but if you don't give a title, they can't write to you formally.' But why do we need a title for that? If you want to write to me informally, put 'Dear Brian' (or in an email etc. just put Hi or Hello – that will do just fine). If you want to be formal put 'Dear Brian Clegg'. That's my formal name.
Not only does dropping the title do away with the feudal system (no longer emphasising that I am not Sir Brian or Lord Clegg), it is automatically as gender neutral as my name allows, which surely is as much as anyone can ask. If you want a totally gender neutral name, then it's simple enough – you can change it by deed poll, either with registration for £36 or for free if you don't want registration (see the government's site). Or just give the initial of your first name as your first name. Either way, doing away with the title strips away the label that you have a particular gender.
Please don't complicate our lives with more titles, HSBC. Get rid of them altogether and then you really will have made a step forward.
Now Appearing is the blog of science writer Brian Clegg (www.brianclegg.net), author of Inflight Science, Before the Big Bang and The God Effect.
Source:
http://brianclegg.blogspot.com/2017/04/gender-neutral-titles-miss-point.html