‍Chinese scientists have found that a drop of water flowing down the surface of graphene can generate a continuous flow of electric current.
A research group led by Lin Shisheng from the College of Information Science and Electronic Engineering at Zhejiang University, made the discovery. The research result was recently published in the journal Advanced Materials.
Graphene has many unusual properties. It is the world's thinnest material with the thickness of just one atom. It is about 200 times stronger than the hardest steel. Also, it efficiently conducts heat and electricity.
Chinese scientists have found that a drop of water can generate a continuous flow of electric current.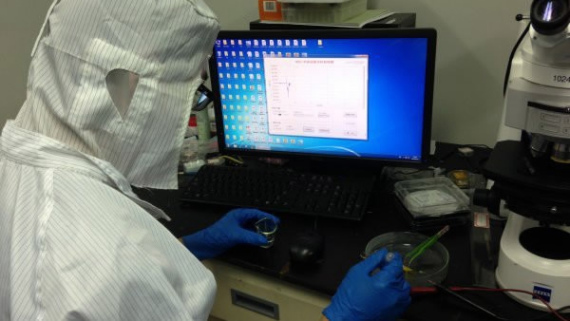 Photo/CGTN
Graphene is better at carrying heat than any other material. It carries electricity even better than conductors such as copper, and almost as well as superconductors. But unlike superconductors, which need to be cooled to low temperatures, graphene's remarkable conductivity works at room temperature.
"Because graphene is very thin, we must rely on some materials to support graphene. In the past, people tended to pay more attention to graphene itself, while ignoring the supporting materials, which also play an important role," said Lin. "To be precise, the discovery of 'water-flow induced electricity generation' is achieved by both graphene and its supporting materials."
In Lin's study, a template that generates an electric charge when under applied mechanical stress pressure, a phenomenon known as piezoelectricity, was introduced beneath graphene as a supporting material.
Illustration of the electricity generation process induced by waterflow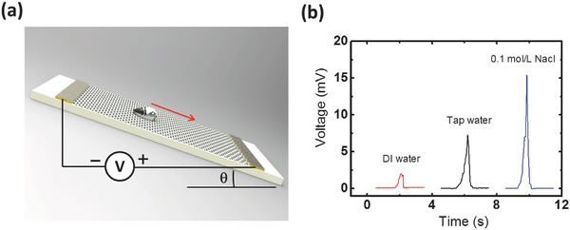 Credit: Zhejiang University Photo
When a drop of water drips down and flows over the graphene, the caused deformation of the piezoelectric template can generate an induced voltage in the flow direction. Therefore, the template as a supporting material to the graphene plays a crucial role in the electricity-generating process.
This waterflow-induced generation of electricity is a promising new step for generating power, and represents yet another use for graphene. The next step after this discovery will see efforts to create a graphene-water nano-generator that can be widely used. (CGTN)
Contacts and sources:
Liu Jia
Chinese Academy of Sciences